This Will Get Messy: Conservative Senator Will Face Neo-Confederate Primary Challenge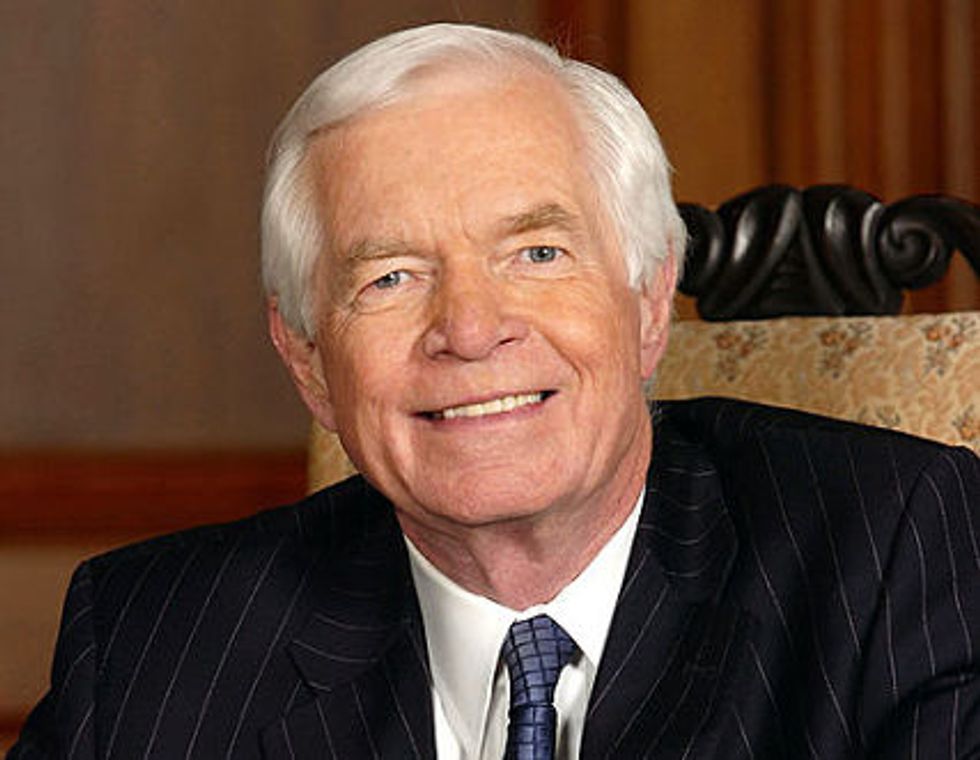 Senator Thad Cochran (R-MS) has an "A" rating from the National Rifle Association and a reputation for bringing in federal dollars. And now, after announcing he will seek his seventh term in the U.S. Senate on Friday, he has a tough primary challenge ahead.
Cochran — with his 81 percent rating from the far-right Club for Growth — will face Chris McDaniel, a personal friend of Fox News contributor and Red State editor-in-chief Erick Erickson.
Reports that McDaniel spoke at a Sons of Confederate Veterans event earlier this year prompted Erickson to reassert his support of the attorney/commentator.
McDaniel's campaign said that the candidate did not, in fact, attend the event in September, because of a problem with a flight. But Mother Jones' Tim Murphy confirmed that he did speak at an event for the group in May and in previous years.
Tea Partiers are unshaken by McDaniel's connection to the neo-confederate group and have began airing ads calling him the "rightful heir" to the incumbent's seat.
Cochran was a conservative Democrat who became a Republican in the late 1960s largely, he said, because of his opposition to the Vietnam War. He was elected to the upper house of Congress in 1978. Though he's reliably conservative, he is willing to forge compromises, which used to be acceptable behavior in the Senate before the Tea Party era. Conservative blogger David Freddoso believes the 83-year-old Cochran is running because the senator believes he will be the chairman of the Senate Appropriations Committee in 2015 if the Republicans take the Senate.
"I think it is a losing strategy, because the public knows what Cochran's done," former Mississippi governor and chairman of the Republican National Committee Haley Barbour told a newspaper in Jackson, Mississippi. "But you've got a bunch of money from New York and all over from these groups that are putting up all the money, and they are led by people who have said, 'We would rather have 30 pure conservative senators than the majority.' Well, I'd rather have the majority, so that conservatives can make the policies that set the direction for the country."
Primary challengers have displaced two incumbent Republican senators — Mike Bennett (R-UT) and Richard Lugar (R-IN). Mike Lee, who defeated Bennett, went on to win the seat while Richard Mourdock lost his Senate race after making a controversial comment about rape.
Senate Minority Leader Mitch McConnell (R-KY), along with Senators Mike Enzi (R-WY), Lindsey Graham (R-SC) and Lamar Alexander (R-TN), are also facing challenges from the right.
"There's definitely a war going on in the Republican Party, and I think the ultraconservative message of the Tea Party has gotten some traction here," Otha Burton Jr., executive director of the Institute of Government at Jackson State University, told USA Today.
Burton predicted that if McDaniel wins, "It will cause a panic button to sound for the Republican Party's establishment."