This Year's NCAA Tournament Produces A Final Four Of Coaching Giants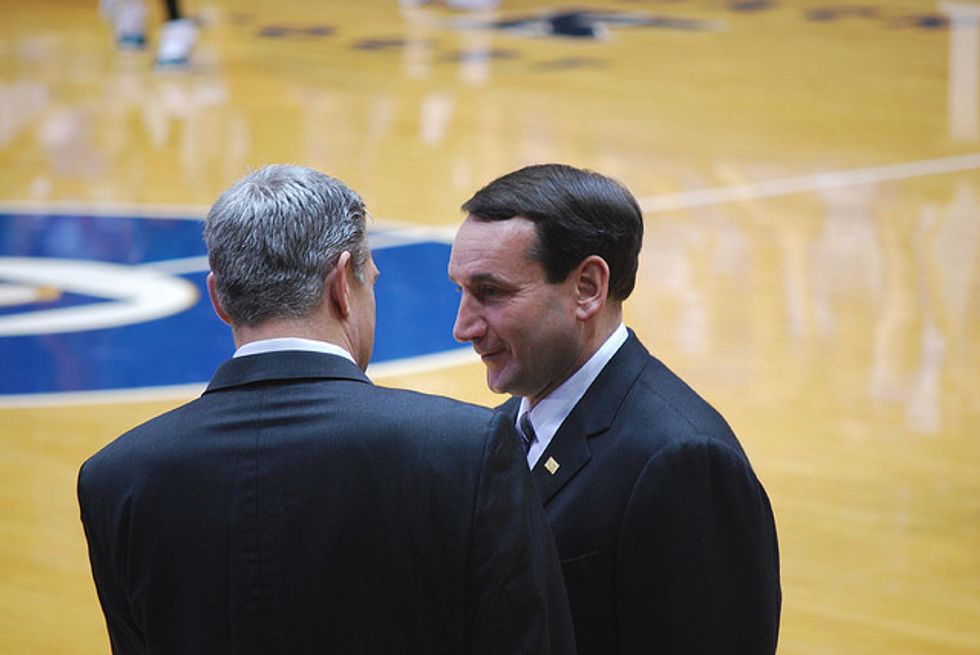 By Blair Kerkhoff, The Kansas City Star (TNS)
Who has the coaching advantage at this year's Final Four?
There's a coach who has been enshrined in the Naismith Memorial Hall of Fame, Duke's Mike Krzyzewski.
Two others, Kentucky's John Calipari and Wisconsin's Bo Ryan, are Hall of Fame finalists.
The outlier is Michigan State's Tom Izzo, who will be a Hall of Fame slam dunk, as he leads the Spartans to a Final Four for the seventh time.
"They're really the best of the best," Krzyzewski said Monday. "It's really an honor for me to be in a Final Four with those three programs and those three coaches because they've all understood the commitment to excellence that a program needs to make."
The national semifinal battles match Duke and Michigan State in Saturday's opener in Indianapolis at 5:09 p.m. Kentucky meets Wisconsin around 7:49 p.m.
No Final Four newbie coaches here.
The Badgers and Wildcats will meet in the semifinals for a second straight year. Duke and Michigan State are back in the Final Four for the first time since 2010.
Each of the coaches has won an NCAA championship. Krzyzewski has four titles in his previous 11 Final Four appearances. If Duke wins the tournament, Coach K will stand behind only UCLA's John Wooden with the most titles at five. Wooden has 10.
Izzo's Spartans won the 2000 championship, and Calipari's Wildcats defeated Kansas for the 2012 title.
Although this is Ryan's second Final Four appearance, he owns four NCAA Division III championships coaching Wisconsin-Platteville in the 1990s.
Two of those teams went undefeated, which gives Ryan a bit of insight into what Kentucky, 38-0, is attempting to accomplish.
"I know what it's like to be 10-0, 15-0, 25-0 and what that does to a team," Ryan said. "It actually makes our practices better. I just thought it made us better while we were undefeated because of how you learned to deal with outside pressures."
Last year, Kentucky won a nail-biter 74-73 on Aaron Harrison's three-pointer with 6 seconds remaining. Ten seconds earlier, the Badgers had missed a chance to take a three-point lead when Traevon Jackson missed a free throw, Wisconsin's only miss in 20 attempts, leaving the lead at two points.
"This will be a really hard game for our team," said Calipari, whose Wildcats are coming off a two-point victory over Notre Dame in the Midwest Region final. "We know that."
Krzyewski and Izzo say the same thing about their game, but Izzo isn't buying any suggestion that the Blue Devils and Spartans have a rivalry during the current coaches' tenures. Duke leads series 8-1.
"Somebody said, 'You guys have a good rivalry,' " Izzo said. "I said you can't have a rivalry when it's 8-1. It will be fun to see if we can change that around."
Photo: Seth Youngblood via Flickr