Does Thom Tillis Have A Problem With Women?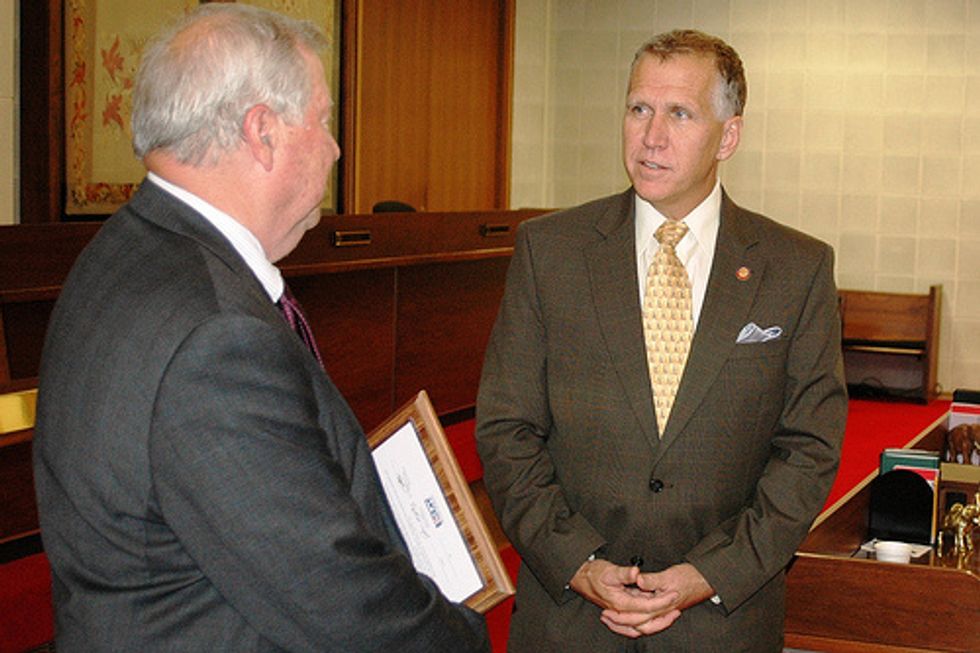 North Carolina Senate candidate Thom Tillis (R) has already alienated minority voters this week – and there's reason to believe that women may be next.
Following a budget dispute last week, Tills said that North Carolina state Rep. Susi Hamilton's (D) criticisms of him were "born out of emotions," in an interview with the StarNews.
Hamilton had said that the North Carolina film community was "double-crossed" by Tillis, the House Speaker, after a budget amendment to continue talks on film incentives was defeated. Hamilton claims that Tillis's staff worked behind the scenes to make sure the amendment was defeated.
Tillis denied these claims, and launched the charged criticism at Hamilton. "I actively worked to prevent that from happening," he said. "I think her comments and activity are the single greatest threat to progress."
Hamilton responded, "Do I seem emotional? Any more than usual? My comments were born out of fact."
Tillis already has women's groups working against him in North Carolina. EMILY's List stated in a press release that it was launching its WOMEN VOTE! campaign, which will spend $3 million in the state to support incumbent Democratic senator Kay Hagan. Planned Parenthood also plans on spending $3 million to get out the vote and mobilize women.
WOMEN VOTE!'s first ad features a pregnant teacher who's struggling to pay for classroom supplies because of education cuts. It claims that Tillis cut the education budget by $500 million (The Washington Post's fact checker, however, points out that only $117 million of these cuts came in primary education in 2013-2014, amounting to only a net 1.5 percent decrease in the K-12 education budget).
EMILY's List National Press Secretary Marcy Stech told the Post that the group is focused on North Carolina due to Tillis' "extreme" record.
"North Carolina is a state that will hinge on women… voters who know that Kay Hagan has been a champion for women and families," she said. "From opposing minimum wage, blocking equal pay for women and restricting women's access to healthcare, Thom Tillis and his 'divide and conquer' record of extremism [is] far too out of touch for North Carolina."
The Tillis campaign dismissed these complaints, offering the typical Republican response that the war on women doesn't exist and isn't actually a concern for voters.
"The left has been talking about a 'war on women' for a couple of cycles now," Jordan Shaw, Tillis' campaign manager, told the Post. "It's designed for the media and not grounded in reality and it's based on scare tactics."
The campaign is attempting to reach out to women through its "Women for Tillis" coalition. But he's going to have to do a lot more to mobilize the women's vote.
The latest PPP poll shows that only 29 percent of women support Tillis, while 39 percent prefer Hagan. The two candidates are virtually tied with male voters, as they each have 39 percent of the vote. Overall, the poll shows Hagan with a 5-point lead, though most other polls show them virtually tied.
The full EMILY's List ad attacking Thom Tillis can be seen below.
Photo: North Carolina National Guard via Flickr

Interested in politics? Sign up for our daily newsletter!