Thousands Evacuated As California Wildfires Sweep On
@reuters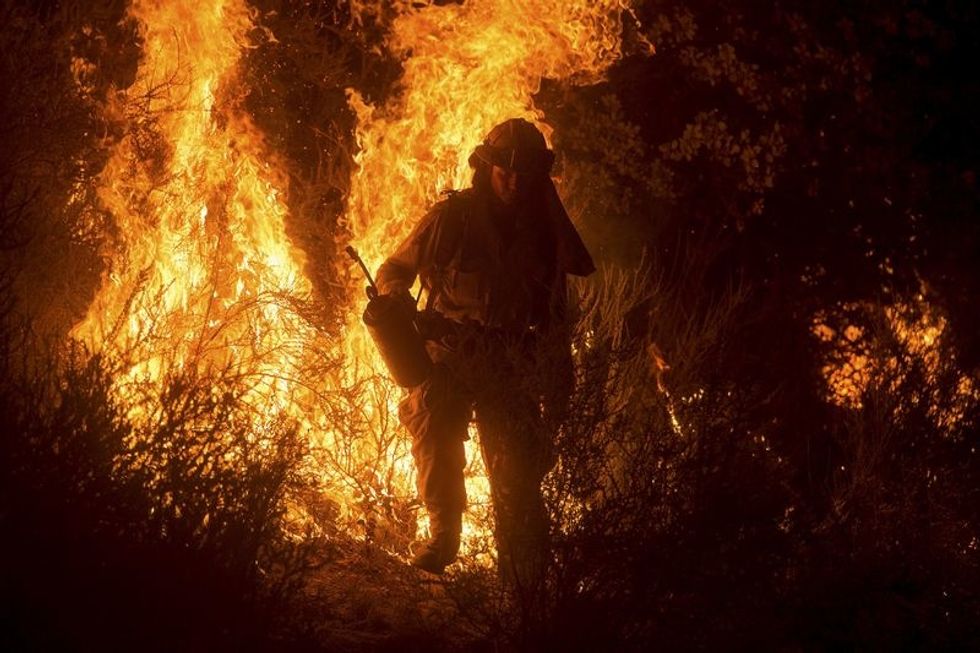 By Emmett Berg
SAN FRANCISCO (Reuters) – Governor Jerry Brown declared a state of emergency on Sunday in Northern California areas hit by a fast-expanding wildfire that injured four firefighters and forced thousands of people to evacuate small towns near wine country.
The firefighters were hospitalized with second-degree burns after they were dropped off by helicopter to build containment lines against the so-called Valley Fire, which broke out on Saturday in Lake County, north of San Francisco and then spread quickly in hot weather and drought conditions.
A school, blocks of homes and an apartment building, and businesses were destroyed in the small town of Middletown, according to local media. Fire officials were not able to confirm the number of structures burned.
The Valley Fire, with 1,000 personnel assigned to fight it, is the latest in a string of large and destructive wildfires that have ripped through drought-stricken brush and forest on the West Coast over the summer.
Firefighters were battling 13 active fires in California including the 40,000-acre Valley Fire, which was zero percent contained and the 65,215-acre Butte Fire, which was 20 percent contained on Sunday.
MANDATORY EVACUATION
An evacuee from Kelseyville – a town that is partly in the path of the Valley Fire – told Reuters that Middletown and a nearby community called Cobb were "gone" and that there were explosions at a gas station. Fire officials said they could not confirm that information.
Chad Greenwood, a 44-year-old travel agent, said he grabbed his two dogs and one suitcase with important documents after sheriff's officers gave him and other residents just an hour to leave.
"Where I live the smoke smell was really bad. It was so dark it looked like it was 8:30 at night, at 7:00 o'clock in the morning," Greenwood said by phone.
The UC Davis Medical Center, where the injured firefighters were airlifted, declined to comment on the condition of the firefighters.
Governor Brown previously declared an emergency in rural Amador and Calaveras counties, where the Butte Fire began on Wednesday and has destroyed 86 homes and also forced the evacuation of thousands of residents.
Some 3,500 more people were evacuated on Friday from the path of the flames from a larger blaze, dubbed the Rough Fire, which is burning in Kings Canyon National Park in central California.
(Additional reporting by Karen Brooks in Austin, Texas, and Letitia Stein in Tampa, Florida; Writing by Fiona Ortiz in Chicago; Editing by Greg Mahlich and William Hardy)
Photo: A firefighter lights a backfire while battling the Butte fire near San Andreas, California September 12, 2015. REUTERS/Noah Berger