Three Kansas Lawmakers Switch To Democrats — In A Single Week
@FAWFULFAN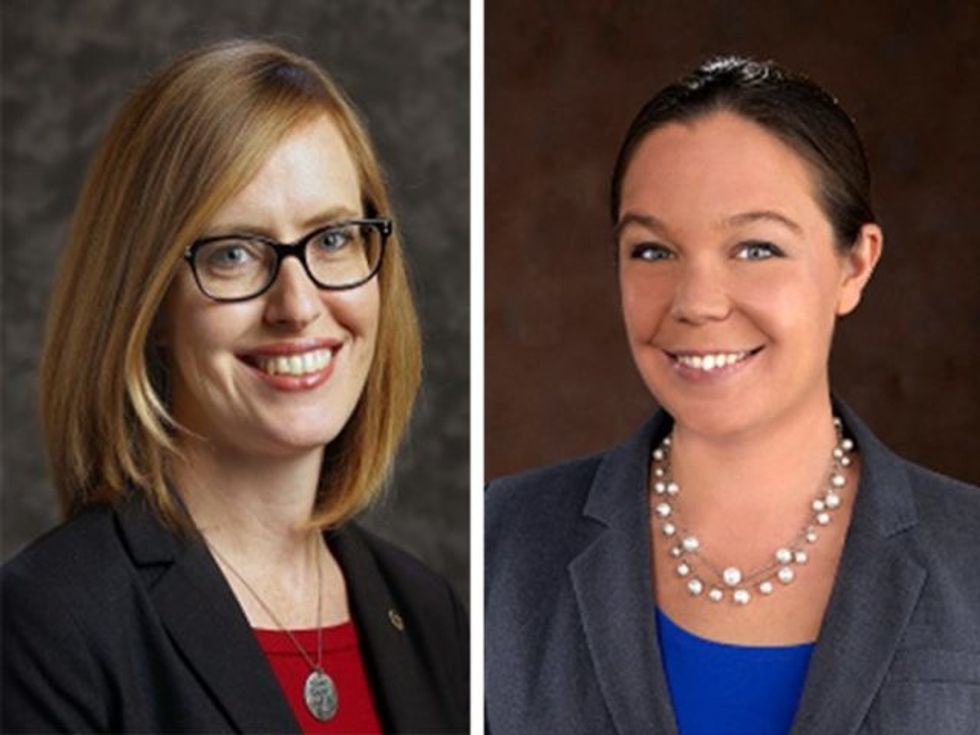 Reprinted with permission from AlterNet.
2018 was not a good year for Republicans in Kansas. They lost the governorship to Democratic state Sen. Laura Kelly, after running infamous pro-Trump, voter-suppressing Secretary of State Kris Kobach. And GOP Rep. Kevin Yoder lost in a landslide to Democrat Sharice Davids, an attorney and former mixed martial arts fighter who will be one of the first Native American women to serve in Congress.
But the bad news is not over for the GOP in Kansas. Over the span of a week, three Republican state lawmakers announced that they were renouncing the GOP and switching to the Democratic Party.
Last Wednesday, state Sen. Barbara Bollier, a moderate Republican representing a liberal district in Mission Hills, declared her party switch, saying she "cannot be complicit in supporting" Trump's presidency: "He is our president, but he is not representing my value system remotely." The "final, last straw" for her, however, was the Kansas GOP's decision to write transgender discrimination into the party platform.
This week, state Rep. Stephanie Clayton, a lifelong Republican who represents a district in Overland Park, followed suit, citing education. "Leaders in the Kansas House and Senate have now indicated that they will seek to scrap the bipartisan education plan achieved over the last two years, just as we are so close to solving this problem and ending the cycle of school litigation," she wrote on Facebook. "My Republican Party, then, seems to no longer represent or serve the interests of the 19th District, Johnson County, or the State of Kansas … I believe that I can better serve my constituents, and support education as a member of the Democratic Party."
At the exact same time, state Sen. Dinah Sykes of Lenexa announced she too was becoming a Democrat. "I am a moderate person who represents a moderate and pragmatic district that expects me to focus on issues and solutions that impact their day-to-day lives," she wrote. "Increasingly, I see the Republican party focusing on issues and approaches that divide our country. I do not agree with that approach."
It is worth noting that all three defecting lawmakers are women, and all three represent suburbs of Kansas City — reflecting two kinds of voters that Republicans have been losing precipitously since Trump's election.
The November midterms had not altered the party totals in the Kansas legislature, as Republicans retained their 85-40 majority in the state House (the state Senate only holds elections in presidential years). But now, thanks to these defections, the Kansas GOP will be going into next year with losses in both chambers.
Although Kansas is a deeply red state, the GOP has faced problems there ever since the administration of Gov. Sam Brownback, a hard-right ideologue who has since been tapped as Trump's ambassador for religious freedom. In his time in office, Brownback destroyed the state's economy with reckless tax cuts and tried to eliminate the budget for the state court system so they couldn't overrule his illegal cuts to schools. His tenure was such a disaster that it triggered a wave of moderate Republicans winning primaries, who proceeded to roll back his agenda.
In wrecking Kansas, Republicans ended up wrecking themselves. And they are continuing to pay the price for it.
Matthew Chapman is a video game designer, science fiction author, and political reporter from Austin, TX. Follow him on Twitter @fawfulfan.
Featured photo credit: KANSAS LEGISLATURE