Three Men Held In Connection With Shooting Of Minnesota Demonstrators
@reuters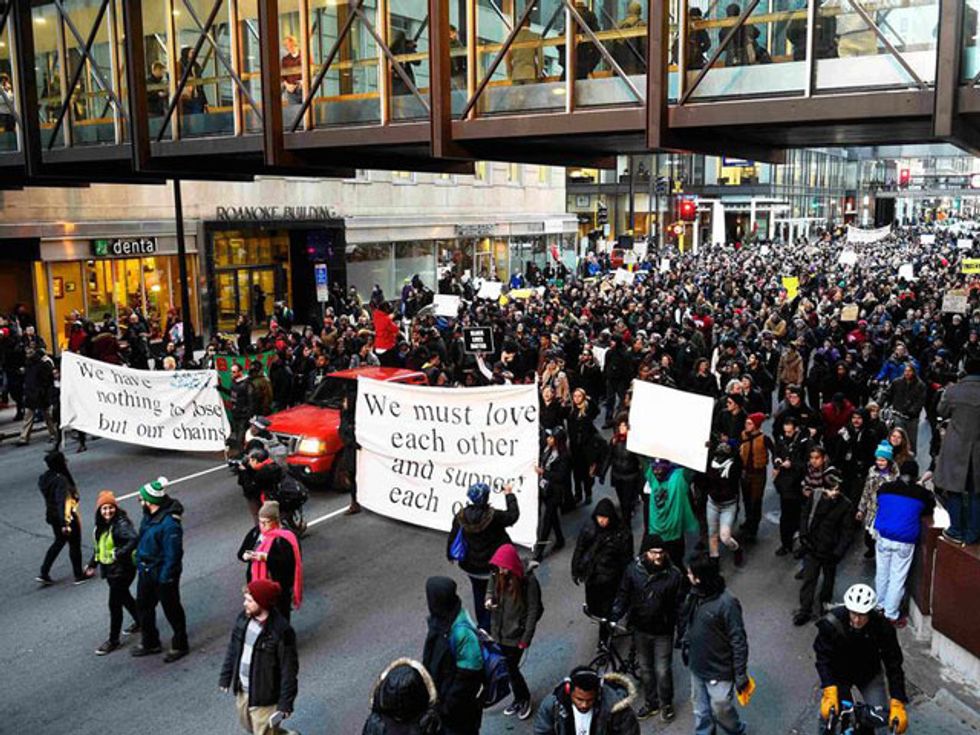 By Todd Melby and David Bailey
MINNEAPOLIS (Reuters) — Three white men were being held on Wednesday by Minneapolis police and prosecutors were weighing charges against them in connection with the shooting of five people protesting the shooting of an unarmed black man.
While police have said they will not identify the men until they are charged, the Minneapolis Star Tribune, citing sources, reported that Allen Lawrence "Lance" Scarsella III, 23, was arrested in Bloomington, while Nathan Gustavsson, 21, of Hermantown, and Daniel Macey, 26, of Pine City, were taken into custody after they turned themselves in.
All three men are being held by police without bail on suspicion of assault, according to online jail records.
Attempts by Reuters to reach family members of the men were not successful.
A spokesman for the Hennepin County Attorney said that office has until 4 p.m. local time to make a decision on filing charges and it expected to make an announcement at that time.
None of the five demonstrators wounded in Monday's shooting received life-threatening injuries, police said.
Meanwhile, dozens of people entered a north Minneapolis church on Wednesday in small groups or singly for the funeral of Jamar Clark, 24, the unarmed black man shot by police on Nov. 15.
The Shiloh Temple International Ministries church is about a mile from the police station where protesters have gathered since Clark's shooting.
Some people entering the church wore white T-shirts with "I matter" on the front or T-shirts with Clark's photo on them, while others were dressed formally. Most bowed their heads as they walked through the glass doors.
Clark was shot at a time of heightened debate in the United States over police use of lethal force, especially against black people. Over the past year, protests against killings of unarmed black men and women – some videotaped with phones or police cameras – have rocked a number of U.S. cities.
A Black Lives Matter Minneapolis official said several men wearing masks approached the site where demonstrators have been encamped protesting Clark's killing. When the masked men would not identify themselves, Black Lives Matter protesters escorted them away, but about a half a block from there, they opened fire on the demonstrators.
Law enforcement officials have not said whether they are investigating the shooting as a possible hate crime, but activists on Tuesday said the protests would continue and called again for the release of video related to Clark's shooting.
Questions have been raised whether Clark was handcuffed when he was shot, which police have denied. Clark died the next day from a gunshot wound to the head. The officers involved are on leave.
Authorities have said there was no video of the shooting from police dashboard or body cameras, but investigators are reviewing video from business and security cameras in the area, as well as witnesses' cellphones. One video from the back of an ambulance at the scene was inconclusive, Minnesota Governor Mark Dayton said on Monday.
A police union representative has said Clark grabbed one officer's gun, although the weapon remained in its holster.
According to authorities, the police officers had responded to a request for assistance from paramedics who reported that someone was interfering as they tried to help an assault victim. They said Clark was a suspect in the assault and had an altercation with the officers before one of them shot him.
(Additional reporting by Ben Klayman in Detroit, Brendan O'Brien in Milwaukee and Melissa Fares in New York; Editing by Andrew Hay)
Photo: Members of the group Black Lives Matter march to city hall during a protest in Minneapolis, Minnesota November 24, 2015. REUTERS/Craig Lassig