Three New Polls Show Clinton Leading Trump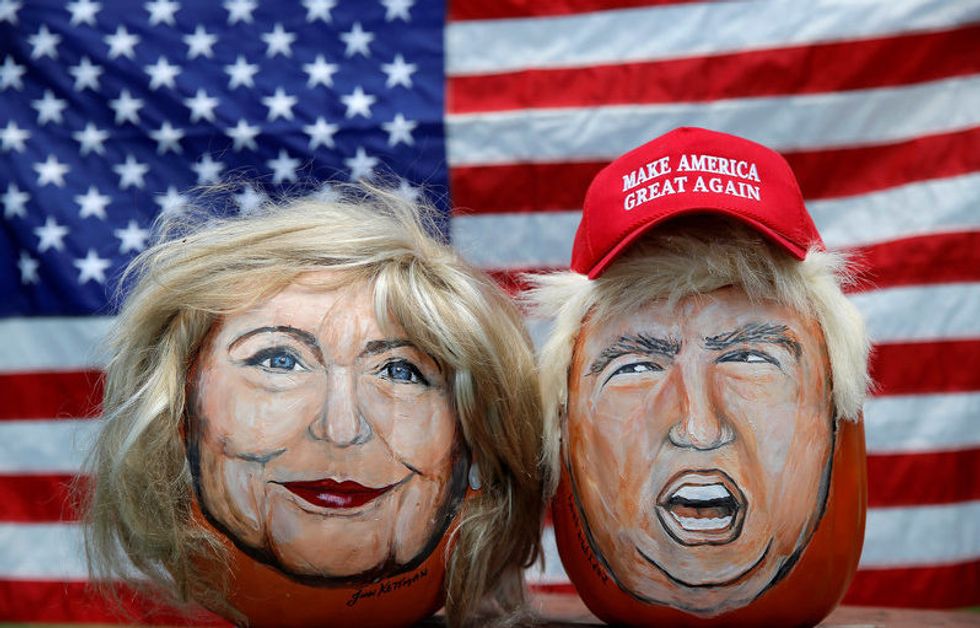 Polls released this week, after FBI director James Comey's recommendation that no criminal charges be brought against Hillary Clinton over her use of a private email server, show the presumptive Democratic candidate ahead of her Republican counterpart Donald Trump. The polls were taken in the days before Comey's surprise press conference announcement.
According to Democracy Corps' most recent poll, Clinton has widened her lead over Trump, now leading him by 11 points, with 48 percent support. Trump polled at 37 percent, and Libertarian candidate Gary Johnson polled at 8 percent. The poll was released on Friday and surveyed 900 likely voters, mostly by phone, during June 23th-28.
A Democracy Corps analysis found that this is first time in their poll's history "the presidential vote margin for Democrats exceed the Democrats' party identification advantage: in this case, Democrats hold a 6-point advantage in party identification and an 8-point advantage with Republican and Democratic leaning-independents."
The newest Pew Research Center poll released on Thursday, also conducted in June, shows Clinton leading Trump by 9 points, with 45 percent of support. Trump took second place with 36 percent of support, Johnson scored 11 percent support, and 8 percent of respondents said they were undecided. They survey consulted 2,245 adults, of which 1,655 were registered voters, via telephone.
The Pew poll shows Trump ahead with white voters, with 51 percent of support, and Clinton ahead with Black and Hispanic voters, with 91 percent and 66 percent respectively.
The poll also showed high levels of interest in the elections and high dissatisfaction with the options:
Fully 80% of registered voters say they have given "quite a lot" of thought to the election, the highest share at this point in any campaign since 1992. Four years ago, 67% of voters said they had given a lot of thought to the election, and at this point in 2008 – the previous election in which both parties had contested nominations – 72% did so.

43% of Democrats and 40% of Republicans – say they are satisfied with their choices for president.
A Reuters/ lpsos poll released Tuesday, gathered July 1-5, also shows Clinton expanding her lead over Trump to 13 points — she was ahead by 9 points in the previous poll. In the latest poll, which surveyed 1,441 American adults, 46 percent supported Clinton, 33 percent supported Trump, and 22 percent said they did not support either candidate.
Photo: he images of U.S. Democratic presidential candidate Hillary Clinton (L) and Republican Presidential candidate Donald Trump are seen painted on decorative pumpkins created by artist John Kettman in LaSalle, Illinois, U.S., June 8, 2016.     REUTERS/Jim Young