Three Sentenced To Death In Tiananmen Square Car Attack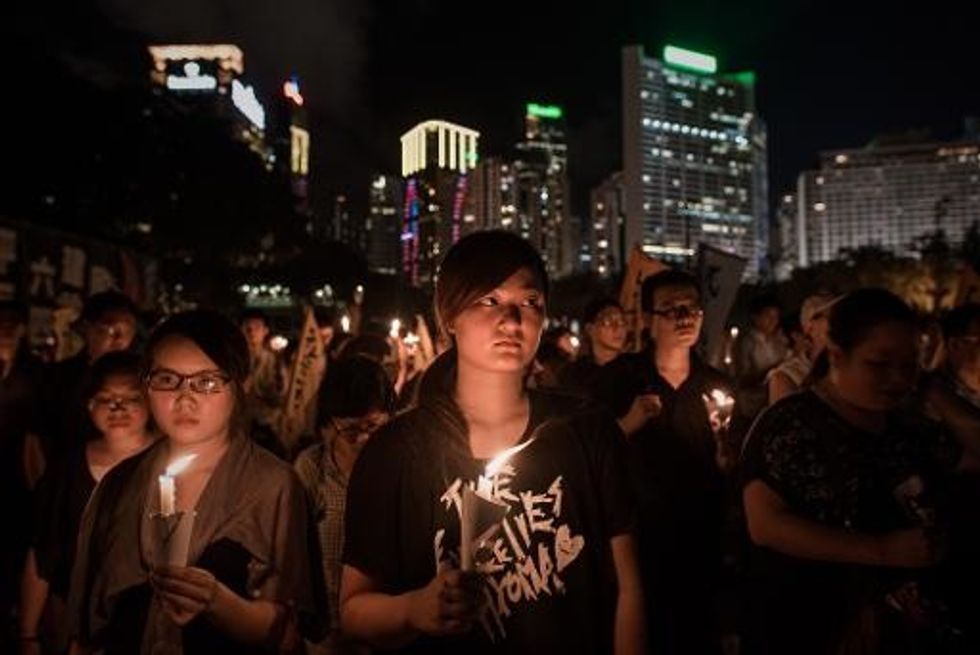 By Julie Makinen, Los Angeles Times
BEIJING — A Chinese court has sentenced three people to death and five others to prison in connection with a deadly terrorist attack in Beijing's Tiananmen Square last fall, authorities said Monday.
Two pedestrians were killed and about 40 were injured in the October incident, in which a jeep drove through a crowd of tourists and then burst into flames in front of the Forbidden City in the center of the Chinese capital.
All three people in the vehicle — a man identified as Usmen Hasan, his mother, Kuwanhan Reyim, and his wife, Gulkiz Gini — died in the conflagration. A short video of the incident, apparently captured by closed-circuit security cameras, was released online Monday.
Authorities have blamed the attack on separatists from the restive northwestern province of Xinjiang, and the trial was held at the Intermediate People's Court in Urumqi, the provincial capital. But officials released no personal details about the defendants, such as their hometowns, ages or occupations.
According to the state-run Xinhua News Agency, the seeds of the attack were planted in 2011, when three defendants, Husanjan Wuxur, Yusup Umarniyaz and Yusup Ahmat, formed a terrorist cell with the man who would go on to drive the jeep, Usmen Hasan. The group began recruiting members, the report said.
Those three were convicted of organizing and leading a terrorist group and endangering public security; they were given death sentences.
From December 2012 until September 2013, the news agency said, the group of four watched terrorism videos, began collecting weapons including explosives and guns, and started to plan deadly terrorist activities in Beijing.
On Oct. 7, Wuxur, Ahmat and two other defendants (who were not named) arrived in the capital along with the three attackers who would go on to die in the jeep. Umarniyaz later joined them in the city, the report said.
The group collected money to buy knives, gas masks, gasoline and the jeep itself; the report did not detail how they raised the funds. The attack was carried out around noon on Oct. 28.
Exactly what role was played by the defendants who did not travel to Beijing was unclear. Gulnar Tuhtiniyaz received a life term and Bujanat Abdukadir was given a 20-year sentence on charges of participating in a terrorist group and endangering public security.
The court gave three others, Tohti Mehmat, Tursunjan Abliz and Abla Niyaz, prison terms of five to 10 years for participating in a terrorist group.
Xinjiang is home to a Muslim minority known as Uighurs, many of whom complain of employment discrimination, religious restrictions and other poor treatment at the hands of majority Han Chinese. Urumqi has seen a number of terrorist attacks recently, including a deadly blast at a train station and an attack on a morning market last month that killed dozens.
On Monday, state-run media reported that more than 60 suspects have been arrested in Xinjiang in the last three weeks since the government began asking the public for tips on terrorist-related activities. The 60 are suspected of making 160 "blast devices," and police said they had seized more than 80 pounds of explosive materials.
Police also said they had killed two suspects and injured another one on Sunday after a group of knife-wielding men attacked a chess-and-card parlor in the city of Hotan in Xinjiang. The men rushed into the game room on Yingbin Road at around 5:45 p.m., officials said, but the chess players fought back and pressed an alarm bell.
Data showed that since May 23 the public safety agencies in Xinjiang Uygur autonomous region have received more than 300 tips leading to the capture of more than 60 suspects accused of making more than 160 explosive devices.
Police officers also seized more than 80 pounds of explosive materials, two sites for illegally recording videos and a large number of flags instigating religious extremism.
©afp.com / Philippe Lopez