Tillerson Faces Tough Questions On Russian Ties At Confirmation Hearing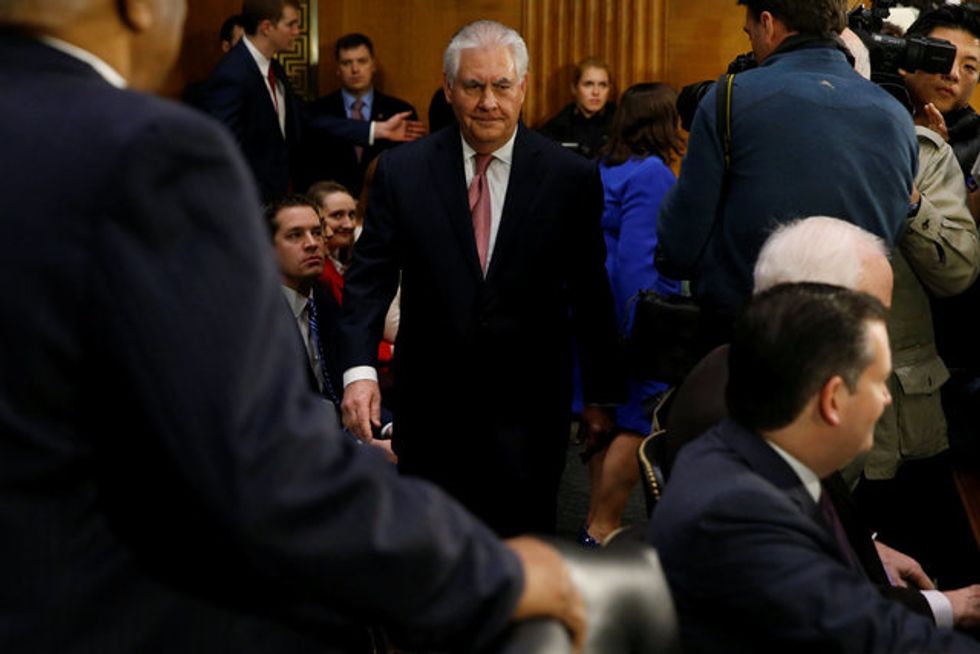 WASHINGTON (Reuters) – President-elect Donald Trump's pick for secretary of state, Rex Tillerson, faces tough questioning at his Senate confirmation hearing on Wednesday over his ties to Russian President Vladimir Putin and whether he shares Trump's view that relations with Moscow should be improved.
The central question facing Tillerson, 64, the former chairman of Exxon Mobil, is how effectively he can transform himself from a Big Oil "dealmaker" to being America's top diplomat with little government experience.
According to excerpts from his opening statement released before the hearing, Tillerson will say that Russia poses a danger and NATO allies are right to be alarmed at a resurgent Moscow.
He will argue, however, before the Foreign Relations Committee that Russia's resurgence happened in the "absence of American leadership" and will call for open and frank dialogue with Moscow.
"We must be clear-eyed about our relationship with Russia," Tillerson will say. "Russia today poses a danger but it is not unpredictable in advancing its own interests," according to the prepared remarks.
He will also emphasize the need to destroy Islamic State, and will criticize China's behavior in the South China Sea and call on Beijing to pressure North Korea.
Tillerson's confirmation hearing comes at a time of rising tensions with Russia.
U.S. intelligence agencies have concluded that Russia was behind the hacks of political figures in an effort to help Republican Trump defeat Democratic candidate Hillary Clinton in the Nov. 8 election. Moscow has denied the allegations.
In another revelation, also denied by Moscow, two U.S. officials said on Tuesday evening that classified documents that the heads of four U.S. intelligence agencies presented last week to Trump included claims that Russian intelligence operatives have compromising information about him. Trump dismissed the reports, first made by CNN, as "fake news."
Tillerson opposed U.S. sanctions against Russia in 2014 over its annexation of Crimea from Ukraine because he said he thought they would be ineffective.
On Tuesday, 10 senators – five of whom sit on the Senate Foreign Relations Committee that will vet him – introduced legislation to impose even tougher sanctions on Moscow, and promised to grill Tillerson about whether he would back them.
Setting a tough tone for the hearing, the panel's top Democrat, Senator Ben Cardin, regretted that remarks Tillerson submitted ahead of the hearing did not mention the "direct, confirmed cyberattack by Russia on America," although he did criticize U.S. leadership.
"It is frankly not too great a distance from Exxon's business partnerships to Putin's Kremlin-controlled slush funds essential for his 'disinformation' campaigns around the world," Cardin, a co-sponsor of the sanctions bill, said in prepared remarks.
In 2012, Tillerson received the "Order of Friendship" award from Putin. The same year, Exxon deepened its cooperation with Russian oil company Rosneft to expand an oil drilling project in the Arctic after U.S. sanctions over Ukraine were imposed.
At the time of the sanctions, Russian oil magnate Igor Sechin told Reuters he would miss three things: exploring U.S. culture, the chance to show his children American landscapes and riding motorbikes with Tillerson.
MIDDLE EAST
Tillerson is also expected to face vigorous questioning over the U.S. role in ending the Syrian civil war, Israel's contentious settlement policy and the question of a two-state solution to the Israeli-Palestinian conflict, climate change, U.S. participation in NATO and U.S. support for the Iran nuclear deal.
Trump has made contradictory statements on the Iran nuclear deal, including that he would dismantle the agreement signed between Iran and six world powers – Russia, China, Britain, Germany, France and the United States – in 2015.
Tillerson is also expected to be asked how he plans to promote human rights in countries in the Middle East, Africa and Latin America, where Exxon cut deals with governments widely criticized for their poor human rights records.
Exxon came out in support of the Paris climate agreement, which Trump said during his election campaign he would "cancel," and has advocated for a carbon tax. The company is under investigation by the New York Attorney General's Office for allegedly misleading investors, regulators and the public on what it knew about global warming.
Bob Corker, chairman of the U.S. Senate Foreign Relations Committee, said he expected Tillerson to win strong support and was convinced he had "mainstream" views on Russia.
"I predict that he's going to be overwhelmingly supported," Corker told reporters recently. "I think they're going to see how substantial this person is."
Democrat Chris Murphy, a committee member, said Tillerson lacked the record to be secretary of state, given Trump's own lack of diplomatic experience.
Tillerson's financial disclosure and ethics agreements have been made public. Exxon said on Jan. 4 that Tillerson had agreed to sever all ties to the company to comply with conflict-of-interest requirements and if confirmed, would sell more than 600,000 Exxon shares he currently holds.
(Additional reporting by Yeganeh Torbati and Steve Holland; Editing by Peter Cooney and Frances Kerry)