Tillis Wins Outright For GOP Senate Nomination In North Carolina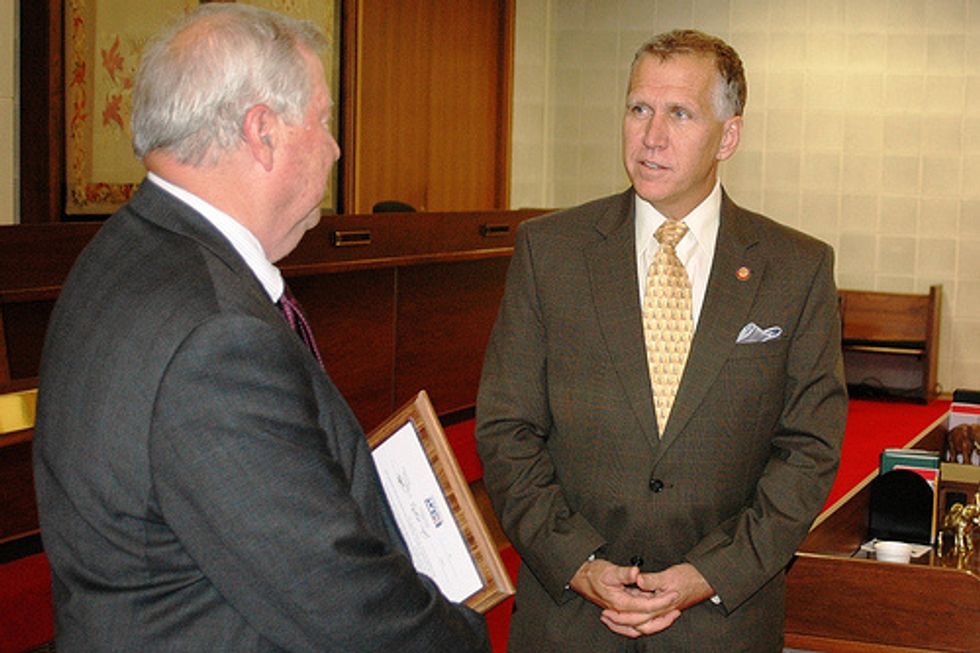 By John Frank, The News & Observer
CHARLOTTE, N.C. — Thom Tillis emerged as a clear victor Tuesday in the Republican primary for U.S. Senate, overpowering a tea party challenge with help from Washington power-brokers who saw him as the best candidate to challenge Democrat Kay Hagan in November.
The House speaker, running on his conservative shift at the state level, exceeded the 40 percent mark necessary to avoid a July 15 runoff election, even with strong pushes at the end from his top rivals, obstetrician Greg Brannon and pastor Mark Harris.
The Associated Press called the race just after 9:20 p.m. The 100-plus Tillis supporters at the Omni Hotel in Charlotte erupted in cheers.
The primary pitted three factions of the state GOP against each other in a race viewed as a proxy for the divisions at the national level and possibly the 2016 presidential contest.
Hagan easily won her primary contest against two opponents who didn't mount any campaign.
The winner this fall could tilt the partisan balance in the closely split U.S. Senate, and North Carolina's importance in the national picture is readily apparent in the nearly $20 million spent by outside political groups in recent months to influence the race, particularly voters' opinions about the federal health care law.
Tens of millions more in outside spending is expected in the months ahead in a race that likely will top state spending records.
"I would expect you're going to start seeing a battle almost immediately," said Thomas Mills, a Democratic strategist who ran the party's 2010 U.S. Senate candidate against Republican Richard Burr. "And I think you'll start seeing pretty quickly a return to beating up on Kay Hagan."
The top three candidates came into the race with natural supporters, though the fierce battle expected at the beginning of the election didn't fully materialize.
Running as the leader of the conservative shift in the statehouse, Tillis won endorsements from Republican power-brokers, including Mitt Romney and Jeb Bush, and received help from two Super PACs.
Brannon tapped into Tea Party energy, staking out far-right positions as he emphasized a strict constitutional approach and received the backing of like-minded libertarian Kentucky Senator Rand Paul.
Harris, a former state Baptist convention leader, stressed a "values" message that catered to his supporters in the faith community but struggled to get traction from a larger audience.
Five other candidates also appeared on the ballot.
Tillis managed to emerge from the heap with his financial advantage. Unlike the other candidates, Tillis was able to reach a broad swatch of voters with a million-dollar television advertising campaign and a $2.4 million boost from his allies.
His fundraising prowess and experience as a top lawmaker gave him an electability quality that helped sway Republican voters.
"We need some change in North Carolina," said Ashley Van Wormer, a 44-year-old sales trainer from Cary, who voted for Tillis. We need "conservative values but not too far conservative. We need to elect somebody that can win."
A runoff would have scrambled the picture because it's held in the middle of summer when fewer people than ever were expected to participate. "Anything can happen in runoff. It's sort of a wild west scenario," said Andy Yates, a Republican strategist. "It's about who is able to turn their voters out."
The top three candidates all worked polling locations to win final votes before polls closed at 7:30 p.m. Tillis and Harris stuck close to home in the Charlotte area, while Brannon visited locations near Raleigh.
Amanda Huff, 33, of Raleigh was a patient of Brannon's a decade ago — but it was only this winter, when a friend invited her to volunteer, that she learned how well their politics matched.
"As soon as I realized he was a Republican, and more importantly a conservative, I said 'Absolutely,' " Huff said.
Her friend, Andrea Chisek, joined her at the dim-lit Architect Bar and Social House in downtown Raleigh, where close to 100 people gathered to cheer Brannon on Tuesday night.
Most impressive to Huff is Brannon's ability to "bring everything back to the Constitution — article and everything."
In Charlotte, Tom Davis joined more than a 100 Tillis supporters at the Omni Hotel downtown after spending the day trying to win votes at area precincts. He expected a close race but felt Tillis' years as speaker makes him better qualified. "He's been in the trenches and fought," the 67-year-old said. "He's experienced."
Contractor Jon Rufty is looking for a different campaign for November. "Like all national politics, it's just way too polarized," the 59-year-old independent voter said. "It's frustrating that the statesmanship is no longer alive on the national level. And I think both sides fall into that category."
Rufty voted in the Republican primary but wouldn't identify his favorite. For November, he said his vote is up for grabs. "I am looking for, especially at the national level, the parties to work together for what's best for the country."
Photo: North Carolina National Guard via Flickr