Could Tim Scott's Election In 2014 Spur Re-Alignment Of Minority Voters To GOP?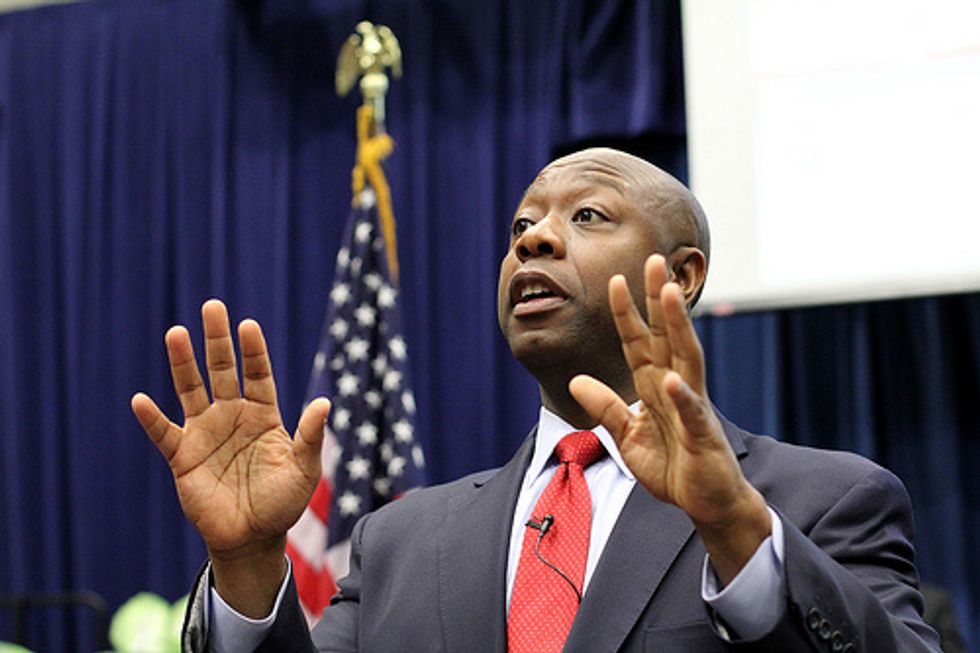 By Jamie Self, The State (Colombia, South Carolina)
COLUMBIA, S.C. — Strom Thurmond's 1964 switch to the Republican Party helped make the GOP in vogue in South Carolina, prompting white conservatives to flock to the Grand Old Party. Now, Senator Tim Scott, the state's first African-American senator, could help expand the party again, attracting minority voters, some conservatives say.
Scott was appointed to the Senate in December 2012, when Senator Jim DeMint resigned to run the Heritage Foundation. Scott now faces his first statewide race, a November special election to fill the balance of DeMint's unexpired term.
While Lindsey Graham, South Carolina's other Republican senator, is besieged by GOP primary opponents, Scott faces no Republican challenge in June. However, two Democrats have launched campaigns for Scott's seat: Rick Wade, a former South Carolina Cabinet director, U.S. Commerce Department official and adviser to Barack Obama's presidential campaigns; and Richland County Councilwoman Joyce Dickerson.
If Scott wins the November contest and then again in 2016, he would become a "national symbol for conservative values in the black community, and he will begin to force a re-alignment" of African-American voters with the GOP, said Clemson University professor Dave Woodard, a Republican consultant.
Scott's successes would make it easier for African-Americans who do not agree with the Democratic Party's positions on social issues — including abortion and gay marriage — to shift to the GOP, Woodard said.
State Senate President Pro Tempore John Courson (R-Richland), said Scott's continued presence as one of 100 U.S. senators would give him "automatic credibility" and help the GOP appeal to minorities in the state and nationally.
But not everyone thinks a Scott win would result in an exodus of African-Americans to the Republican Party.
Thurmond's transformation of the Southern GOP was "pretty dramatic," said Scott Buchanan, a Citadel political scientist. "But I don't see the same thing [happening] with Scott."
That's because even while many African-Americans already agree with the GOP on some social issues, they still do not vote Republican. "It hasn't made any difference yet," Buchanan said.
In a move meant to define himself, political observers say, Scott is trying to appeal to African-Americans by making education and access to jobs, traditionally Democratic issues, his issues.
Last month, Scott introduced his first two Senate bills, calling them his "Opportunity Agenda." They are conservative proposals that should appeal to families stuck in struggling schools and economically depressed communities, Scott said.
Before introducing the bills, Scott said, he spent time during a congressional break riding a city bus, working at a restaurant "learning how to sweep floors again and cut chicken," and talking to employees about what they need.
But, critics note, while Scott was introducing his "opportunity" legislation, he also was voting against other proposals intended to help the vulnerable, including extended jobless benefits, a bipartisan budget bill and a farm bill with money for food assistance programs that help poor families.
"The rhetoric doesn't fit his actions," said South Carolina Democratic Party chairman Jaime Harrison, also an African-American. "You can't go out and say, 'I'm going to see how it feels to be a single mom,' and then vote against the programs that help them."
Some of the criticism of Scott has been more fierce.
At a Martin Luther King Jr. Day event in Columbia last month, the Rev. William Barber II, president of the North Carolina NAACP, said of Scott: "A ventriloquist can always find a good dummy."
"The extreme right wing down here (in South Carolina) finds a black guy to be senator and claims he's the first black senator since Reconstruction and then he goes to Washington, D.C., and [he] articulates the agenda of the tea party, " Barber said.
Scott dismissed Barber's comments, saying the minister does not know anything about him or his past.
"There is an all-out assault to make me something other than [what] I am," Scott told The State newspaper. "Some people really want to hold dear the notion that Republicans and conservatives just don't care about people. "Perhaps what they're afraid of is … it threatens their position in the world of being the only defenders of those who are the most vulnerable."
The subtext, he said, is that defenders of the vulnerable "can't look like me and be a Republican."
That pushback is "characteristic of what other conservative, black Republicans have faced" from many in the African-American community, said the Citadel's Buchanan.
In the 1960s, the Democratic Party delivered landmark civil rights legislation that ensured that blacks would be allowed to vote while the GOP became "the party of … white conservatives who want to keep the status quo," Buchanan said. "To many in the Democratic Party, (a black conservative) raises the question: 'Why are you a Republican?'"
Of the Rev. Barber's "dummy" comment, Clemson's Woodard said, "In the black community, anybody who doesn't think like they do, they use a racial slur."
Republicans say Scott's race and his personal story, including his rise from poverty, make him an effective messenger for conservative values in the black community.
Glenn McCall of Rock Hill, one of three African-Americans on the 160-plus-member Republican National Committee, said Scott's strategy of reaching out to African-Americans in "Democratic strongholds" is one the party has developed to expand its base as the country grows increasingly diverse.
"He's going to get significant support across the board in our state, but … he's going to cross the party line, and also the racial line, because he's doing the right thing and the thing that we have to do for the future of the party," McCall said.
Scott rebuffs accusations that he is insincere in his beliefs or a mouthpiece for the tea party, which has supported him politically.
As "the product of a single-parent household," Scott said he worked at a movie theater, a gas station, a mall and elsewhere growing up.
"I worked the jobs that I should be ashamed of going back and doing?" he asked, rhetorically.
Scott said his intent in working again at low-paying jobs recently was to "be in touch with people who are in desperate need of hope and opportunity, to have a real experience and real conversation."
What he learned from the experience is: "If you show up, and you do their job, they open up in a very unique way."
Photo: North Charleston via Flickr