Time To Honor — And Care For — Those Who Served Our Country In Laos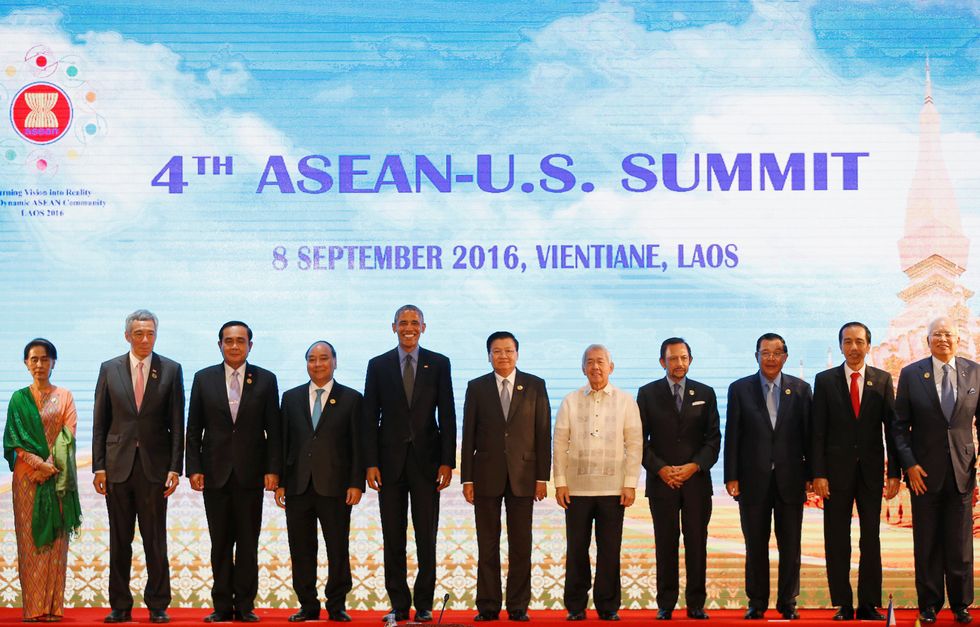 The secrets of war take decades for former soldiers to admit, if ever.
Governments are equally adept at hiding such truths. President Obama's historic stop in Laos was a brief exercise of stepping toward the light, accepting more responsibility for the devastation of the Vietnam War.
Obama was the first sitting U.S. president to visit Laos. He admitted the extent of U.S. bombing there between 1964 and 1973. Two million tons of bombs were dropped, making Laos the most heavily bombed nation in the world's history, per capita.
"Bombs fell like rain," Obama said, quoting a Laotian memory of that era.
Millions of unexploded cluster bombs are still in the soil, maiming and killing Laotians who strike them while working in fields and by children as they play. Obama doubled current funding, promising $90 million to be spent over the next three years to rid the country of these weapons of war, along with other educational initiatives.
The announcements — lauded by many Hmong and Laotian Americans — will help rectify the on-going deadly consequences of a war ended long ago. It's an important step, one of humanitarian importance that will surely save life and limb.
But there is more to be done, and it needs to happen within the U.S.
Hmong and Laotian Americans deserve recognition both stated and tangible.
The story of the Hmong people of Laos, how they aligned with U.S. troops during the Vietnam War, is largely unknown to the American public, a fact that Obama referenced in his remarks.
Their involvement was secret. The Hmong were recruited by the CIA, who understood that their help would be vital in the fight against the communist forces of North Vietnam.
The Hmong and Laotian fighters formed secret guerilla units.
They saved downed American pilots from wrecked planes and delivered them safely back to our forces. They blocked Vietcong supply routes along the Ho Chi Minh Trail and guarded clandestine U.S. posts.
Thousands of soldiers within this secret army died during their service, which lasted 15 years.
After the war ended in 1975, some of the Hmong and Laotians were brought to the U.S. and resettled as refugees. But many were not, and they later were captured and forced into re-education camps. Some fled to the jungles of Thailand.
Basically, they were abandoned.
And despite their valiant military service, Hmong and Laotian Americans haven't been spared from anti-immigrant bias, from bigots who callously and ignorantly brand them as unwilling to assimilate, backward culturally and, most harmfully, disloyal to the U.S.
The Hmong and Laotians are largely unknown outside of the communities where they have settled, primarily in California, Wisconsin, Minnesota and Kansas.
And because their role in the war was a secret from the beginning, even those who made it to the U.S. suffered emotionally from their service being unacknowledged for so many years.
So, first, we need to make the public more aware of their service to our country. Second, we need to grant the former fighters among them the dignity of burial alongside American military personnel in national cemeteries. And, finally, we need to give the aging Hmong and Laotians, now U.S. citizens by naturalization, the medical help they need by granting those who served the U.S. the veterans' benefits they deserve.
Since 2010, Rep. Jim Costa of California has been among those trying to get Congress to allow the burial of the former members of the secret units in military cemeteries. He hasn't met much success, despite gaining more cosigners to the effort.
Securing veterans' benefits faces a more uncertain route, as it could open the door to similar demands for guerrilla forces that aided the U.S. military in other efforts, such as in Central America. That would include alliances that some in government would like pretend never happened — one of the reasons truth about war tends to be suppressed.
One favorable factor is that many of the former Hmong and Laotian fighters are now U.S. citizens. But the approximately 6,000 of them still living are aging. Time is of the essence.
In late September, one of the few public monuments commemorating their role in the Vietnam War will be unveiled in Wisconsin, outside the Marathon County Courthouse. The statue depicts two Hmong-Lao soldiers flanking an American pilot.
The figures stand side by side, together in memorial as they were in combat.
(Mary Sanchez is an opinion-page columnist for The Kansas City Star. Readers may write to her at: Kansas City Star, 1729 Grand Blvd., Kansas City, Mo. 64108-1413, or via e-mail at msanchez@kcstar.com.)
(c) 2016, THE KANSAS CITY STAR. DISTRIBUTED BY TRIBUNE CONTENT AGENCY, LLC
Photo: (L to R) Myanmar's State Counsellor Aung San Suu Kyi, Singapore's Prime Minister Lee Hsien Loong, Thailand's Prime Minister Prayuth Chano-cha, Vietnam's Prime Minister Nguyen Xuan Phuc, U.S President Barack Obama, Laos Prime Minister Thongloun Sisoulith, Philippines Foreign Minister Perfecto Yasay, Brunei's Sultan Hassanal Bolkiah, Cambodia's Prime Minister Hun Sen, Indonesia's President Joko Widodo and Malaysian Prime Minister Najib Abdul Razak pose for photo during ASEAN-U.S. Summit in Vientiane, Laos September 8, 2016. REUTERS/Jorge Silva