'Time Out Of Mind' Is Haunting Masterpiece On Homelessness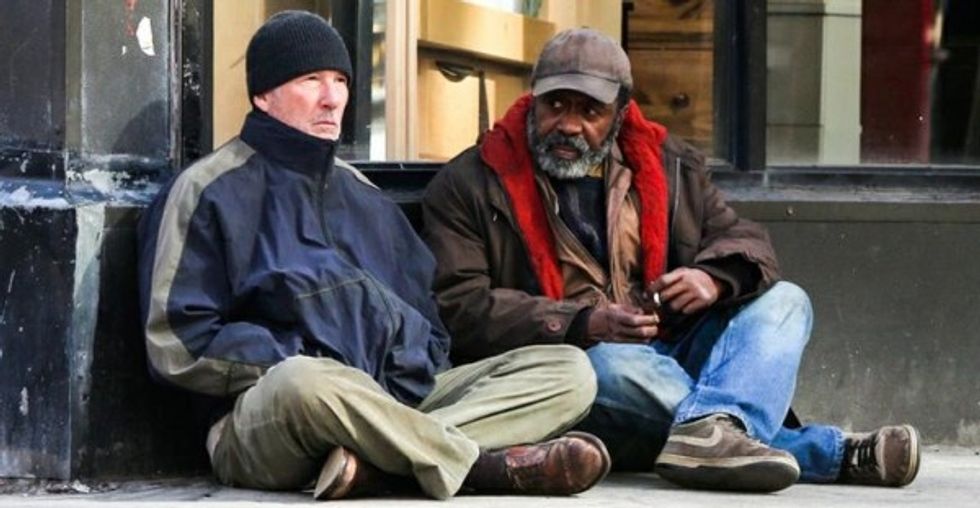 By Steven Rea, The Philadelphia Inquirer (TNS)
He's someone you see every day on city sidewalks: dragging a garbage bag, wheeling a worn suitcase, watching for a discarded lunch, for coins dropped on the curb.
In Time Out of Mind, set in a teeming New York City, a man with a bruised face and a bruised soul looks for places to sleep, for a reason to keep going. People talk on cellphones, run for the bus, head for meals — almost uniformly indifferent. And if this man, whose name we discover is George, looks a little like Richard Gere, no one notices, or cares.
In fact, in Oren Moverman's haunting portrait — shot on the sly through shop windows, from second-story apartments and busy intersections — that homeless man is played by Gere. It may take a minute to come to terms with the idea that the white-maned movie star, last seen in the company of swooning septuagenarians in The Second Best Exotic Marigold Hotel, has wrapped himself in layers of secondhand clothes and taken to the streets. But it will only be a minute: In an extraordinarily inward and moving performance, Gere sheds every vestige of his silver-screen persona. Instead, Gere's George looks lost, broken, his eyes blinking warily, his body crouched and defensive, hesitant.
Moving from an ER waiting room (where he tries to sleep), to an intake center, to a shelter, George encounters fellow indigents, some of them mentally ill, some hopeful they can turn things around.
Moverman, who wrote the Brian Wilson pic Love & Mercy and the Bob Dylan pic I'm Not There, and who directed The Messenger and Rampart, tracks Gere with a documentarian's eye. (Bobby Bukowski, the cinematographer, is a master of naturalism.) Bresson, De Sica, Rossellini are the film's forebears, inspiration.
As Gere disappears in the role, so, too, in various cameos, do Kyra Sedgwick (a homeless woman), Ben Vereen (a shelter regular), Steve Buscemi (a building manager). Jena Malone appears in a few telling scenes as George's estranged daughter — it hurts to see what her father has become, how far he's fallen.
And as George struggles to keep his dignity, and his sanity, the hurt goes both ways. Powerful.
'TIME OUT OF MIND'
3.5 out of 4 stars
(c)2015 The Philadelphia Inquirer. Distributed by Tribune Content Agency, LLC.