To Brexit Or Regrexit? A Dis-United Kingdom Ponders Turmoil Of EU Divorce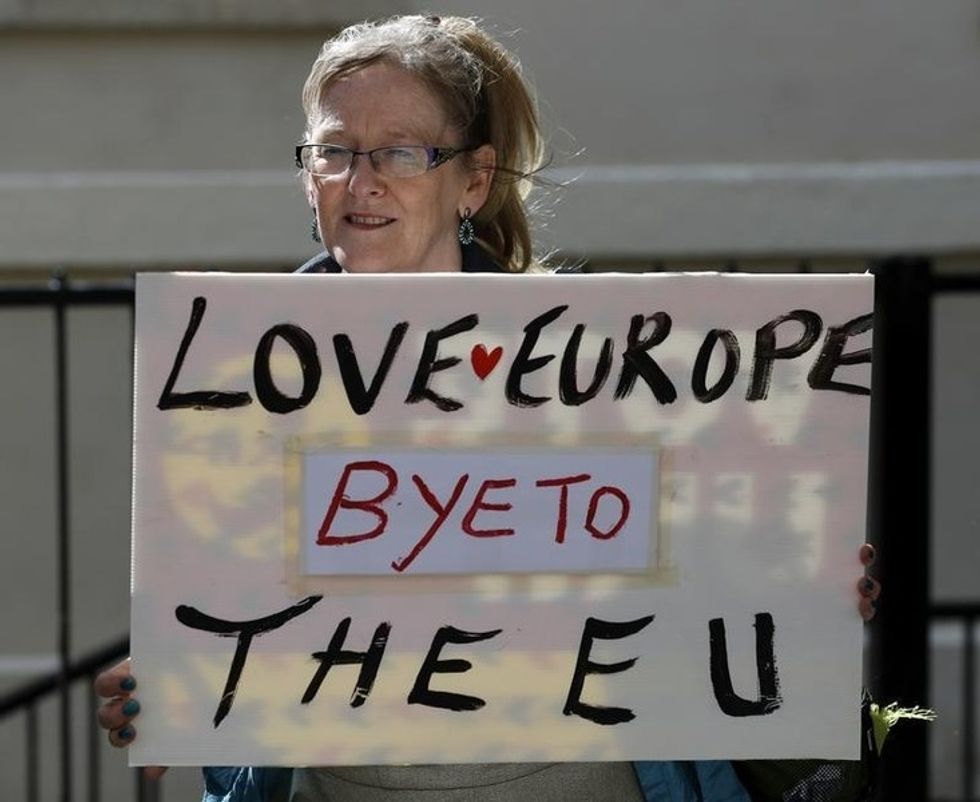 To leave, or not to leave: that is the question. Still.
After Britain's historic vote to leave the European Union, there is no indication that a so-called Brexit will happen soon. It maybe never will.
Prime Minister David Cameron, who is resigning, has said he will not take the formal step to an EU divorce on the grounds that his successor should. Because the referendum is not legally-binding, some politicians are suggesting a parliament vote before formally triggering Brexit.
A petition on the UK government's website on holding a second referendum has gained more than 3 million signatories in just two days.
European leaders, facing the biggest threat to European unity since World War Two, are divided over how swiftly divorce talks should start. Paris wants haste and German Chancellor Angela Merkel is urging patience. European Commission President Jean-Claude Juncker said he wanted to "start immediately".
And on Sunday, Scotland's leader said Scotland may veto Brexit altogether. Under devolution rules, the parliaments of Scotland, Northern Ireland and Wales are required to consent to any EU divorce, according to a report by the House of Lords.
Most British politicians agree such a decisive 52-48 win for Leave in the referendum means a divorce must happen. Anything less would be a slap in the face of democracy.
"The will of the British people is an instruction that must be delivered," a choking Cameron said in his resignation speech, which marked the most tumultuous end to a British premiership since Anthony Eden resigned in 1957 after the Suez crisis.
Still, the upswell of chatter – # regrexit is trending big on twitter – over whether Britain might be able to reconsider speaks to the disbelief gripping this continent in the wake of a vote that has unleashed financial and political mayhem.
Sterling has plunged, and Britain's political parties are both crippled. Cameron is a lameduck leader, and the main opposition Labour party on Sunday attempted a coup against its leader, with nine top officials resigning.
"The kaleidoscope has been shaken up not just in terms of our relationship with the EU but in terms of who runs our parties, who governs the country and what the country is made up of," said Anand Menon, Professor of European Politics and Foreign Affairs at King's College London.
"It is very hard to see where the pieces are."
ARTICLE 50
The law provisioning an EU member country's exit from the union is Article 50 of the Lisbon Treaty that is effectively the EU's constitution. It has never been invoked before.
Before the vote, Cameron had said Article 50 would be triggered straight away if Britain voted to leave. Over the weekend, several EU officials also said the UK needed to formally split right away – possibly at a Tuesday EU meeting.
But officials of the Leave campaign – including former London mayor Boris Johnson – are stepping on the brakes. They say they want to negotiate Britain's post-Brexit relationship with the EU before formally pulling the trigger to divorce.
European officials and observers say such a deal is unlikely, especially considering the thorny issues involved.
For example, it is unlikely that the EU would grant Britain access to the single market – key to allowing Britain trade goods and services in the EU – without London accepting the free movement of EU workers. But the biggest issue for those who voted to leave the bloc was limits on immigration – something the Leave campaigners promised.
DIVIDED UK
On Sunday, a petition to call for a second referendum was gaining supporters, reaching 3.3 million signatories by the afternoon. David Lammy, a lawmaker for the opposition Labour Party, said it was within parliament's powers to call a second referendum and urged that it be done.
Perhaps the most vocal resistance to a British exit is coming from Scotland.
Scotland, a nation of five million people, voted to stay in the EU by 62 to 38 percent, compared to the 54 percent in England who voted to leave.
Under the United Kingdom's complex arrangements to devolve some powers to Scotland, Wales and Northern Ireland, legislation generated in London to set off an EU divorce would have to gain consent from the three devolved parliaments, according to a report by the House of Lords' European Union Committee.
Scottish First Minister Nicola Sturgeon told the BBC on Sunday that she would consider urging the Scottish parliament to block such a motion. It is not clear, however, whether such a scenario would ever materialize or be binding. Sturgeon's spokesman later said that the British government might not seek consent in the first place.
Moreover, Sturgeon is simply laying out the groundwork for a new referendum on Scottish independence from the United Kingdom –something the first minister said was "highly likely."
WITHDRAWAL
While there is no precedent for Article 50, the House of Lords has discussed how any Brexit would work. In May, it published a report after consultations with legal experts.
In the report, Derrick Wyatt, one of the professors involved, said that while it would be politically difficult, the law allows the UK to change its mind after invoking Article 50.
"In law, the UK could change its mind before withdrawal from the EU and decide to stay in after all," said Wyatt.
(Editing by Alessandra Galloni)
Photo: A woman holds a sign in Westminster, in central London, Britain June 24, 2016.     REUTERS/Phil Noble