To Collect Revenue, Some States Put Tax Scofflaws In Virtual 'Stocks'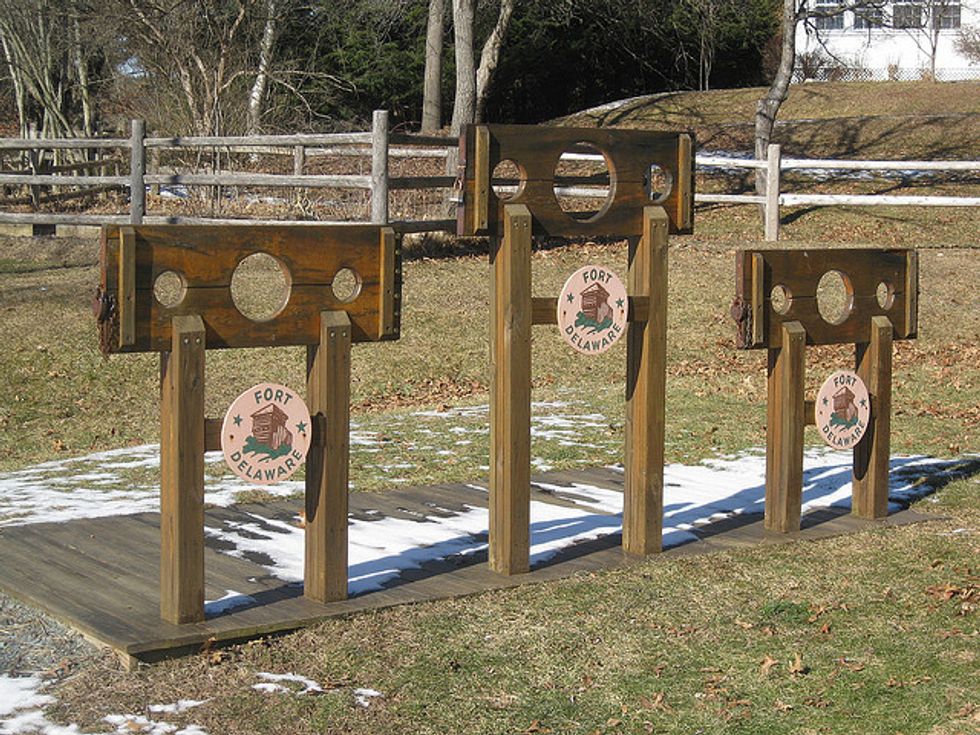 By Elaine S. Povich, Stateline.org (TNS)
WASHINGTON — Almost two-thirds of the states are punishing tax delinquents with a digital version of the Colonial practice of locking lawbreakers in stocks set up in the village square.
It turns out publishing the names of tax scofflaws and the amounts they owe on the Internet works spectacularly well, bringing in millions to states eager for the revenue. In many cases, just the threat of being on the list is enough to get delinquent taxpayers to pay.
The technique is the flip side of tax amnesty, in which delinquent taxpayers are offered the chance to come forward voluntarily to escape high interest or penalties. The two processes are similar, however, in that states usually work out a payment plan for taxpayers.
The states that use public lists of delinquent taxpayers range from largely liberal ones such as California and New York to more conservative states such as South Dakota and Alabama.
In Vermont, the latest state to adopt the strategy, the legislature last year approved publishing the names of the top 100 individual and top 100 business tax delinquents. The state estimated it would collect $800,000 of an estimated $175 million in delinquent taxes in fiscal year 2015, which will end June 30.
The program has been even more successful than expected: Since the list was posted in January, Vermont has collected $1.3 million, according to Gregg Mousley, deputy tax commissioner. He predicted a total take of $1.5 million by the end of the fiscal year.
Under its plan, Vermont compiles the two lists, and then notifies the scofflaws by letter that their names are about to be published. According to Mousley, the letter often is incentive enough to prompt payment.
"At least half of the $1.3 million was collected before we put them on the list," he said. "The threat of being on the list was a very good motivator." Mousley predicted, however, that the pace of collections will slow and that the state will collect less in subsequent years because some of the buzz about the program will die down.
Mousley noted a quirk that also has been documented by researchers — the more money tax scofflaws owe, the less likely they are to be shamed into paying.
"When you are talking about large debts, you do tend to get some people who just don't care," he said. "It's just not worth playing off their $450,000 or $1.2 million debt. Down on the lower levels, you get more of the Average Joe who is concerned."
The effectiveness of the shaming tactic has exceeded expectations in other states, too.
Wisconsin officials estimated that publicly naming delinquents would allow them to recoup about $1.5 million annually when they first posted the information in January 2006. Instead, they've recovered between $11 million and $31 million annually, according to Stephanie Marquis, communications director at the Department of Revenue. Wisconsin collected $12 million in fiscal 2014 and has garnered $10.8 million so far in fiscal 2015, she said.
In their groundbreaking paper "Shaming Tax Delinquents: Theory and Evidence from a Field Experiment in the United States," researchers Ugo Troiano and Ricardo Perez-Truglia found that the "optimal policy" for collecting tax debts was shaming. But the price of the shame varied among taxpayers, according to Troiano.
"First, the price of the shame is not fixed," he said in an interview. "If I am on the list for $200, it's relatively easy to get off the list and not be shamed. But if the price is $10,000, it costs more to get off the list and it's harder.
"Secondly, it's possible that people who have smaller debts are different kinds of people than those who have higher debts, and who may not be responsive to shame. They may respond differently," he said.
Vermont Rep. Janet Ancel, the Democratic chairwoman of the House Ways and Means Committee, was instrumental in passing the legislation. "Our challenge, which every state shares, is in compliance and collections. We felt it was worth a try," she said. "It helped maybe a little bit that I'm a former tax commissioner and I appreciate how difficult it is to get people to pay what they owe. It turns out it's been quite successful."
Ancel said there was little resistance to the program when the legislature had hearings on it, and she doesn't remember questions being raised about privacy. Initially, the list did not include the amount each delinquent taxpayer owed. But under pressure from the public and other lawmakers, the amounts were added to the list.
She said other legislatures considering similar bills should make sure the tax departments are careful about what they publish. "If you are going to make this information public, it needs to be correct. It takes time and attention from the department," she said. "I think it's a good collection tool. It's one tool, but it's a fairly significant one."
California was one of the first states to publish the names of delinquent taxpayers online, starting in 2007. Since then, the program has collected more than $414 million from taxpayers in arrears, according to Daniel Tahara, spokesman for the California Franchise Tax Board.
People and businesses pay because they "do not want their name published on a delinquent tax list that is publicly available," Tahara said, adding that publishing the names is not the only tool state officials have. Other motivators include suspending driver's licenses and other professional licenses for those who don't pay, and working with other states on reciprocal agreements that can allow California access to taxpayer refunds from other states.
Jerome Horton, chairman of the California Board of Equalization, another tax administration entity, is a former state legislator who authored the state's original "tax shaming" bill.
"It was a scarlet letter kind of concept," Horton said. "We wanted to know why they weren't paying. This was a catalyst to figure out a way to do that."
He said the state was pleasantly surprised to find that "if we educate folks about their responsibilities, most people will actually comply." He acknowledged however, that some people aren't thrilled about the exposure.
"Under public pressure, they accuse us of violating their privacy and a whole bunch of things," he said. Some of the delinquents threaten to sue the state for invading their privacy, "but as soon as they talk to a lawyer they find out it's not a violation of their privacy to publish that they owe us taxes. Then they call me and scream at me."
In most of the states, once a taxpayer pays the money, his or her name comes off the list and another taxpayer is put on, creating a rotating file of scofflaws. In California, the list of the top 500 (half individuals and half businesses) is published twice a year. According to the Franchise Tax Board, 41 percent of those who were about to appear on the list made payment arrangements before their names were published, accounting for 205 individuals or businesses.
Matthew Gardner, executive director of the Institute on Taxation and Economic Policy, a left-leaning think tank, said that while making tax delinquents' names public may work, a larger question is whether that technique is being used because state tax collection departments are underfunded and under-staffed, making regular collections more difficult.
"A better strategy would be that state agencies have the ability to fairly and efficiently collect taxes in the first place," he said.
Photo: The digital version of stockades — publishing tax deliquient information online — is spurring those affected to pay up. Doug Kerr via Flickr https://flic.kr/p/7BqqDx