To Decant Or Not To Decant? 3 Reasons To Let That Wine Breathe ASAP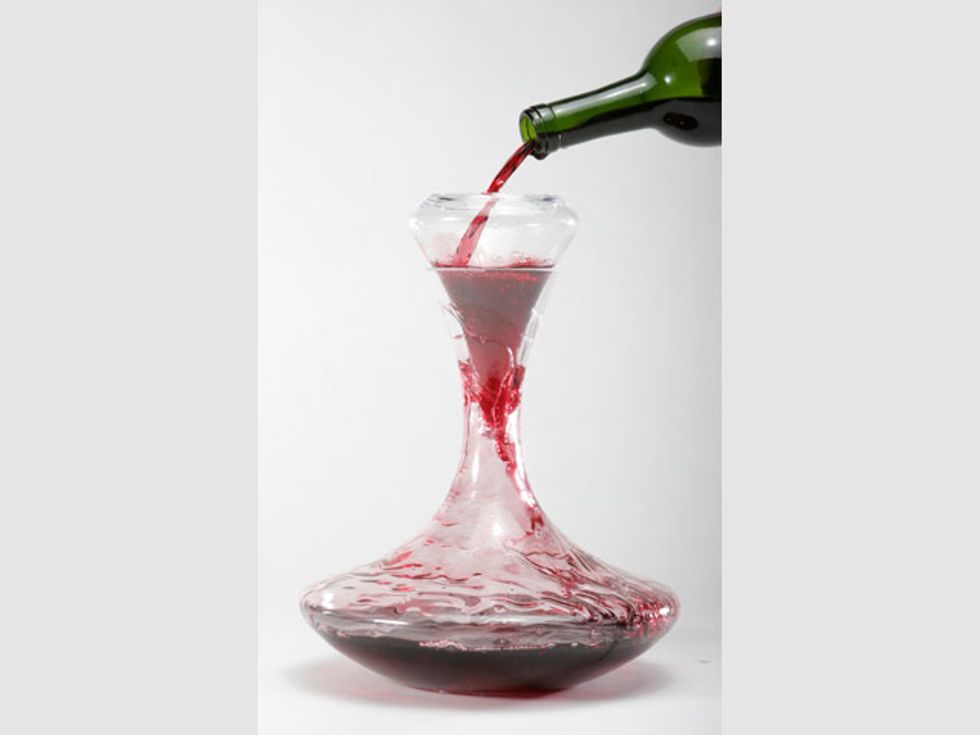 By Michael Austin, Chicago Tribune (TNS)
If you are ever in doubt whether you should decant a wine, remember the third reason for decanting: It looks beautiful.
There is your answer. For the most part, decant if you enjoy seeing a ruby wine resting in a clear glass container. Decant also if you enjoy seeing a golden or pink wine doing the same.
The first and second reasons for decanting are more practical, but before we get to those reasons, let us all pause and remind ourselves that creating beauty is almost always a task worth practicing. Regardless of what decanting does for the aroma and taste of wine, it will do wonders for your eyes and soul. A marketing team would call that "added value."
Pause over; wasn't that nice? Now, let's backtrack to reason No. 1: aeration. Young red wines, usually big, tannic ones like cabernet sauvignon and merlot, sometimes need a little fresh air to help them open up. In a bottle, after the cork is pulled, the surface that is exposed directly to the air — let's call it the roof of the wine — is about the size of a quarter. Tiny. Using the roof analogy, wine in a bottle is a skinny urban skyscraper, and wine in a decanter is suburban shopping mall. A decanter gives your wine a big ol' sprawling roof.
Think about a young human. Say this child has been confined to his bedroom with the windows closed for a brief period of time. He is comfortable and well taken care of, but he is also young and full of energy.
Now picture a perfect day outside, the air filled with the scent of fresh-cut grass and clean laundry.
Can you imagine that child's happiness when he is allowed to leave his bedroom and run free in the fresh air? You want to drink the young wine that is allowed to run in the fresh air — not the wine that is sitting on the edge of its perfectly made bed listening to the clock tick.
When a big, young wine is exposed to air, it opens up, relaxes, reveals its best self. You aerate first by simply pouring the wine into the decanter. Don't be gentle about it. Let it glug and slosh, because that is part of the aeration process. Doctors slap newborns on the butt to wake them up, to get them breathing and living. Slap your wine on the butt and send it out into the backyard.
That kid on the edge of the bed? He's got a grandpa, and gramps is still sharp and handsome, and the warmest, wisest person the kid has ever known. They have come from the same place and are similar in some ways, but grandpa needs decanting for a different reason than his grandson.
OK, this is where the metaphor breaks down — but it was sounding good, wasn't it? Let me just say that reason No. 2 for decanting is to separate old wine from its sediment. Unlike that sloshing pour of youth, the gentle pour of elder wines is meant to keep the solids in the bottle and get the precious, aged liquid out.
Before you pour, stand the bottle up for a day or so to make sure the sediment floats to the bottom, like the flakes in a snow globe. As you pour — very slowly — some of that sediment might creep up into the bottle neck. When you see this happening, stop pouring. Shine a flashlight on the neck, or let the light of a candle be your guide if you prefer the antiquated method or if you actually live in a castle with no electricity or batteries and it's time to open up a '43.
Too much fresh air can tire out an old wine, so be careful how long you let your aged wine sit in a decanter before you drink it.
That said, trust your taste buds: I decanted a 1986 Ridge Monte Bello recently with some friends, and it kept getting better, and better, and better over the course of about 90 minutes. The only reason we decanted it was we thought there might be some sediment at the bottom of the bottle. There wasn't. But we were lucky, because the extra oxygen did nothing but help the wine open up and reveal all of its profound, earthy wonderfulness.
Plus, because of its age, it had beautiful brick hue to it, a nice contrast to the younger ruby wines it sat next to, also in decanters, for reason No. 1.
Aeration. Sediment control. Beauty. You'll never struggle with the decanting decision again. And if you don't have a proper decanter, looking something like a genie's bottle, a spaceship or a duck, use a pitcher.
Photo: Decanting wine exposes it to fresh air and helps separate old wine from its sediment. (Michael Tercha/Chicago Tribune/TNS)