'To Kill A Mockingbird' Author Harper Lee Dies At 89
@reuters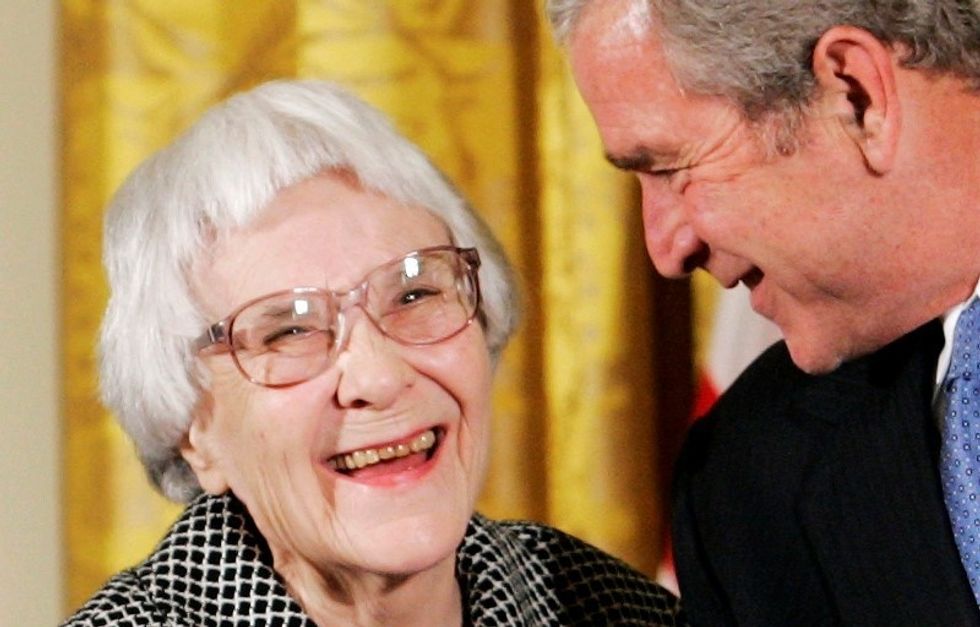 By Bill Trott
(Reuters) – Harper Lee, who wrote one of America's most beloved literary classics, To Kill a Mockingbird, and surprised readers 55 years later with the publication of a second book about the same characters, died at the age of 89 on Friday.
To Kill a Mockingbird was published in 1960 as the civil rights movement was heating up and its unflinching examination of racial hatred in the U.S. South made it especially poignant. Its theme could be summed up with the advice that Atticus gave Scout: "You never really understand a person until you consider things from his point of view – until you climb into his skin and walk around in it."
A statement from Tonja Carter, Lee's attorney in her hometown of Monroeville, Alabama, said Lee had "passed away early this morning in her sleep" there and that her death was unexpected. She would have a private funeral.
Lee lived an almost reclusive life for decades and it had appeared that her sole literary output would be To Kill a Mockingbird, especially since she acknowledged she could not top the Pulitzer Prize-winning book. That was what made the July 2015 publication of Go Set a Watchman such a surprising and somewhat controversial literary event.
In the first book, Atticus Finch was the adored father of the young narrator Scout and a lawyer who nobly but unsuccessfully defended a black man unjustly accused of raping a white woman. But in Watchman, an older Atticus had racial views that left the grown-up Scout greatly disillusioned.
Lee reportedly had written Go Set a Watchman first but, at the suggestion of a wise editor, set it aside to tell a tale of race in the South from the child's point of view in the 1930s.
For many years, Lee, a shy woman with an engaging Southern drawl who never married, lived quietly and privately, always turning down interview requests. She alternated between living in a New York apartment and Monroeville, where she shared a home with her older sister, lawyer Alice Lee.
After suffering a stroke and enduring failing vision and hearing, she spent her final years in an assisted living residence in Monroeville.
"When I saw her just six weeks ago, she was full of life, her mind and mischievous wit as sharp as ever," her agent, Andrew Nurnberg, said in a statement. "She was quoting Thomas More and setting me straight on Tudor history."
The movie version of To Kill a Mockingbird also became an American classic. It won the Academy Award for best picture in 1963 while Gregory Peck, who played Atticus and would become Lee's good friend, was named best actor.
SAD DAY IN MONROEVILLE
Spencer Madrie, owner of the Ol' Curiosities & Book Shoppe dedicated to the work of Lee and other Southern authors, said Monroeville was in a somber mood.
"You wish somebody like that could go on forever and be this lifelong legend," he said. "You don't ever consider somebody like that passing, even though her legacy will last for generations after."
Lee's state of mind would become an issue last year when plans were announced to publish Go Set a Watchman. Some friends said that after the death of her sister Alice, who handled Harper's affairs, lawyer Carter had manipulated Lee to approve publication.
Carter had said she came across the Watchman" manuscript while doing legal work for Lee in 2014 and an investigation by Alabama state officials found there was no coercion in getting Lee's permission to publish.
A family friend, the Reverend Thomas Lane Butts, told an Australian interviewer that Lee had said she did not publish again because she did not want to endure the pressure and publicity of another book and because she had said all that she wanted to say.
Lee essentially quit giving interviews in 1964 and rarely made public appearances. She did regularly attend an annual luncheon at the University of Alabama, however, to meet with the winners of a high school essay contest on the subject of her book.
In November 2007, she went to the White House to accept a Presidential Medal of Freedom from President George W. Bush, who at the time called her book "a gift to the entire world."
Bush said in a statement on Friday that he and his wife, Laura Bush, a former librarian, mourned Lee. "Harper Lee was ahead of her time and her masterpiece To Kill a Mockingbird prodded America to catch up with her," he said.
News of Lee's death spread widely on social media and tributes poured in from well-known figures, such as Apple Inc Chief Executive Officer Tim Cook, who quoted the author in a tweet by saying, "Rest in peace, Harper Lee. 'The one thing that doesn't abide by majority rule is a person's conscience.'"
CHANGING RACIAL VIEWS
Nelle Harper Lee was born April 28, 1926, in Monroeville, the youngest of four children of A.C. and Frances Finch Lee and a descendant of Civil War General Robert E. Lee. Like Scout, Lee grew up a tomboy.
Lee had studied law at the University of Alabama but, six months before finishing her studies, she went to New York in the early 1950s to pursue a literary career while working as an airline reservation clerk.
In 1956 friends Michael and Joy Brown gave Lee a special Christmas gift, a year of financial support so she could work full time on To Kill a Mockingbird.
An estimated 30 million copies of the book were sold. It would become required reading in many American schools but the American Library Association said it was frequently challenged by those who did not like its subject matter.
Lee also played a key role in researching another great American book by Truman Capote, her childhood friend and the inspiration for the frail, precocious Dill in To Kill a Mockingbird.
In 1959 she accompanied Capote to Holcombe, Kansas, to work on In Cold Blood, the chilling account of the murders of a farming family. Her mannerly, down-home approach undoubtedly smoothed the way for the flamboyant Capote.
There was speculation that Capote helped her write To Kill a Mockingbird but in his 2006 biography, Mockingbird: A Portrait of Harper Lee, Charles J. Shields disputed that. He also said Lee's contribution to Capote's "In Cold Blood" was greater than believed.
Lee's sister said the authors eventually fell out because Capote was jealous of Lee's Pulitzer, which she won in 1961.
In 2006 Lee wrote a piece for O magazine about developing a childhood love of books, even though they were scarce in Monroeville.
"Now, 75 years later in an abundant society where people have laptops, cell phones, iPods, and minds like empty rooms, I still plod along with books," she wrote.
(Reporting and writing by Bill Trott; Additional reporting by Letitia Stein and Alex Dobuzinskis; Editing by Grant McCool)
Photo: U.S. President George W. Bush (R) before awarding the Presidential Medal of Freedom to American novelist Harper Lee (L) in the East Room of the White House, in this November 5, 2007, file photo. REUTERS/Larry Downing/Files