To Protect National Security, Send A Subpoena To Mar-a-Lago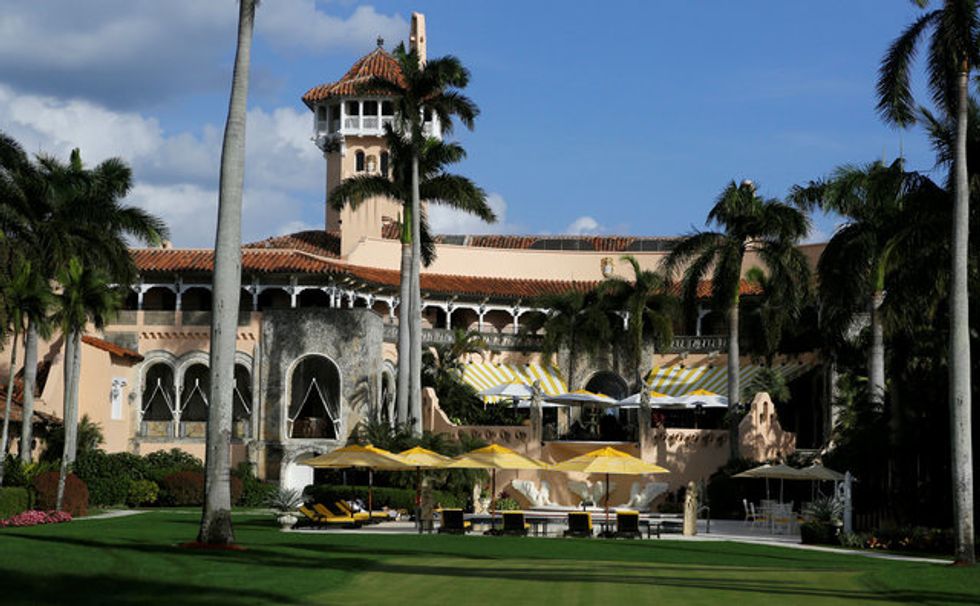 We were sitting on the patio at Mar-a-Lago, enjoying drinks and dinner with a few friends, when Donald Trump suddenly showed up.
He scowled at me for a few seconds and then did a double take. Perhaps he was rattled to encounter on his own property a journalist whose skeptical coverage dated back to the era when Roy Cohn was still fixing politicians for him. (Back then, I wrote a weekly column in the hallowed pages of the Village Voice with Wayne Barrett, the nonpareil investigative reporter and Trump nemesis who is gone but by no means forgotten.)
Trump walked away but returned to our table a few minutes later with a cordial greeting for me as well as our host, who is a club member. Before we left, he came back again, this time with Melania Trump on his arm, to make a gracious introduction.
It's an amusing story, but it suggests how easily an unwanted guest can penetrate Trump's beachside castle — known these days as the "Winter White House" — or, for that matter, his golf club in Bedminster, New Jersey, or anywhere the president spends time golfing and socializing when he isn't watching Fox News or tweeting.
The latest unwelcome visitor to be discovered at Mar-a-Lago is a suspected Chinese spy, found to be carrying a thumb drive infected with malware and various other electronic items, along with a large amount of cash. Known as Yujing Zhang, she reportedly "talked her way" onto the premises and was only stopped and arrested thanks to an alert receptionist.
Although she went through two security checkpoints, nobody flagged the unusual devices in her bag. She remains in federal custody in South Florida while authorities try to figure out who she really is and what she was doing.
Trump later dismissed Zhang's unsettling visit to the club as a "fluke," but as the Secret Service later explained to reporters, it is club personnel who make security decisions there, not federal agents. The same absence of basic safeguards applies to the club members, their guests and the club employees. So clueless are the clubs about their personnel that dozens of undocumented workers have toiled at the Bedminster club for years.
(Manhattan's Trump Tower, where he shows up far less often, resembles an armed bunker in Midtown. But the security risks there are baked in among the mobsters, gangsters and other unsavory characters own apartments there.)
At the actual White House, such a lax approach has never been tolerated, of course, nor has it at any other residence occupied by a president, from FDR's Hyde Park to Dubya's Texas ranch. Never before Trump has the nation seen national security compromised in such a feckless, arrogant and foolish way.
Why would this president take such crazy risks with American security and secrets? He is operating under the same depressingly familiar motive that drives so many of his decisions: He won't allow any concern to diminish the profits of the Trump Organization. Indeed, he has raised fees at his clubs substantially as he cashes in on the presidency.
So while Trump continues to defy the Constitution's emoluments clause, which he swore to uphold, at least Congress can enforce a measure of transparency on all these sordid transactions. In its pursuit of security clearance violations at the White House, the House Oversight Committee should demand full access to the membership and employee rosters of all Trump properties, with a focus on Mar-a-Lago and Bedminster. If the Trump Organization fails to turn over that information, the committee should issue subpoenas. The committee should also call the managers of those properties — as well as Secret Service officials — to explain in public testimony why no guest records are maintained.
The Mar-a-Lago patio where we dined is the same spot where, a few years later, Trump and Japanese Prime Minister Shinzo Abe hashed out their response to a North Korean missile launch in February 2017, while a crowd gawked and snapped photos. It was an invitation to our enemies, a warning to our allies and a humiliation to our country.
The cowardly Republicans in Congress did nothing to defend America against Trump's delinquency, which is far more threatening on a daily basis than anything Hillary Clinton ever did with an email server. As with so many Republican failures in this era, national security is now the responsibility of the Democrats. They must not fail.
To find out more about Joe Conason and read features by other Creators Syndicate writers and cartoonists, visit the Creators Syndicate website at www.creators.com.