Today In Not Being 'The Stupid Party': Bobby Jindal Has Some Awful Advice For The GOP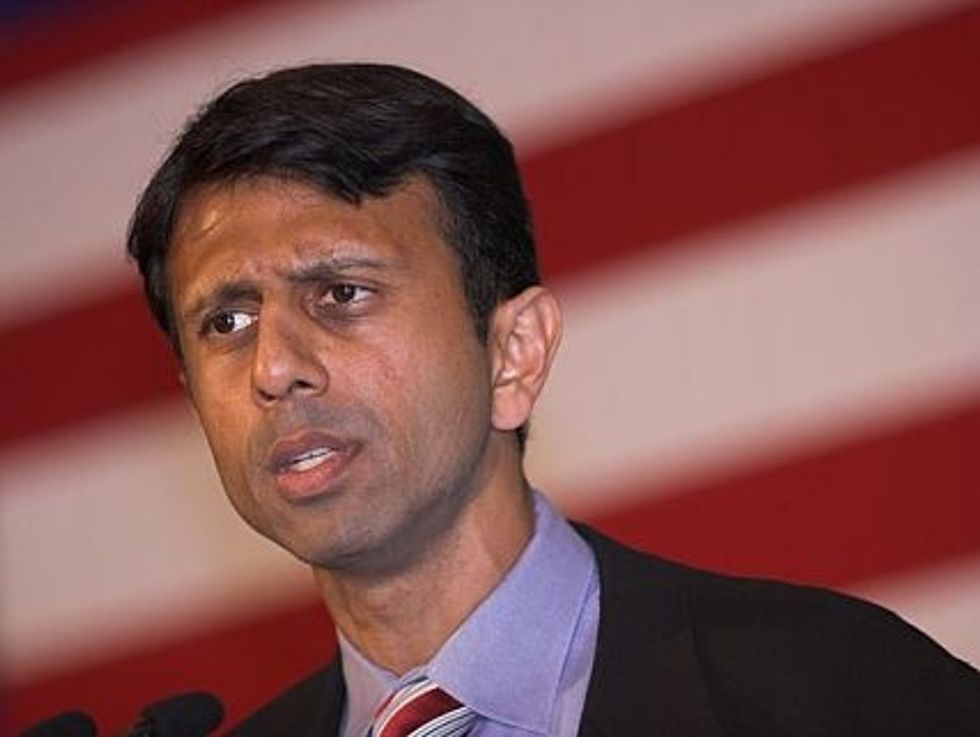 Louisiana governor Bobby Jindal is calling on his fellow Republicans to stop "navel-gazing," and commit to going on offense against Democrats, in an op-ed published in Politico Tuesday.
"At present it looks as if the entire Republican Party needs to go to counseling," Jindal writes of the GOP's post-election self-examination. "It's really getting embarrassing, all these public professions of feelings of inadequacy."
"How about we take all of this energy being spent on autopsies and focus it on painting a picture for the American public, particularly for young people, of what a free and prosperous American future will look like with smart conservative policies," he continues.
"No more self-analysis; we've had our catharsis," Jindal adds. "The season for navel gazing has passed."
Of course, Jindal is a rather odd person to deliver this message, considering that he spent weeks after the 2012 election warning that Republicans must "stop being the stupid party." Apparently, the second-term governor has now come around to Donald Trump's point of view on the matter.
Jindal's op-ed makes it clear that he has personally moved on from the post-election retrospection. In November, the governor insisted that "bizarre comments" have damaged the GOP brand. In June, he tries to explain the Democratic Party's coming failure with this rant, for which "bizarre" would be a most charitable description:
Because the left wants: The government to explode; to pay everyone; to hire everyone; they believe that money grows on trees; the earth is flat; the industrial age, factory-style government is a cool new thing; debts don't have to be repaid; people of faith are ignorant and uneducated; unborn babies don't matter; pornography is fine; traditional marriage is discriminatory; 32 oz. sodas are evil; red meat should be rationed; rich people are evil unless they are from Hollywood or are liberal Democrats; the Israelis are unreasonable; trans-fat must be stopped; kids trapped in failing schools should be patient; wild weather is a new thing; moral standards are passé; government run health care is high quality; the IRS should violate our constitutional rights; reporters should be spied on; Benghazi was handled well; the Second Amendment is outdated; and the First one has some problems too.

Their philosophy does not work and it got our nation into the mess it's in.
Yes, Governor Jindal — who used taxpayer money to fund schools teaching that the Loch Ness Monster is real, and who once claimed to have cured a friend's cancer with an exorcism — is attacking Democrats' credibility on science (without mentioning which Democrats, exactly, believe that "the earth is flat"). And that's not even touching the notion that the left's apparent comfort with pornography "got our nation into the mess it's in" — or the fact that his native Louisiana watches more porn than just about any blue state.
Jindal goes on to suggest that Republicans make their new message, "We are the conservative party in America — deal with it." Over the past several years, Jindal has tried that strategy in Louisiana: He proposed eliminating state income taxes while raising sales taxes — cutting taxes for the top 1 percent of Louisianans while raising them for bottom 80 percent — privatizing state-run hospitals, and running an unconstitutional school voucher program, among other right-wing policies. The result? Jindal's popularity imploded, leaving the one-time presidential hopeful as one of the least-popular governors in America.
With Jindal less popular in the deep red Pelican state than even President Barack Obama, Republicans should have only response to Jindal's hyperbolic op-ed: Why in the world would we take political advice from this guy?
Photo via Wikimedia Commons