Here's What You Need To Know For National Voter Registration Day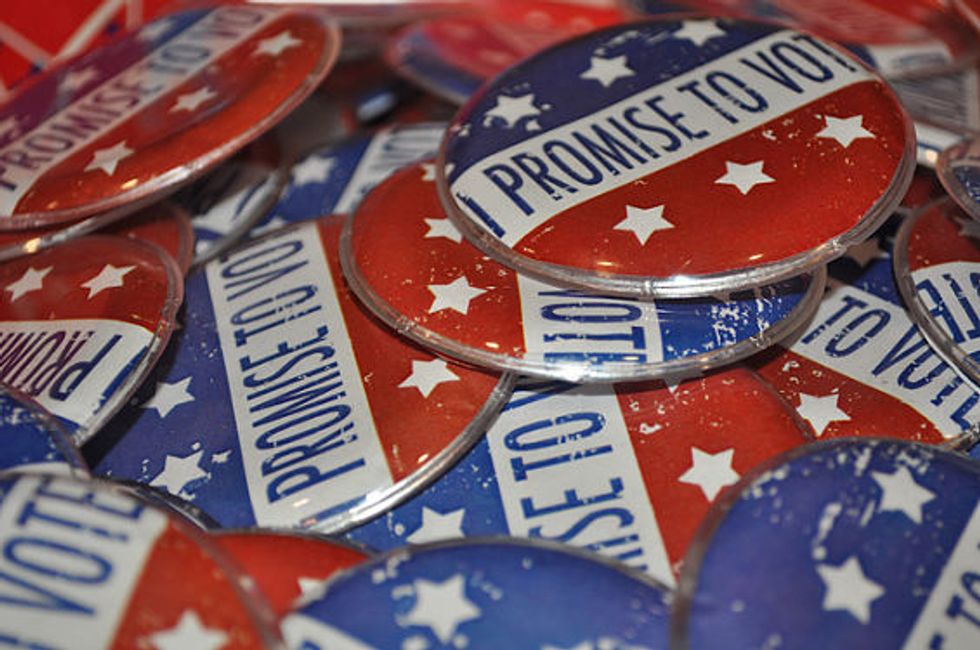 Tuesday is National Voter Registration Day, a concerted effort by volunteers, organizations, celebrities, and leaders across the country to register Americans to vote before important upcoming elections. This year's midterm elections, which will be held on November 4, will decide 417 members of the U.S. Congress, 36 governors, and 46 state legislatures.
If you need to register, you should check out your state's elections website. To find the correct website, go to rockthevote.com, click on your state, and you will be redirected to the state elections page. In order to vote in any state you must be a citizen of the United States, 18 or older, and, at the very least, a resident of that state on the day of the election. By federal law, a state cannot require you to be a resident for longer than 30 days to be eligible to vote.
You can print out registration forms and mail them in, but if you are registering for the first time with a mail-in form, most states will require that you show some kind of federal or state-issued I.D. with your address on it, or a current utility bill, bank statement, or paycheck when you vote. But states' requirements for documentation do vary, so use the state election website to find the specific requirements.
Some states, like Iowa and Colorado, have switched to online registration, but most still have a paper-based process.
Apart from using the state website to download registration forms to print out and mail in, you can also pick up the necessary forms at your local secretary of state's office.
The forms must be dropped off or postmarked by the registration deadline. You can also register at your state's Department of Motor Vehicles, provided you meet the deadline and are an eligible voter per other state requirements.
Another way to register is by a third-party site or registration drive. Third-party sites like Turbovote.org, NationalVoterRegistrationDay.org, Rockthevote.com, and Vote411.org help facilitate and streamline the process instead of having to work through your state's own election page.
In almost all states, you can register to vote by mail using the National Mail Voter Registration Form; North Dakota, Wyoming, American Samoa, Guam, Puerto Rico, and the U.S. Virgin Islands do not accept this form, while New Hampshire accepts it only as a request for an absentee voter mail-in registration form.
You can also use the National Mail Voter Registration Form to update your registration if you changed your name or address, or want to register with a political party.
In order to be eligible to vote, you must submit your registration form by your state's deadline. You can find a complete list of registration deadlines by state on USA.gov's voting page.
If you happen to live in North Dakota, you don't have to register at all. North Dakota is the only state that doesn't require its residents to register in order to vote.
Photo via Neighborhood Centers Inc. via Flickr
Want more political news and analysis? Sign up for our daily email newsletter!