Tom Cotton Thinks Iraq And Afghanistan Are Good Models For Law Enforcement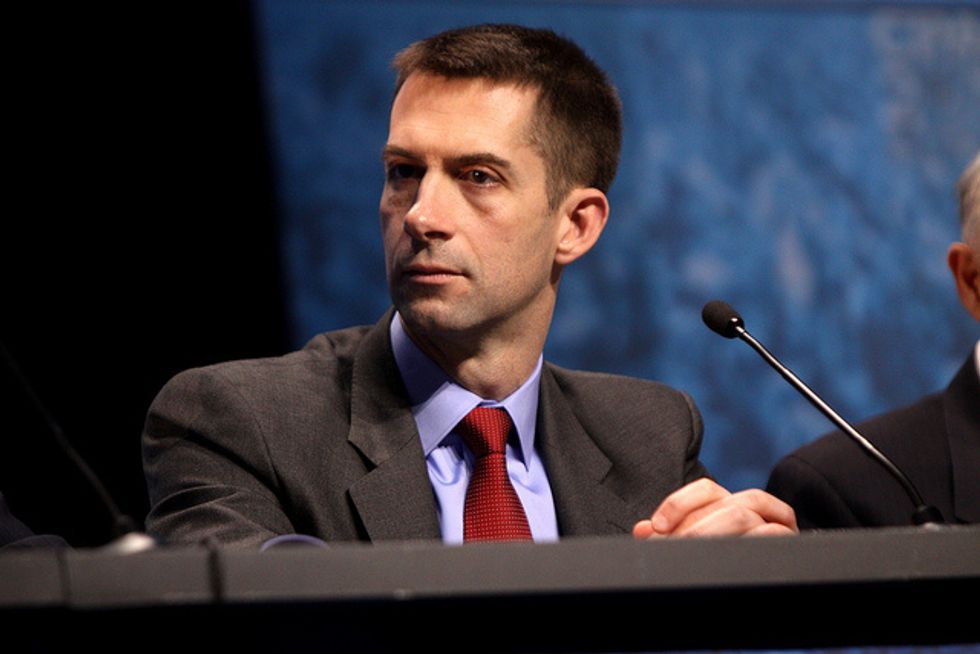 Despite the United States housing 25 percent of the world's prison population, Arkansas Sen. Tom Cotton claimed Thursday that America had an "under-incarceration problem," comparing our failure to jail more of its citizens to similar post-occupation failures in Iraq and Afghanistan.
"I saw this in Baghdad. We've seen it again in Afghanistan," said Cotton, an Army veteran of both wars, of the prospect of releasing convicted felons from prison early. "Security has to come first, whether you're in a war zone or whether you're in the United States of America."
Given Cotton's legislative history, the comments should come as no surprise. But how could a sitting senator reach such an outlandish conclusion?
"Take a look at the facts. First, the claim that too many criminals are being jailed, that there is over-incarceration, ignores an unfortunate fact: for the vast majority of crimes, a perpetrator is never identified or arrested, let alone prosecuted, convicted, and jailed," Cotton said in his speech at The Hudson Institute, a conservative think tank, according to his prepared remarks. "Law enforcement is able to arrest or identify a likely perpetrator for only 19 percent of property crimes and 47 percent of violent crimes. If anything, we have an under-incarceration problem."
Cotton has been a consistent opponent of any sort of criminal justice reform. In January, he led a clique of Republican senators fighting against a bipartisan effort to reform mandatory minimum sentencing, citing unvalidated claims that releasing thousands of felons would result in a spike in crime.
"It would be very dangerous and unwise to proceed with the Senate Judiciary bill, which would lead to the release of thousands of violent felons," said Cotton in an interview with Politico. "I think it's no surprise that Republicans are divided on this question … [but] I don't think any Republicans want legislation that is going to let out violent felons, which this bill would do."
However, two new studies by the American Society of Criminology and a trio of criminology professors point to a different result. The studies, observing the consequences of California's mass release of 27,500 felons since 2011, concluded that there has been no noticeable increase in violent crime rates across the state.
Meanwhile, California's prison population has been reduced by 17 percent and has slowly reversed a troubling trend — some prisons were formerly up to 300 percent over capacity. The reduced prison population has saved the state nearly $500 million. On the national level, the "epidemic of incarceration costs us taxpayers $63.4 billion a year," according to CBS News.
Asides from aspiring to "an act of mass forgiveness unprecedented in U.S. history," the state was ordered to release prisoners from its overcrowded prisons by the United States Supreme Court, who ruled that the overcrowding of the state's prisons constituted cruel and usual forms of punishment. California voters also voted in favor of Proposition 47, which reclassified a number of drug and property crimes as misdemeanors instead of felonies, further reducing the burden on the state's prison system.
The statistics used in Cotton's speech were from a 2010 FBI report on crime, according to his office. The latest edition of complete numbers, from 2014, showed that the percentage of unpunished crimes has remained roughly consistent. Violent crimes rose by 0.5 percent between 2010 and 2014 while property crimes, the other metric Cotton used in his speech, dropped by 6.8 percent over the same period.
A study of crime rates between 1990 and 2013 by the Brennan Center for Justice, a policy institute associated with New York University, found that violent crime had dropped by over 50 percent and property crime by 43 percent. At the same time, 1.1 million Americans were jailed, nearly doubling the prison population.
"Since 2000, the effect on the crime rate of increasing incarceration, in other words, adding individuals to the prison population, has been essentially zero. Increased incarceration accounted for approximately 6 percent of the reduction in property crime in the 1990s (this could vary statistically from 0 to 12 percent), and accounted for less than 1 percent of the decline in property crime this century," said the report.
But Cotton remains ideologically committed to the preservation of the prison-industrial complex. Rather than acknowledge the changing conversation around mass incarceration, he cited his experiences in two war zones as proof that he knew better about how to handle Americans locked up for crimes punished less heavily in other countries.
Of course, the United States is not under military occupation (as much as some Republican voters would like to imagine it were), and the criminal justice system we need is entirely different from the experience of occupying countries opposed to being invaded. Using the occupation of Afghanistan and Iraq as a framework for criminal justice policy here should worry the American public.
Photo: Gage Skidmore via Flickr