Top Democrat Sounds Alarm On Right-Wing Spending: 'We Can't Keep Up With Them'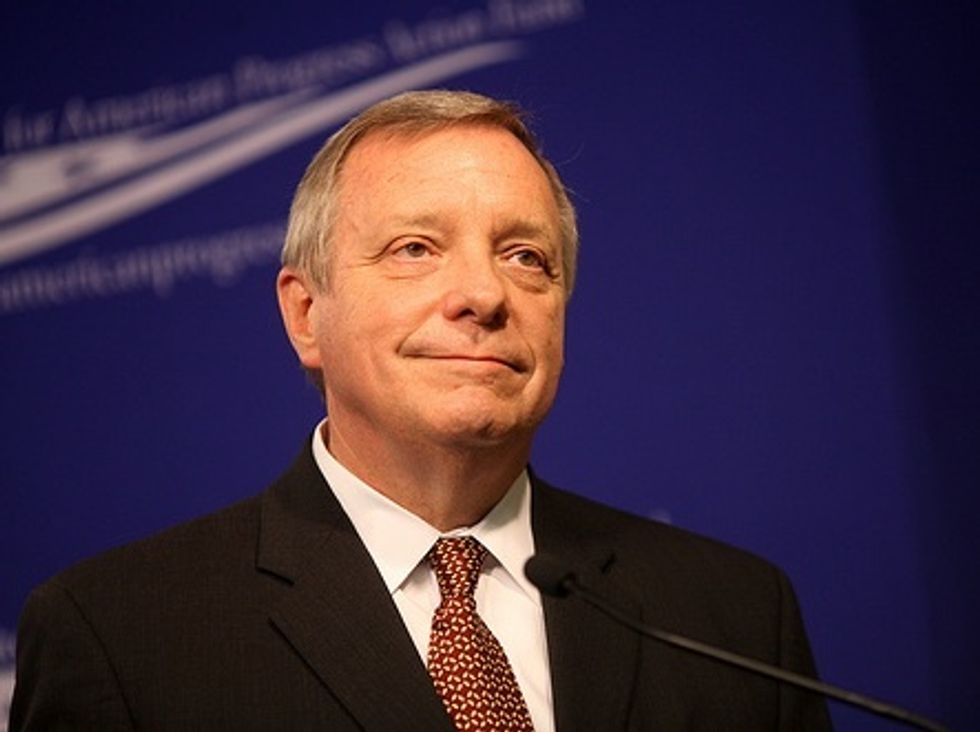 Republican-leaning outside groups are spending unprecedented amounts on the 2014 midterm elections, stoking Democratic fears that their candidates could be buried early on in the critical campaigns.
The 2014 elections are on track to be easily the most expensive in American history, and right-wing, 501(c)(4) "dark money" groups are leading the way. The Koch brothers-backed Americans for Prosperity alone has already spent more than $20 million on ads attacking Democratic congressional candidates, vulnerable incumbent senator Kay Hagan (D-NC) being the primary target.
On Tuesday, Senate Majority Whip Dick Durbin (D-IL) sounded the alarm during an interview with the New York Times.
"We're faced with a grim reality that more money is being spent earlier in some of these hot races than we've ever seen," Senator Durbin said. "We're spending some, but we can't keep up with them."
Outside groups won't be the only Republicans to spend liberally in the 2014 campaigns. The National Republican Senatorial Committee announced Tuesday that it raised $4.62 million in January, making it the committee's most productive month of the 2014 campaign cycle.
The big haul marks the second consecutive strong fundraising month for the Republicans' Senate campaign arm. The committee raised $4.02 million in December, narrowly edging the Democratic Senatorial Campaign Committee's total of $4 million. The DSCC has not yet released its January fundraising amount; the deadline for it to do so is Thursday.
Overall, the DSCC still holds a decisive fundraising advantage for the cycle; the Democratic committee has outraised its Republican counterpart by almost $16 million, and outspent it by more than $10 million. The DSCC currently has just over $12 million in cash on hand, with $3,750,000 in debts. The NRSC has just over $8 million to spend, but is debt-free.
UPDATE: On Wednesday morning, the DSCC revealed that it raised $6.6 million in January. It now has $15 million in cash on hand, and $2.5 million in debt.
Photo: Center for American Progress Action Fund via Flickr