Top Iranians Signal Support For A Nuclear Deal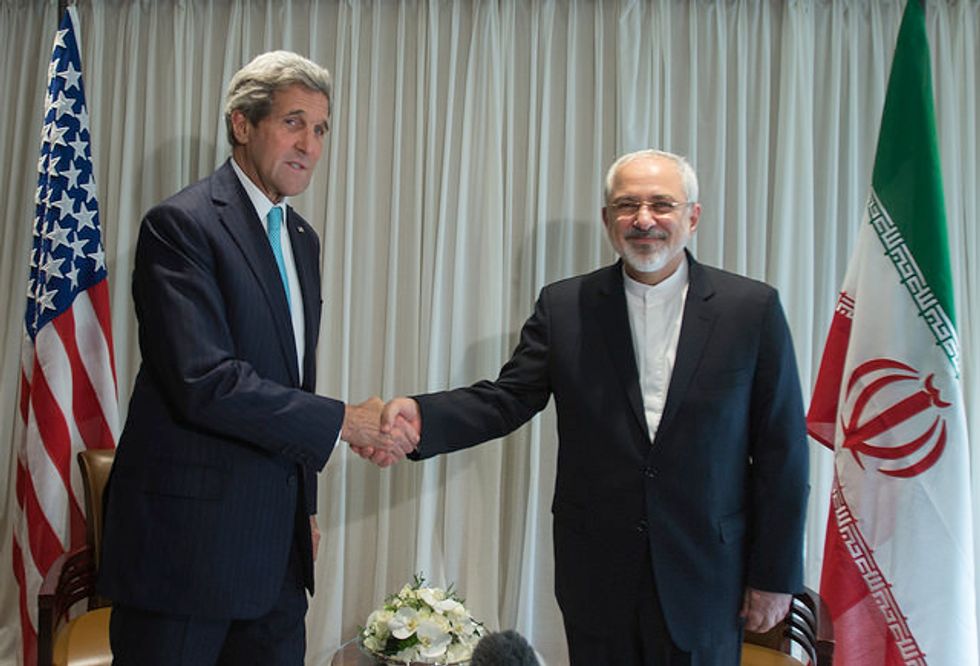 By Ramin Mostaghim and Paul Richter, Los Angeles Times (TNS)
TEHRAN — Key Iranian leaders are expressing support for a nuclear deal between Tehran and world powers, a sign that the country's elite is preparing for a landmark agreement that could be announced in days.
After long voicing wariness of a deal that would restrict Iran's nuclear activities, Ali Larijani, speaker of Iran's parliament, spoke approvingly last week, saying "many steps have been taken" toward completion of a pact. He predicted that a deal could be sealed, provided the six world powers now at the bargaining table dropped "excessive demands."
Earlier this month, Ayatollah Mahmoud Shahroudi, a member of Iran's Assembly of Experts, said Iran "supports a good deal that ensures its interests."
Iran, the United States and five other world powers have been bargaining for 18 months over a deal that would lift economic sanctions on Tehran if it accepts curbs intended to assure it doesn't obtain nuclear weapons capability. The group is seeking to complete the broad outline of a deal by March 31, and then to work out a final agreement by June 30.
Iranian Supreme Leader Ayatollah Ali Khamenei also signaled conditional support for a deal in a speech on Saturday, saying Iranians should support the country's efforts to work out such an agreement.
Iran's leaders generally echo Khamenei's policy pronouncements. But some have, in the past, been far more critical than he of the negotiations.
"The collective wisdom and prudence of the top officials has shifted," said Hossain Ghayyomi, a clergyman and reformist activist. He described the movement as "a paradigm shift toward reaching out to the West and making a deal, though not at any cost."
Hamid Reza Taraghi, an analyst close to the supreme leader's office, attributed the shift to American concessions. He said U.S. officials who once said Iran should have no centrifuges — equipment used to enrich uranium — are now willing to accept 6,000 centrifuges and to allow operations to continue at Natanz, Iran's primary enrichment facility.
"The softening stances of the West, especially America, is paving the way for a deal," Taraghi said.
Some Western analysts have been skeptical that Iran was ready to accept a deal because they saw no sign that top leaders were preparing public opinion for an agreement. Now they see it.
"It's quite an important shift," said Cliff Kupchan, an Iran specialist and chairman of the Eurasia Group, a political risk consulting firm.
To be sure, these leaders haven't fully embraced a deal; they say they will accept it only if the remaining issues are resolved on terms favorable to Iran.
Khamenei, in his address on Saturday, insisted that no deal could be reached until the six powers agreed to drop all sanctions at the outset of the agreement, and not gradually, as the diplomatic group has urged.
And the leaders have stopped short of trying to sell the deal as a step that would give an important economic boost to the country, Kupchan noted.
Until recently, Khamenei had kept a distance from the negotiations, positioning himself to be able to repudiate any agreement if it proved flawed or unpopular.
Now he's given it enough of an endorsement that "he can't walk away without egg on his face," Kupchan said.
In Kupchan's view, the key audience for the elite's statements is not the Iranian public, but hardliners, including the powerful Iranian Revolutionary Guard Corps, who have strongly opposed any deal. The leadership has to convince them that a deal is only about the nuclear issue, and won't lead to a broader detente with the United States that the conservatives fear could threaten their economic interests and hold on power, Kupchan said.
The signals come amid signs that the two sides may soon announce a deal. Although several thorny issues remain, Iranian President Hassan Rouhani and Foreign Minister Mohammad Javad Zarif, the two leading advocates for diplomacy, have been sounding increasingly optimistic.
Rouhani said last weekend that while some issues remained, "there is nothing that can't be resolved."
(Special correspondent Mostaghim reported from Tehran and Times staff writer Richter from Lausanne, Switzerland.)
(c)2015 Los Angeles Times, Distributed by Tribune Content Agency, LLC
Photo: Secretary of State John Kerry meets with Iranian Foreign Minister Javad Zarif in Geneva on January 14 for a bilateral meeting to provide guidance to their negotiating teams before their next round of discussions, which begin on January 15. U.S. Mission/Eric Bridiers via Flickr