Top Republicans Are Helping Trump Channel His Inner Tyrant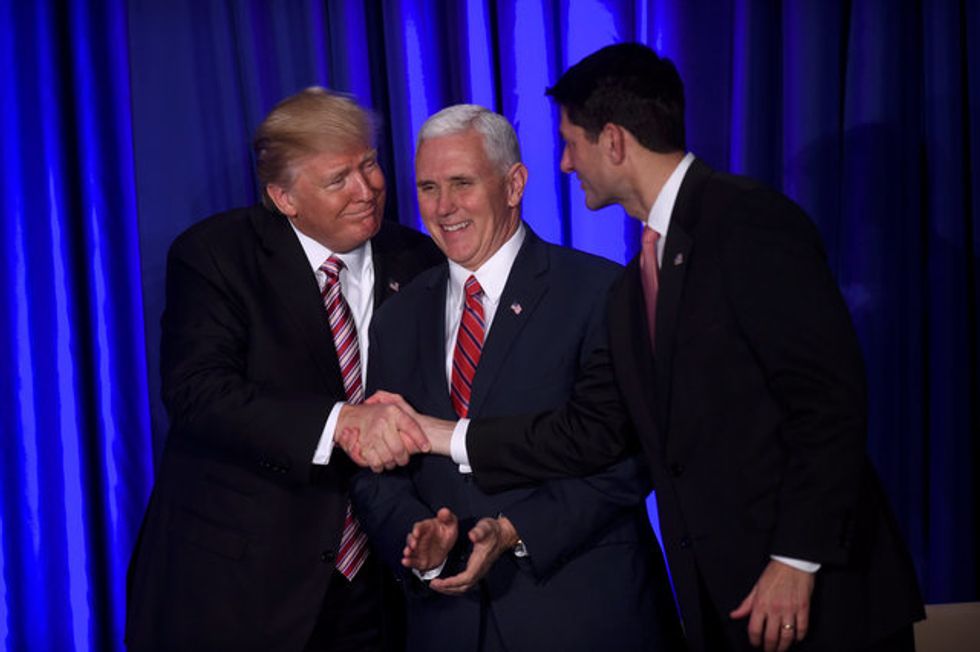 Reprinted with permission from Alternet.
"When you're a star, they let you do it," Donald Trump said in the now infamous 2005 Access Hollywood footage. "You can do anything."
He was bragging about his preferred method of committing criminal sex acts against women, but by now it should be obvious that quote defines Trump's outlook on everything. Trump's political career, like his time in business, is marked by cheating, corruption and enough lies to fill his ghostwritten books many times over. His Tuesday firing of FBI director James Comey was yet another quintessentially Trumpian move, brazenly indifferent to both optics and ethics and driven by pure self-interest. If Trump pulls off this latest affront to democracy, it will clear the way for America's descent into authoritarianism. Congressional Republicans could and should do something to stop this guy. Unfortunately, they won't.
That was obvious the instant GOP reviews of Trump's actions came rolling in without a single message of indignation. Jeff Flake couldn't "find an acceptable rationale for the timing of Comey's firing"; Barbara Comstock was unable to "defend or explain" the president's actions; Ben Sasse found the situation "very troubling." Those were the only GOP sentiments that even approximated outrage. As for demands or outright condemnation, there were none. Other GOP legislators, if they bothered to address the issue at all, either defended Trump or desperately tried to smelt a silver lining out of transparent obfuscations and undue praise.
Even John "Maverick" McCain was merely "disappointed"—and he's the guy guaranteeing "there will be more shoes to drop." In the same statement, the senator predicted the "scandal is going to go on," and indeed it has roiled continuously for nearly 48 hours. The White House has changed its story on the genesis of Comey's firing, intially claiming the move was instigated by Deputy Attorney General Rod Rosenstein and then stating Trump had been considering the action "since the day he was elected." That might make sense had the president not praised Comey's handling of the investigation into Hillary Clinton's emails, once even making a public spectacle by blowing kisses in the agency head's direction.
What seems more likely is the narrative recounted by anonymous White House staffers to the New York Times and Politico, which depict Trump as furious about Comey's refusal either to close or to publicly deny the FBI's ongoing investigation into Russia's election meddling. The Wall Street Journal now reports that in the days before he was fired, Comey requested additional resources for the Trump-Russia probe, and had begun "receiving daily instead of weekly updates on the investigation."
Senate Majority Leader Mitch McConnell has insisted calls for a special prosecutor "could only serve to impede the current work being done." Hours after McConnell made that announcement, Trump was making nice with Sergey Kislyak, the Russian ambassador who previously met with Attorney General Jeff Sessions and Son-in-Law-in-Chief Jared Kushner, as well as fired White House adviser Michael Flynn. A White House spokesperson indicated that another conference the same day between Trump and Russian Foreign Minister Sergey Lavrov was held at Putin's special request. (These meetings were closed to American press, but Russian media outlet Tass—implicated in a spying ring in New York in 2015—shared photos.) As if to add to fuel to Nixon comparisons, rounding out Trump's guest list for the day was Henry Kissinger.
Roger Stone and Carter Page, both of whom are reportedly being investigated for their Russia connections, have been cautiously celebratory since news of Comey's firing. Sessions' previous recusal from the Trump-Russia investigation now looks essentially symbolic. Department of Justice officials say he and Rosenstein are leading the search for the new FBI director, and likely eliminating any candidates too eager to pick up where Comey left off. That is, if Rosenstein is still working for the Department of Justice. The Deputy AG reportedly threatened to quit after finding himself at the eye of the storm. As of this writing, there is no official word on his job status.
Somehow, we're supposed to believe, amidst the chaos and malfeasance, that the GOP's mumbled response isn't an insult to everyone's intelligence. (Everyone except for Trump's base—they'll swallow anything.)
This is not the first time since Trump took office that the GOP has shown how devoid of principles it truly is. Republicans who spoke out against candidate Trump's unconstitutional Muslim ban fell silent once he moved into the executive office. After conducting what the New York Times calls the "longest, costliest and most bitterly partisan congressional investigation" into Benghazi, the GOP has collectively shown a profound disinterest in Trump's mishandled Yemen raid, which killed a Navy SEAL and numerous civilians. Throughout Trump's lies of delusion, ignorance and egomania, his attempts to erase truth itself, his attacks on the First Amendment, Republicans have shrugged and shirked.
As for the intelligence community, here's how one intelligence official described the effect of Trump's actions to NBC:
"The way this was done, I think was to send a message to the FBI agents left behind," the official reportedly told reporter Ken Dilanian. "It's not just that they removed him—it's that they did it in the most thuggish and humiliating way possible. No notice, no nothing—instant execution. The bodyguard [Keith Schiller] delivers the letter to headquarters. I think that was designed to send a message: Cut this shit out, or this will happen to you. This is like the horse head in the bed."
It's hardly unusual to watch politicians prove themselves cowardly, but the Republican Party has outdone itself. Over the last eight years, the GOP has made fury and opposition its personal brand, using taxpayer-funded investigations as political performance art and threatening to shut down government whenever one of them is having a bad hair day. The House and Senate floors have hosted more than 50 useless votes to repeal Obamacare and the party has held hearings for everything but the Case of the Missing Library Book, but suddenly Republicans have lost their will to anger. Now that there's a real crisis threatening the country, the sanctimony that served the GOP so well for nearly a decade has all dried up. At a certain point, you have to wonder who aside from Trump they may be protecting.
We're just 111 days into Donald Trump's presidency, which means we've only just begun to witness the levels of dishonesty and chaos to which he will sink. He launched his reelection campaign on Inauguration Day, and he's been collecting money for a 2020 run ever since. Comey's firing follows those of U.S. Attorney Preet Bharara and Acting Attorney General Sally Yates, both of whom were investigating Trump's Russia links. There's a tremendous amount at stake here, in case it needs to be reiterated.
Any Republican not calling for an independent investigation has agreed to aid in a coverup. The refusal to call out a president who is a clear and dangerous threat to the country makes the GOP not just complicit but a party of accomplices.
Kali Holloway is a senior writer and the associate editor of media and culture at AlterNet.
This article was made possible by the readers and supporters of AlterNet.