'Tornadoes Of Fire' Leave Small Washington Town Reeling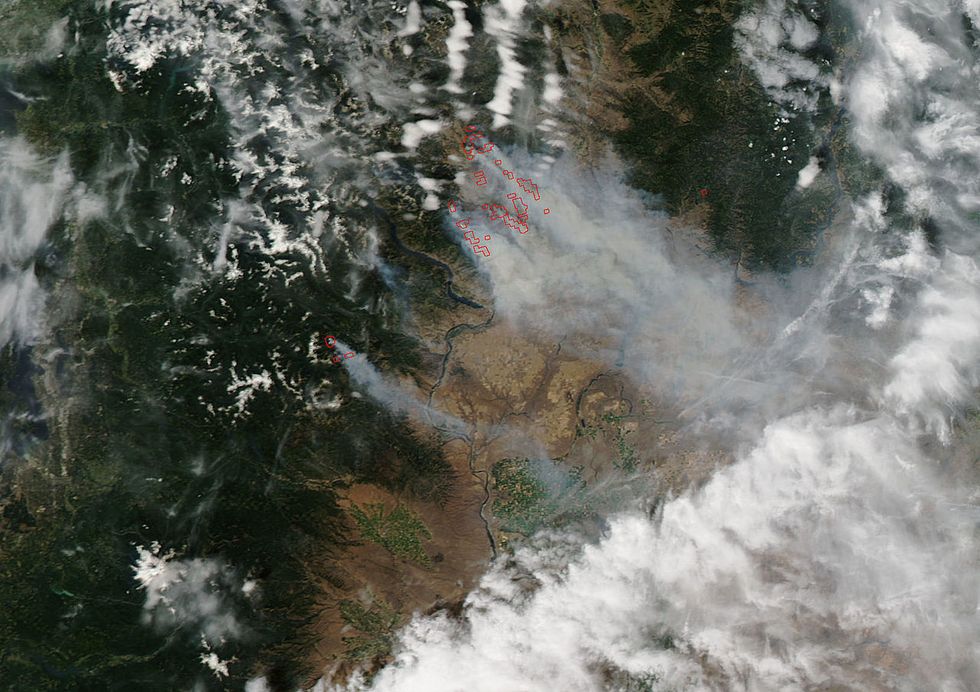 By Maria L. La Ganga, Los Angeles Times
PATEROS, Wash. — Smoke hung like a cataract obscuring the pale-blue sky. It was hard to breathe Monday, hard to see, hard to envision a workable way forward.
Late last week, a wind-whipped wildfire raced at speeds of as much as an acre a second, over a nearby ridge and squarely into this tiny town of fruit packers and modest homes on the bank of the Columbia River.
The Carlton Complex fire will probably go down as the biggest conflagration in Washington state history, torching about 240,000 acres and counting. Pateros, one of Washington's littlest towns, was no match for its fury. An estimated 20 percent of the buildings in the city, population 600 or so, have been destroyed. There is no electricity, no drinking water.
Mayor Libby Harrison's house is gone. So is Councilwoman Christine Perry's. And Perry's mother's house. And the home where City Clerk Kerri Wilson's in-laws lived for the last 40 years. No one, it seems, is immune here. And everyone has a story.
"I looked up and saw the fire coming over the hill, and I went into the house and told the grandkids to start stuffing the puppies into the carriers," Perry said. "I grabbed my keys. We had three minutes. … I have one pair of flip-flops. I haven't taken a shower in five days."
Perry's home these days is a motel room where she's staying with her 14 dogs — nine of them her first puppy litters as a breeder — and a parrot. Her cat, she said, "is out there somewhere."
Her 87-year-old mother is in the room next door. They will rebuild here, she says. But no one knows when. Or exactly how.
But for now, there are more pressing issues, Perry said. Holed up with a revolving cast of local officials in the dim City Hall ahead of a community meeting, Perry fretted about what they could do to help the elderly women and men who live outside town, along the country roads of this vast, rural county.
She was relieved — a bit — when she heard that an ambulance was patrolling the rural areas, checking to make sure residents have needed prescriptions and are not in need of medical help.
"All the pharmacies in town are closed," Perry said.
The Carlton Complex fire started out as four lightning-caused blazes July 14. By Monday, Okanogan County Sheriff Frank Rogers said, they had converged into one enormous inferno, which has destroyed more than 150 homes, kept more than 1,600 firefighters and support personnel busy, and claimed a life: Robert E. Koczewski, who died of a heart attack over the weekend after trying for several days to protect his home near the town of Carlton.
Koczewski, 67, and his wife had been fighting the fire alone for three days, Rogers said. They hadn't seen a single firetruck.
"They did everything they could to save their home," Rogers said. "And they did. But Saturday afternoon, he had the heart attack. … He's a retired sergeant major with the U.S. Marine Corps, a retired Washington State Patrol officer. He's best friends with all of us."
"Saturday," he said, "was a rough day for everybody."
Rogers had been in Pateros, knocking on doors with other emergency officials, evacuating residents on a bright Thursday afternoon when suddenly the sky darkened.
"It became night," he said Monday, exhausted and saddened. "And the wind's coming down. It looked like seven, eight, nine tornadoes of fire coming down the hill. What the hell's going on? From there, it was flat chaos all night."
John Asmussen was operating the checkout stand at the SuperStop on State Highway 97, a combination convenience store, gas station, restaurant, and hotel, when the fire came roaring over the hill "like an atomic blast."
On Monday, he catered to a steady stream of customers buying sodas and ice, tomatoes and ice, beer and ice. His day was a steady stream of observations and admonitions to the hot, the sweaty and the stressed.
"There's no credit. Cash only. No Internet," he told them. "No ATM. It's burned out. We're running off generators. They finally got water back to the city, but you can't drink it. … Your mom and dad's house survived. It's amazing. … The bathrooms don't work, but there are porta-potties down at the end of the hotel. … The restaurant is open. Yes, the community meeting will be at City Hall."
Asmussen's home escaped the fire, but Ellen Whan wasn't so lucky.
On Monday afternoon, the 78-year-old sat with her daughter, Ellen Harding, on lawn chairs just off Dawson Street where Whan's house used to be. Next to where her brother's house used to be. In front of the Honey Dew Mobile Park she and her brother owned together — 10 trailers and two little houses that have been replaced by rubble.
"This is the first time I had the nerve to come down and look," Whan said as relatives and friends milled around and an insurance adjuster surveyed the devastation.
Two chimneys stood where her house once was, the one that her mother lived in before her. The charred skeleton of her grandson's motorcycle stood, rickety, in the ashes not far from what was left of her father's 1953 Chevy pickup, its aqua paint job burned into a palette of grays and blacks and rusty orange.
She will rebuild, Whan said as she sat among the ashes, and so will Pateros. But Monday was for mourning all things lost: the memories, the family heirlooms, the garden she'd never gotten to pick, cucumbers and apricots and zucchini.
"Ellen," called out a friend, who had come to offer moral support. "You need to water the lawn."
And they laughed.
Photo via WikiCommons
Interested in national news? Sign up for our daily email newsletter!