Meet The Families Denied Entry To The U.S. Because Of Trump's 'Travel Ban'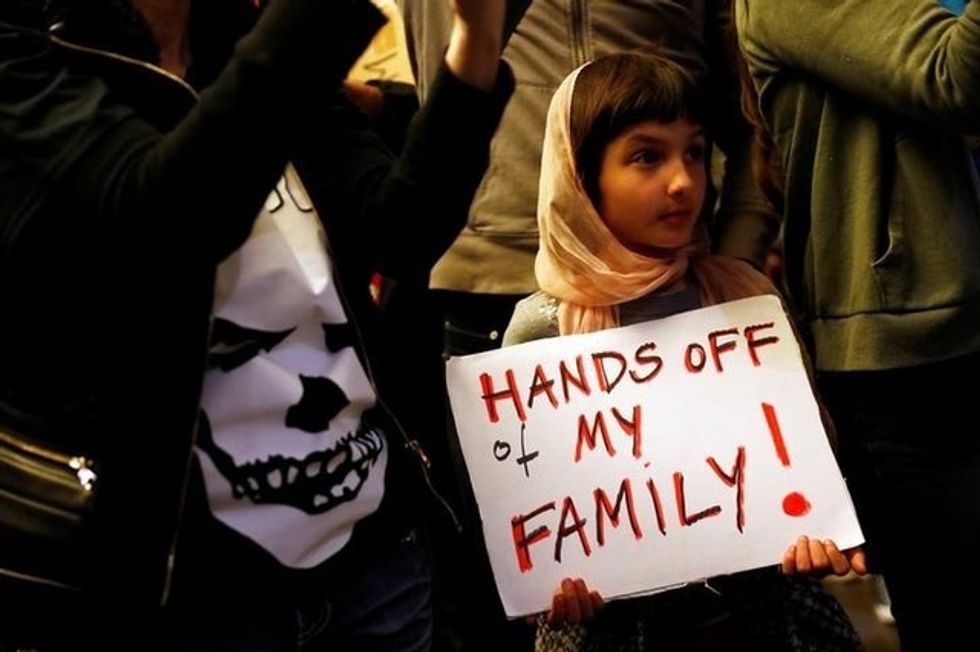 Reprinted with permission from ProPublica.
President Donald Trump's travel ban has torn apart Dr. Abubaker Hassan's family.
A few months ago, his wife, Sara Hamad, took their infant daughter Alma from their Detroit home to visit relatives in Qatar. Hassan is in his second year of an internal medicine residency program at Detroit Medical Center, an inner-city hospital that serves a low-income and minority community. He and his wife are citizens of Sudan and they're both in this country on visas — Hassan on a J-1 for work and study-based exchange visitor programs and his wife on a J-2 for dependents. Together, they came to Detroit, where Hamad gave birth in September, making Alma an American citizen.
When the baby was a month and a half old, Hamad took her to visit her family in Qatar, the country where Hamad was born and raised. It is traditional in Sudanese culture for a new mother to be surrounded by her own mother and family after giving birth. Hassan stayed behind to work.
On Monday, Hamad and Alma were supposed to land in Detroit after being away for three months. But on Sunday, even though the baby is a U.S. citizen and eligible to fly back, Hamad was stopped at the airport in Qatar and prevented from traveling under an executive order that bars foreigners from Sudan, Iran, Iraq, Libya, Somalia, Yemen, and Syria from entering the U.S. for 90 days. (Citizens and permanent residents are allowed in — but about 90,000 visa holders, including those with tourist visas, are not.)
"I cannot leave to join my family, and my family, they cannot come back to join me," Hassan, 36, said. "It's a really difficult situation. Frankly we don't know what to do."
The first reports about the executive order, signed by Trump on Friday, were about foreigners hoping to travel to the U.S. for job opportunities, including interpreters who had worked for American forces. Now, it is becoming clear that the order is separating families of ordinary people whose mistake was to pick the wrong dates to travel.
Since Friday, ProPublica has been chronicling the travel ban's effects. As part of that effort, we've asked those impacted to get in touch. So far, nearly 150 people from all seven countries affected by the ban have written in. (We've already written a few stories from the submissions.) Even people outside of those seven countries — Mexico, Malaysia, and Pakistan, for example — wrote in to express worry that their visas or green cards would be challenged at some point in the future, though no such plan has been discussed publicly.
Submissions came from people here legally that were visiting their home countries and now are unable to return to the U.S.; people here legally that are now afraid to leave the U.S. and not be able to return; and dozens of stories in which families are being torn apart.
Among them was Shadi Darani, who had left Iran to pursue a doctorate degree in mechanical engineering in Michigan and hadn't seen her 68-year-old mother for two years. Obtaining permission for her mother to travel to the U.S. had taken nine months.
Darani's mother, Fatemeh Sheikhi, left Iran aboard a Qatar Airlines flight about 13 hours before Trump signed the order. When she reached her first destination, Doha, in Qatar, she texted Darani and her sister, who is studying for her doctorate at the University of Delaware, asking them to have a jacket ready for her when they met in Philadelphia.
Darani's sister was waiting with the jacket at the airport. But when her mother landed at 7:45 a.m. Saturday, it was too late.
"My sister was crying and begging the security to let her meet or call my mom so she could at least explain to her what is happening and calm her down," Darani wrote in an email to ProPublica, explaining that her mother doesn't understand English well. "But they didn't allow it. Just feet away from one another, after years, after so many days and nights dreaming this moment."
An airline employee told Darani's sister that they would be returning her mother to Iran, but didn't allow her to have any direct contact with her mother and didn't disclose what flight her mother would be put back on.
"They took her phone, and we couldn't even see her," Darani said. The only thing airport officials did was to pass on a necklace their mother had brought as a gift. Darani said her sister has been wearing it every day since as a reminder of what happened and of her mom's love
"She said that the moment that she was in Philadelphia and knew my sister is there to pick her up, but the security didn't let them meet was the worst part. She said she felt heart broken, desperate and devastated," Darani wrote in her email.
Darani's mother's visa was canceled. To come back, she would have to apply for a new one once the ban is lifted.
Batoul Elamin's mother didn't get as far as the U.S. For four years, Elamin, a Sudanese citizen, and her brother, now a U.S. citizen, worked to get a green card for their mother. Elamin has been in the U.S. studying since 2006 or 2007 — first preparing for examinations, then as a pediatrics resident in Oklahoma City, and then as a neonatology fellow at Georgetown University in Washington, D.C.
Elamin is now as a neonatologist in Virginia, serving an area outside D.C. that doesn't have enough doctors, in a program that enables her to remain in the country.
The visa for Elamin's mother, Bumsur Zain, finally came through a few weeks ago and she was visiting Elamin's other brother in Saudi Arabia before heading to the U.S. Now she can't continue her planned trip. "It's just very frustrating," Elamin said. "She missed out on my wedding here in the United States" in 2015 because her visa application was pending.
Elamin said her mother's visa is valid for three months but next month she will need another medical checkup, a prerequisite for receiving a green card. "A lot of things are in the air," Elamin said. "Part of me believes that things will go away in a week or 10 days, and that people who already have a visa and have a lawful reason to come in can come in. Part of me thinks that it's not going to get any better and she will lose her opportunity to come to the U.S., and I don't know whether it will be safe for me to go back home. It's really very upsetting."
"I feel suffocated because I feel like I'm a prisoner. I can't leave because if I leave there's a good chance I wouldn't be able to come back," Elamin said.
For Hassan, the Detroit medical trainee whose wife is in Qatar, the problems are piling up. Since his daughter is an American and not a citizen of Qatar, she can only get a one-month visit visa, renewable once. As a result, Hamad and Alma have already had to travel to a neighboring country and come back to ensure the baby's stay remains legal. They will have to do so again, Hassan said.
Hassan also notes that he's missing important moments in his daughter's life. He knew he would miss some with his wife away for three months, but he's worried he will miss more.
"She's passing through the milestones and I need to watch that. … The simple things: When you start to smile, first crawl, now she's transitioning from formula to solid foods. These simple milestones, there's no coming back."
Hassan noted that he works at a federal hospital run by the U.S. Department of Veterans Affairs and his brother, now an American citizen, is in the U.S. Army reserves in basic training in Louisiana.
The whole situation is distressing, he said. "My mind is not clear," Hassan said. "I'm very distracted. I'm thinking about taking time off to focus on trying to solve these issues and to be safe with my patients."
IMAGE: Rosalie Gurna, 9, holds a sign in support of Muslim family members as people protest against U.S. President Donald Trump's travel ban on Muslim majority countries at the International terminal at Los Angeles International Airport (LAX) in Los Angeles, California, U.S., January 28, 2017. REUTERS/Patrick T. Fallon