Treacherous New Storm Targets Snow-Weary U.S.
@AFP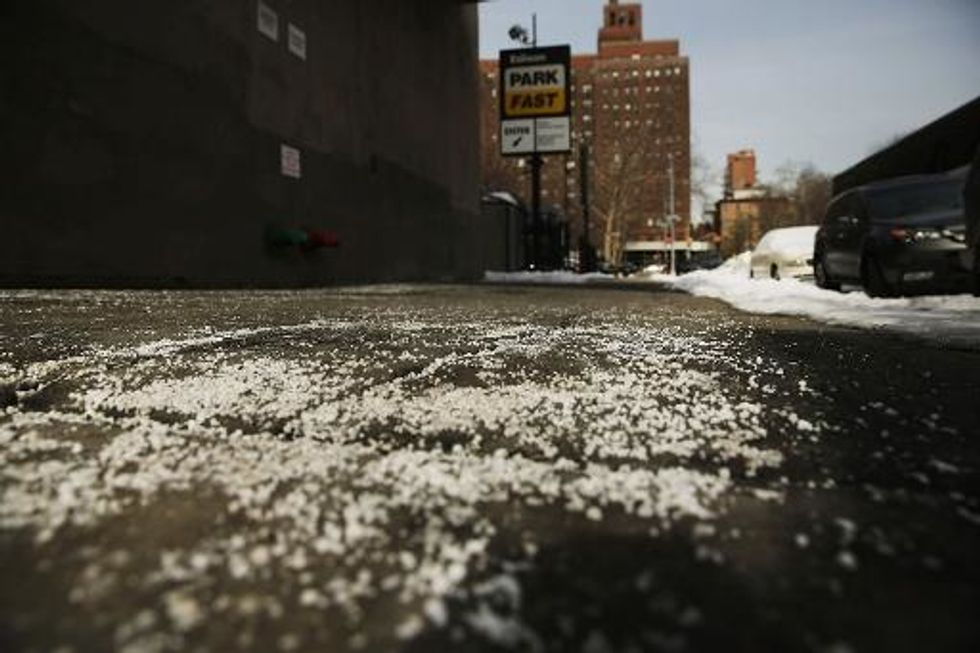 Chicago (AFP) – The eastern U.S., in the grips of one of the most brutal winters in recent memory, braced Wednesday for what forecasters warned could be the worst broadside yet — a massive storm with the season's heaviest snowfall.
Treacherous snow and freezing rain began buffeting parts of the South overnight Tuesday into Wednesday, and were expected to continue into Thursday, forecasters said.
Areas further north geared for the onslaught, due to arrive late Wednesday in Washington D.C. and other parts of the east coast.
"Amounts of snow are forecast that will make travel dangerous," the National Weather Service said.
"Only travel in an emergency. If you must travel, keep an extra flashlight, food and water in your vehicle in case of an emergency," it added.
White House spokesman Jay Carney said President Barack Obama had declared an emergency for 45 counties in Georgia, a move that allows the Federal Emergency Management Agency (FEMA) to operate in the state.
The president was also brought up to date in his daily security briefing on efforts to cope with the bad winter weather, Carney said.
FEMA activated its national response coordination center in Washington, while its regional equivalent in Atlanta had prepared generators, meals, water, blankets and cots in Augusta, Georgia for those left without power by the storm.
FEMA said it had also been in touch with state emergency offices in South Carolina, Pennsylvania, Maryland and Virginia to assess their assistance needs as the storm builds.
The inclement weather has already forced the cancellation of some 7,000 flights across the nation, US media reported. They warned that thousands more flights likely would be disrupted before the storm clears.
Atlanta's Hartsfield-Jackson International Airport, the world's busiest, canceled all but a few hundred of its daily 2,500 arrivals and departures on Wednesday, the Atlanta Herald Constitution newspaper reported.
The NWS began warning days ago that a "mammoth dome" of arctic air would settle over the eastern United States, creating a "paralyzing ice storm" as far south as North Carolina and Georgia and extending up the northernmost United States.
"The ice accumulations remain mind-boggling, if not historical," the weather service warned, adding that a foot of snow could hit New England Thursday as the massive storm pulls moisture in off the Atlantic.
Snowfall totals in parts of Georgia, where residents rarely see a hard frost, could reach 10 inches or more, U.S. weather officials said, warning motorists to stay off ice-slicked roads.
The bad weather arrives with the Peach State still smarting from a disastrous storm response that stranded thousands of people on icy freeways two weeks ago.
Meanwhile, snow on Wednesday pelted the deserted streets of Charlotte, North Carolina, another key US airport hub, where workers heeded officials' advice to stay home from work.
The recent blast of arctic weather in the South sent temperatures plummeting and rendered roads so unpassable that students had to shelter in their schools overnight when buses were unable to retrieve them.
Authorities vowed to stay one step ahead of the weather this time.
Georgia Governor Nathan Deal on Tuesday declared a state of emergency and deployed a fleet of trucks to salt roads before the storm arrived.
Officials at the state's leading energy company, Georgia Power, said on Wednesday they expect the worst ice in the past few decades, which could mean massive power outages that could leave residents in the dark and cold for days.
The company sent out convoys of utility crews to trim tree limbs in advance of the storm's arrival, hoping to head off potentially massive cuts in power.
In addition to the FEMA aid, various localities across the region were readying emergency shelters at churches and recreation centers where residents could stay warm should they lose power.
The governor of Alabama also declared a state of emergency to better deploy state resources, including the National Guard.
The severe weather has been wreaking havoc with the nation's bottom line.
Payrolls firm ADP said last week that wintry onslaught has taken a toll on job growth.
Oil prices, by contrast, have been propelled higher by the extra-cold weather and succession of winter storms.
AFP Photo/Spencer Platt