Treasury Nominee Mnuchin Hammered Over Offshore Tax Havens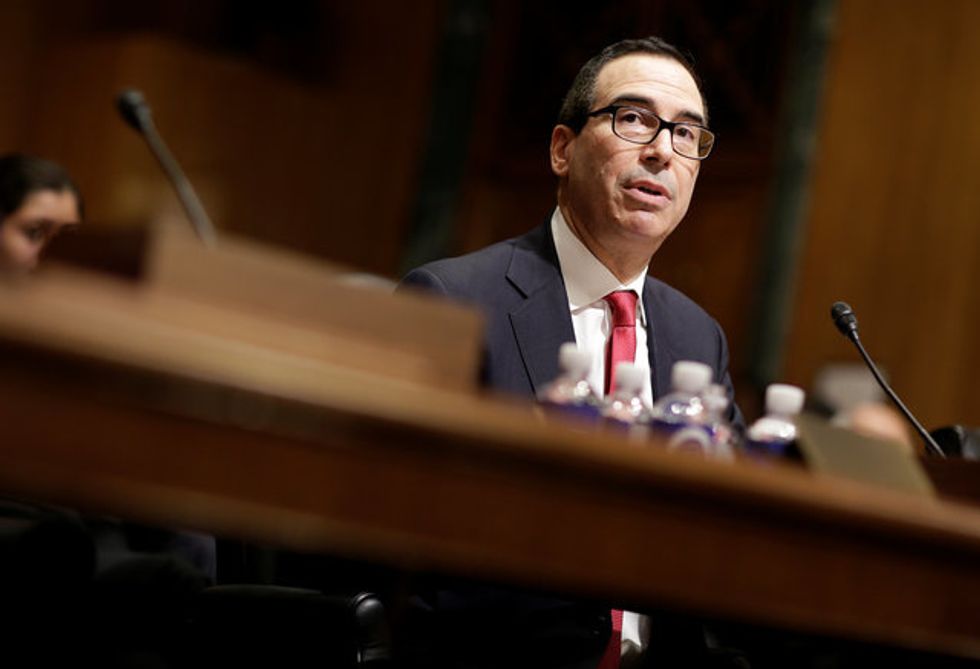 WASHINGTON (Reuters) – U.S. Treasury Secretary nominee Steven Mnuchin said on Thursday he would work to eliminate the need for offshore tax havens, as Democratic senators accused the Wall Street veteran of using such vehicles to shelter hedge fund money from the government.
In a confirmation hearing before the Senate Finance Committee, President-elect Donald Trump's pick to lead the Treasury was attacked for failing to promptly disclose he was a director of an offshore business vehicle domiciled in the Cayman Islands and owned more than $100 million in real estate.
Offshore tax havens used to shield income have become a symbol of the growing divide between rich and average Americans. Democrats seized on the disclosures, made late on Wednesday, to question Mnuchin's qualifications to revamp the tax code.
"One does not go and create offshore entities at the end of the day other than to avoid, in some form or fashion, the tax laws of the United States. That's pretty simple," New Jersey Democratic Senator Robert Menendez said.
"We have to decide whether that's necessarily the essence of what we want as leadership," Menendez said.
Mnuchin, a former Goldman Sachs executive, hedge fund manager, and Hollywood film financier, said he moved his Dune Capital Partners LLC registry to the Caymans to allow for some pension fund clients to invest in his funds, not to avoid taxes.
But Mnuchin, 54, added that it "makes no sense" for the U.S. tax code to encourage the use of such entities. "In the hedge fund world these are only set up to make the accountants rich and I would love to work with the IRS to close these tax issues that make no sense."
Among the incoming Trump administration's top economic priorities is a massive tax reform effort aimed at lowering rates for businesses and individuals and closing many deductions and credits.
Mnuchin, who insisted his last-minute disclosures were not intentional but due to the complexity of his holdings, complicated federal forms and a lawyer's advice that the real estate disclosure was not required, also tried to clarify Trump's recent market-moving comments on the U.S. dollar.
The Republican businessman-turned politician, who will be sworn in on Friday, said in an interview published this week in the Wall Street Journal that the dollar's strength was "killing us," prompting the greenback to fall and gold prices to jump.
Mnuchin said he believed that Trump's remarks, which usurped a role normally reserved for Treasury secretaries, referred to a short-term spike in the dollar due to market factors, not its longer-term value.
"The long-term strength over long periods of time is important" for the dollar, Mnuchin said.
He also said he would like to see an increase in the U.S. government's debt ceiling "sooner rather than later" to avoid another standoff with Congress that could upset financial markets.
The current debt ceiling extension expires on March 15, but the Treasury would not likely exhaust its borrowing capacity for several more months after that.
'FORECLOSURE MACHINE'
Democrats had gone into Mnuchin's hearing perceiving him as one of the more vulnerable Trump nominees, partly due to his involvement with OneWest Bank, which he ran in the aftermath of the 2007-2009 financial crisis.
They hammered him for the 36,000 foreclosures that the bank pursued after Mnuchin struck a lucrative deal with the Federal Deposit Insurance Corp to absorb most of the losses from such actions.
Critics have described OneWest as a 'foreclosure machine' and Senator Ron Wyden, the committee's top Democrat, criticized the bank's automated "robo-signing" of foreclosure documents and foreclosing on the widows of reverse mortgage holders.
Mnuchin argued that his bank was a "loan modification machine," offering payment reductions to 101,000 borrowers to try to keep them in their homes, and said his turnaround of the failed IndyMac bank, which became OneWest, saved thousands of jobs and homes.
(Reporting by David Lawder; Editing by Leslie Adler and Paul Simao)
IMAGE: Steven Mnuchin testifies before a Senate Finance Committee confirmation hearing on his nomination to be Treasury secretary in Washington, U.S., January 19, 2017. REUTERS/Joshua Roberts