Trey Gowdy Is The Perfect Trump Stooge In House Russia Probe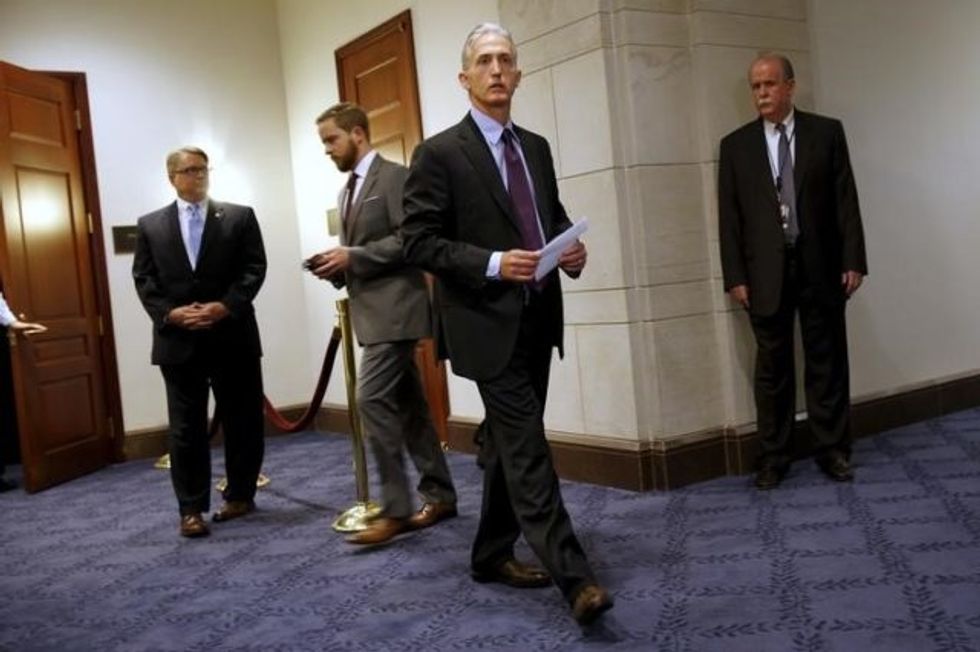 Reprinted with permission from Alternet.
Representative Trey Gowdy, Republican of South Carolina, has a very important job: preserving the presidency of a man whose campaign featured individuals who had contacts with likely agents of a foreign adversary that intelligence officials say interfered in the 2016 presidential election. That interference favored the election of Donald J. Trump—or, at the very least, was designed to damage his opponent, Hillary Clinton.
Gowdy's job of late has been getting tougher, what with The Washington Post's revelation on May 22 that Trump had called Dan Coats, director of national intelligence, and Michael Rogers, director of the National Security Agency, "urging them to publicly deny the existence of any evidence of collusion during the 2016 election," according to the Post.
Then there's the Senate subpoena of documents from former National Security Adviser Michael Flynn, who served as a Trump campaign surrogate, regarding his contacts with agents of foreign governments (including Russia). On Tuesday, Flynn's attorneys informed the Senate Intelligence Committee that the former Trump flunky was refusing to provide the subpoenaed documents to the committee, invoking the Fifth Amendment protection against self-incrimination.
On that very same day, John Brennan, former director of the Central Intelligence Agency, appeared before the House Intelligence Committee, saying, as quoted in The New York Times, that he "had unresolved questions in my mind as to whether or not the Russians had been successful in getting U.S. persons involved in the campaign or not to work on their behalf."
Gowdy, a member of the committee, couldn't wait to pounce—especially on that "unresolved" piece of things.
Willfully refusing to accept the fact that the CIA does not conduct criminal investigations, Gowdy tried to paint the former spy chief as a partisan player by demanding "evidence" of collusion between members of the Trump campaign and Russia, and insisting that Brennan reveal, in a public session, information that Brennan said was classified: the names of the Trump associates whose contacts with Russian figures the CIA had chronicled. A perfect stooge for the quisling from Queens who is now the commander in chief, one has to admire how compatible Gowdy's disregard for classified information is with that of Trump.
Here's a brief excerpt of Gowdy's badgering, taken from a CNN transcript:
BRENNAN: I saw information and intelligence that was worthy of investigation by the Bureau to determine whether or not such cooperation or conclusion [sic] was taking place.

GOWDY: That doesn't help us a lot. What was the nature of the information?

BRENNAN: As I said, Mr. Gowdy, I think this committee now has access to the type of information that I'm alluding to here. It's classified and I'm happy to talk about it in classified session.

GOWDY: And that would've been directly between the candidate and Russian state actors?

BRENNAN: That's not what I said. I'm not going to talk about any individuals …

(CROSSTALK) GOWDY: But—but that was—but that was my question, and—and—and you answered it. You didn't answer it that way.

BRENNAN: I—no, I responded to your query. I'm not going to respond to particular elements of your question because I think it would be inappropriate for me to do so here.

GOWDY: So the answer…

(CROSSTALK)

BRENNAN: So I can only repeat what I said, which is that I was aware of intelligence and information about contacts between Russian officials and U.S. persons that raised concerns in my mind about whether or not those individuals were cooperating with the Russians, either in a witting or unwitting fashion, and it served as the basis for the FBI investigation to determine whether such collusion—cooperation occurred.
Later in the hearing, Representative Tom Rooney, Republican of Florida, asked Brennan, "Can you tell us whether or not, from the information that you've looked at, it looks like the intelligence shows that Moscow was actually rooting for Donald Trump or were they rooting against Hillary Clinton?"
"I think my assessment was [that] it was both," Brennan replied.
The same could be said for Trey Gowdy, who famously tried to tarnish the reputation of Clinton with an "investigation" of the 2012 attack on the U.S. consulate in Benghazi, Libya, which took place during her tenure as secretary of state. Gowdy's tribunal is estimated to have cost taxpayers as much as $7 million, only to come up empty of evidence that Clinton was either negligent or complicit in the attack by anti-government terrorists. The investigation was undertaken as Clinton was preparing for her presidential run.
There's an old saying attributed to W.C. Fields: "If you can't dazzle them with brilliance, baffle them with bullshit."
That's why Gowdy is trying to make it look as though the former CIA director's refusal to say he saw actual collusion—which is not his determination to make—amounts to proof that none took place.
Oh, I know you're not baffled by Gowdy's cow-pies, but his show isn't intended for you. It's for Trump's electoral base, the frothing-at-the-mouth types who show up at his rallies. To maintain their majority in the House of Representatives, the Republicans must prod those people to the polls in the 2018 midterm elections.
Should that majority slip from their hands, it's likely only a matter of time before articles of impeachment are drawn up by the Democrats.
And that's why he badgered Brennan: It's a wink to the base that implies Brennan is some kind of partisan hack, for the simple reason that he was appointed to his post at the top of the spy agency by the despised Barack Obama, the man Trump falsely claimed had usurped the presidency.
In the ruthlessly gerrymandered districts of states run by Republicans, running against the first African American president—even one no longer in office—is a pretty strategic plan. Even brilliant, perhaps.
Adele M. Stan is a weekly columnist for The American Prospect. Follow her on Twitter @addiestan.
This article was made possible by the readers and supporters of AlterNet.