Trickle-Down Theory Makes Less Sense Than Ever Before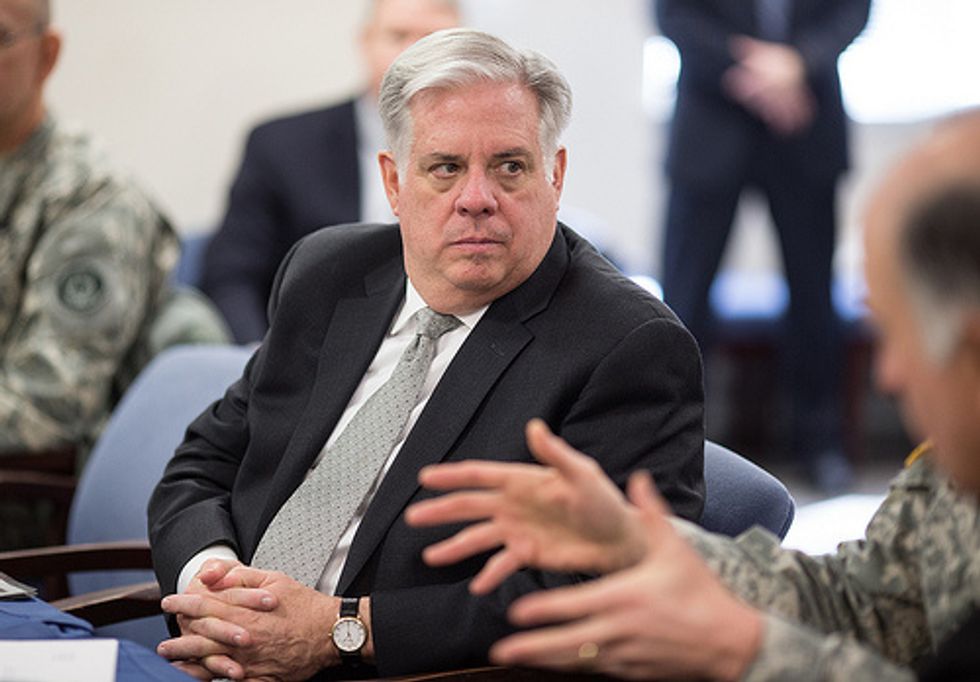 By Ann McFeatters, Tribune News Service (TNS)
SEATTLE — The governor of Washington wants to raise the state tax on a gallon of gasoline by at least 11 cents. A continent away the governor of Maryland wants to block a scheduled increase in the state tax on gas.
We've got ourselves more battles between the Democrats and Republicans, and a lot of Americans are going to be miffed at the outcomes.
Governor Jay Inslee, a Democrat, argues that Washington needs billions of dollars in road infrastructure improvements and with gas prices currently the lowest they have been in years, he thinks now is the time for legislative action. He especially wants a $1 billion road improvement to ease a massive daily bottleneck between Seattle and Tacoma.
But Maryland's new GOP governor, Larry Hogan, a proud "tax-cutter," doesn't care that a series of planned gas tax increases by mid-2017 would help finance $3 billion worth of road and transit work. That would include finishing the much-needed Purple Line to the Washington D.C.-area Metro and a Red Line in Baltimore, taking thousands of cars off clogged highways.
Hogan is against drivers paying $80 more in annual taxes, even to fix truck-devouring potholes. He also wants a legislative vote on every tax increase, including those already scheduled.
Even as Congress bickers over budgets, lawmakers refuse to raise the federal gas tax above 18.4 cents, set in 1993, despite competitiveness worries over the country's crumbling infrastructure. Even President Obama, who likes to warn about toppling bridges and pothole-pocked highways, hasn't proposed an increase.
But at the state level, there is a different approach, both pragmatic and vindictive. New Jersey desperately needs improved roads and bridges but Governor Chris Christie, hoping to snag the Republican nomination for president, doesn't want to have anything to do with raising ANY taxes.
Somewhere there is undoubtedly a secret memo telling governors how to handle the problem — cut taxes on the rich and raise them on the poor. "Brilliant!" say many governors.
Chief among them is Governor Paul LePage (R-ME), who in 2011 signed a $150 million tax cut for the rich and doubled the estate tax exemption to $2 million. He now espouses taxing movie tickets and haircuts.
He and Ohio Governor John Kasich are among Republican governors proposing cuts in state income tax rates even though Kansas Governor Sam Brownback proudly pushed through tax cuts as his state promptly fell into economic freefall.
Wisconsin Governor Scott Walker, a Republican running for president, got so ensnared in tax-cutting frenzy he proposed cutting not only education funds but rewrote the soaring language about the purpose of state universities: To "meet the state's work-force needs." Amid the outrage, he blamed an "aide."
Current state income tax rates are bad for the poor and comparably good for the rich, according to the Institute on Taxation and Economic Policy. While the rich pay more in dollars than the poor, the rate on the top one percent of the richest Americans is 5.4 percent while the rate on the 20 percent poorest segment of the population is 10.9 percent.
Republicans don't dare risk losing their conservative creds by narrowing this gap but they do see potential windfalls in taxing new forms of consumption such as e-cigarettes, generally most hurtful to the non-rich.
We all think we're too highly taxed. Because of additional local taxes, many residents of Washington state pay a whopping 9.6 percent in sales tax. Marylanders pay 6 percent.
When you start looking at all taxes, not just state and federal taxes but license tags, property taxes and a myriad of new charges such permits to hold garage sales and own dogs, many of us pay about half of our income in taxes.
Is it fair — or counterproductive — to cut the income tax of the rich and charge the poor and middle-class more for services they must have such as haircuts?
The trickle-down theory of economics — that income generated by the wealthy filters down the ladder to the poor and middle class — was always precarious. But it now makes less sense than ever.
Photo: Fort George G. Meade Public Affairs Office via Flickr