Troubling Conclusion To Rosenstein's Tenure At Justice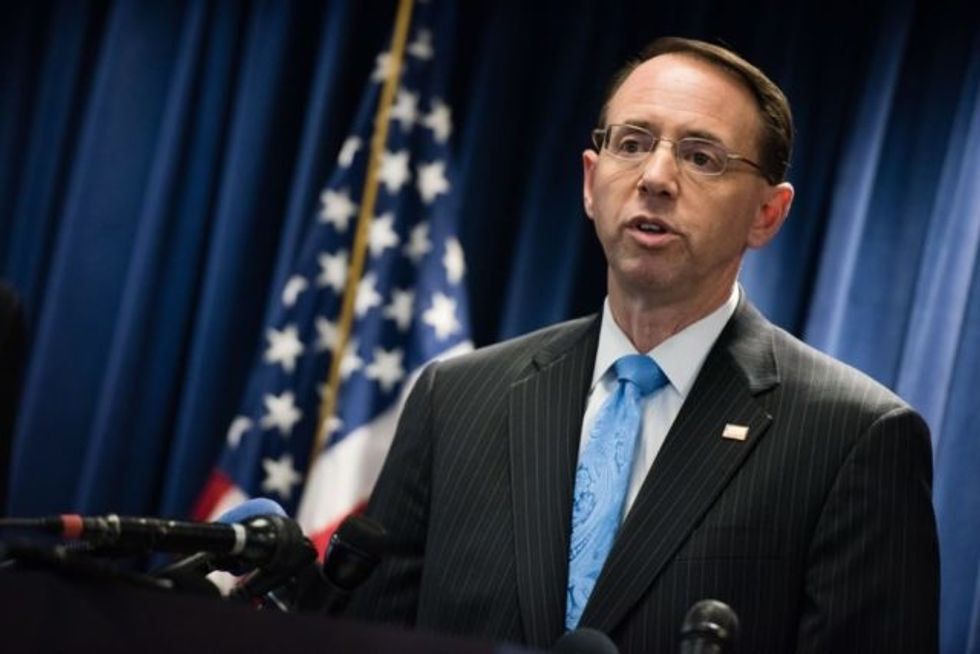 Deputy Attorney General Rod Rosenstein has been seen as a steadying force and source of integrity within the Justice Department under President Donald Trump's tumultuous tenure, with his credibility bolstered by the action he's most likely to be remembered for: appointing Robert Mueller to be special counsel overseeing the Russia investigation.
But as his time at DOJ is expected to soon come to an end, his credibility is beginning to crumble.
Indications that Rosenstein might not be quite the Boy Scout he's portrayed himself as began to emerged when Mueller's investigation wrapped up and Attorney General Bill Barr sent a letter to Congress summarizing its "principal conclusions." The attorney general wrote that though Mueller had declined to conclude that Trump committed obstruction of justice — and also declined to exonerate the president — Barr and the deputy attorney general saw it as their role to step in. And they declared the evidence insufficient for such a charge against Trump.
Rosenstein's role in this decision was presumably intended to give Barr additional credibility, since the new attorney general has already shown himself to be a deeply partisan figure. But Rosenstein's input raised questions about the deputy attorney general, too. Why did he think it was OK to usurp the special counsel's role and essentially reverse Mueller's lack of exoneration? And perhaps more importantly — wasn't such a decision wildly inappropriate, given that Rosenstein played a central part in firing former FBI Director James Comey, the key event in the obstruction investigation?
There have been no good answers to these questions.
And Rosenstein's credibility has only tanked from there. Barr's letter and the press conference he delivered ahead of the report's release, with Rosenstein at his shoulder, have now been shown to be clearly deceptive by a full examination of Mueller's findings. Mueller's report was much more damning for Trump than Barr had let on. In some cases, it looks like Barr outright lied about it.
Yet Rosenstein has defended Barr.
"He's being as forthcoming as he can, and so this notion that he's trying to mislead people, I think is just completely bizarre," Rosenstein told the Wall Street Journal before the report was released. Even if it hadn't turned out Barr was as deceptive as he was, there was still reason to doubt Barr's credibility given what was known at the time. Rosenstein's incredulity was purely performative and only more damaging to his own case.
All this looked even worse Friday, when the Washington Post dropped a bombshell report about an incident in which Rosenstein was almost fired. Back in late September 2018, The New York Times had broken the story, since confirmed by former Acting FBI Director Andy McCabe, that after Comey was fired, Rosenstein suggested he might wear a wire when talking to the president. (Rosenstein has tried to cast doubt on the story.)
According to the new Post report, Rosenstein called Trump after the Times' story broke and tried to save his job:
"I give the investigation credibility," Rosenstein said, in the words of one administration official offering their own characterization of the call. "I can land the plane."

…

Trump ended the call with Rosenstein thinking he was "on the team after all," one senior administration official said, adding that the president has been further swayed by Rosenstein's deference in meetings and other settings.
Rosenstein also told Trump he wasn't a "target" of the probe. Trump was, however, a subject of the probe, and it is now clear that he would have been a target had he not been a sitting president.
The deputy attorney general tried to push back against the characterization of the Post's account, denying any suggestion that he was capitulating to the president.
But in addition to the evidence discussed above that Rosenstein is less credible than he once was seen to be, the deputy attorney general delivered a speech Thursday night giving the impression that he really is on Trump's team.
For example, he lashed out at the media:
A republic that endures is not governed by the news cycle. Some of the nonsense that passes for breaking news today would not be worth the paper it was printed on, if anybody bothered to print it. It quickly fades away. The principles are what abide.
And then he criticized the Obama administration for its choices in response to Russia election interference, while ignoring the fact that the sitting president has denied (and encouraged) the attacks:
Some critical decisions about the Russia investigation were made before I got there. The previous Administration chose not to publicize the full story about Russian computer hackers and social media trolls, and how they relate to a broader strategy to undermine America. The FBI disclosed classified evidence about the investigation to ranking legislators and their staffers. Someone selectively leaked details to the news media. The FBI Director announced at a congressional hearing that there was a counterintelligence investigation that might result in criminal charges. Then the former FBI Director alleged that the President pressured him to close the investigation, and the President denied that the conversation occurred.
There, too, he conveniently elided how James Comey became the "former FBI director."
He also favorably cited Trump on the "rule of law":
We use the term "rule of law" to describe our obligation to follow neutral principles. As President Trump pointed out, "we govern ourselves in accordance with the rule of law rather [than] … the whims of an elite few or the dictates of collective will."
This was absurd on its face, given that the Justice Department just published a report that shows how extensively Trump tried to obstruct justice and undermine the rule of law. And of course, Rosenstein and Barr are helping Trump get away with his subversion of democratic principles.
In perhaps the strangest section of the speech, Rosenstein even seemed to get in a dig at Mueller himself, saying:
It is not our job to render conclusive factual findings. We just decide whether it is appropriate to file criminal charges.
Mueller's report, in fact, showed that he took it as a responsibility of his investigation to create a thorough factual and analytical record of Trump's obstruction efforts without recommending charges. What's particularly strange about Rosenstein's point on this matter, though, is that he knew what Mueller was doing all along and knew that Trump wasn't going to be indicted. If he thought what Mueller was doing was somehow contrary to the Justice Department's mission, why did he let it continue?
In his time at the Justice Department, Rosenstein has been criticized by people on both sides of the aisle. Much of the time, in fact, he was taking heat from Republicans and even the president himself for his role in the investigation. But at the close of the special counsel's probe, and as his time as deputy attorney general comes to an end, Rosenstein seems to be undermining the whole point of appointing an independent special counsel in the first place by inserting himself and ingratiating himself to the president. It will leave him with a complex legacy to explain.