Facing Crackdown, Right-Wing Canadian Truckers Use Kids As 'Human Shields'
@DevilsTower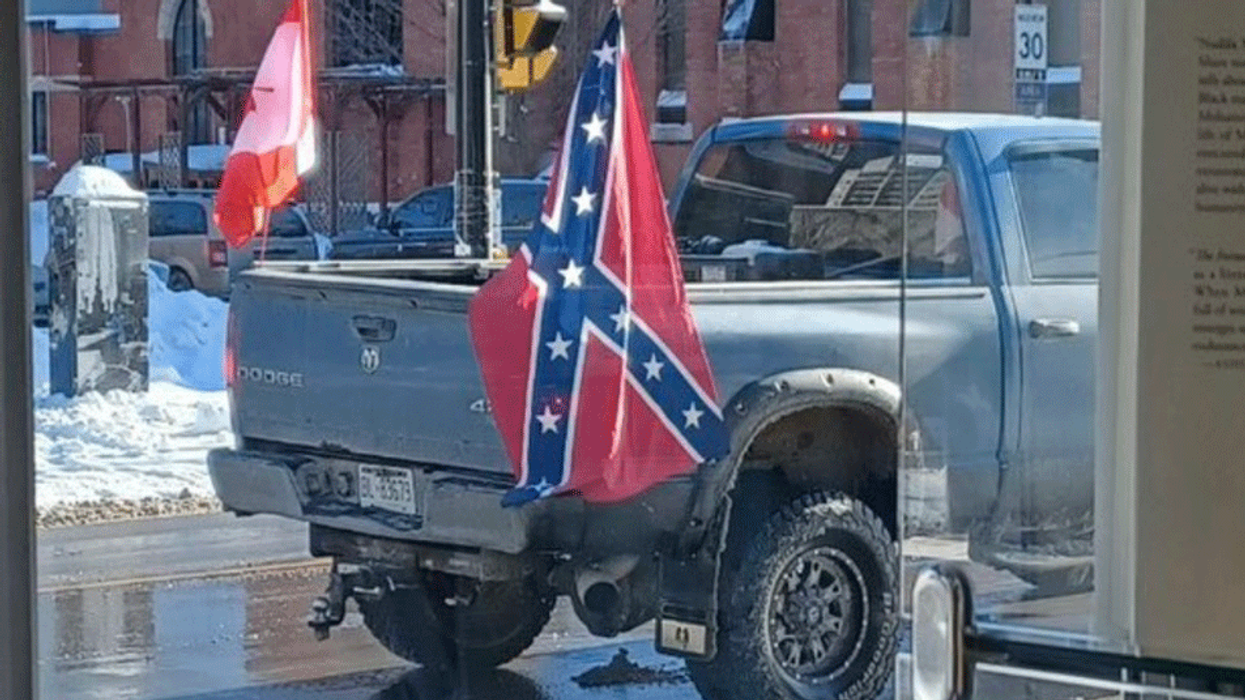 As protests in Canada extend into the third weekend, the situation is becoming ever more serious. Not only are the organizers of the "Freedom Convoy" targeting U.S.-Canadian border crossings and airports to maximize the level of disruption, but they've also deployed their own small children as human shields, risking toddlers in an effort to cause more damage and evade punishment.
As BBC News reports, officials in the province of Ontario have had enough. A state of emergency has been declared, making blocking critical infrastructure subject to arrest, a fine of up to $100,000, and the possibility of a year in jail. Trucks used to blockade access to bridges, airports, and border crossings can be seized, held, and sold at auction.
"There will be consequences, and they will be severe," said Ontario Premier Doug Ford. "To those who have attempted to disrupt our way of life by targeting our lifeline for food, fuel, and goods across our borders, to those trying to force a political agenda through disruption, intimidation, and chaos, my message to you is this: Your right to make a political statement does not outweigh the right of hundreds of thousands of workers to earn their living."
The cost of the blockades so far has been estimated at $300 million a day.
Ford is a member of Canada's Conservative Party, and has been an opponent of Prime Minister Justin Trudeau. However, unlike Republicans in the U.S. and authoritarians overseas, who have been able to promote and fund the chaos from a distance, Ford is seeing the damage caused by the blockade close up. He isn't finding it funny.
In addition to fines and imprisonment, Ford also intends to push for rules that will give the province authority to seize both personal and commercial driving licenses from truckers involved in the protest. Ford doesn't mention any punishment for those who positioned their toddlers to block a major highway. Information on the situation has been forwarded to the Children's Aid Society of Ottawa. This comes after many people have expressed concern about kids being brought along during the protest and living in unsafe conditions for a period extending into weeks.
Both the protesters and U.S. conservatives rushing to pile on are blaming COVID-19 restrictions in Canada on Trudeau. However, almost all of these restrictions exist only at the provincial level, where both Liberal and Conservative leaders, including Ford, had set out rules on masks and vaccines to meet varying levels of community spread. Most of these restrictions have already been lifted—though the "convoy" and their U.S. supporters continue to pretend otherwise.
As the Associated Press reported on Friday, representatives from President Joe Biden spoke with Trudeau's government on Thursday and urged federal action to end the truck blockade. Those calls came after several auto plants and other manufacturers in the U.S. were forced to skip shifts or close plants due to a lack of parts coming in from Canadian suppliers.
Plants from Ford, GM, Stellantis, Honda, and Toyota have all been idled. Not only does this mean hundreds of thousands of workers going without pay due to the action of a small number of people along the border, but it's also exacerbating a continued shortage of new cars. That shortage, caused by supply chain issues including an international shortage of microcontroller chips, was the single largest factor in inflation for 2021, with increasing vehicle prices alone accounting for 2.1% of rising costs. The additional disruption caused by intentional blocking of border crossing can be expected to make these shortages worse.
With the support of Fox News, including lavish attention from pundit Tucker Carlson, a group of U.S. truckers has announced their (vague) intentions to imitate the Canadian protest, with a cross-country "slow roll" designed to make it to Washington D.C. in time to muck up the State of the Union address. Other groups have promised to recreate the action in Europe, with a series of actions that would center on Paris. That has prompted officials across Europe to pass preemptive bans on road blockades that feature both serious prison sentences and heavy fines.
In the U.S., the Department of Homeland Security has sent out a warning to state law enforcement agencies with reports of the proposed U.S. action and the potential for roads to be blocked in major cities.
Reprinted with permission from Daily Kos