'True Blood' Plot Has Become A Bloody Mess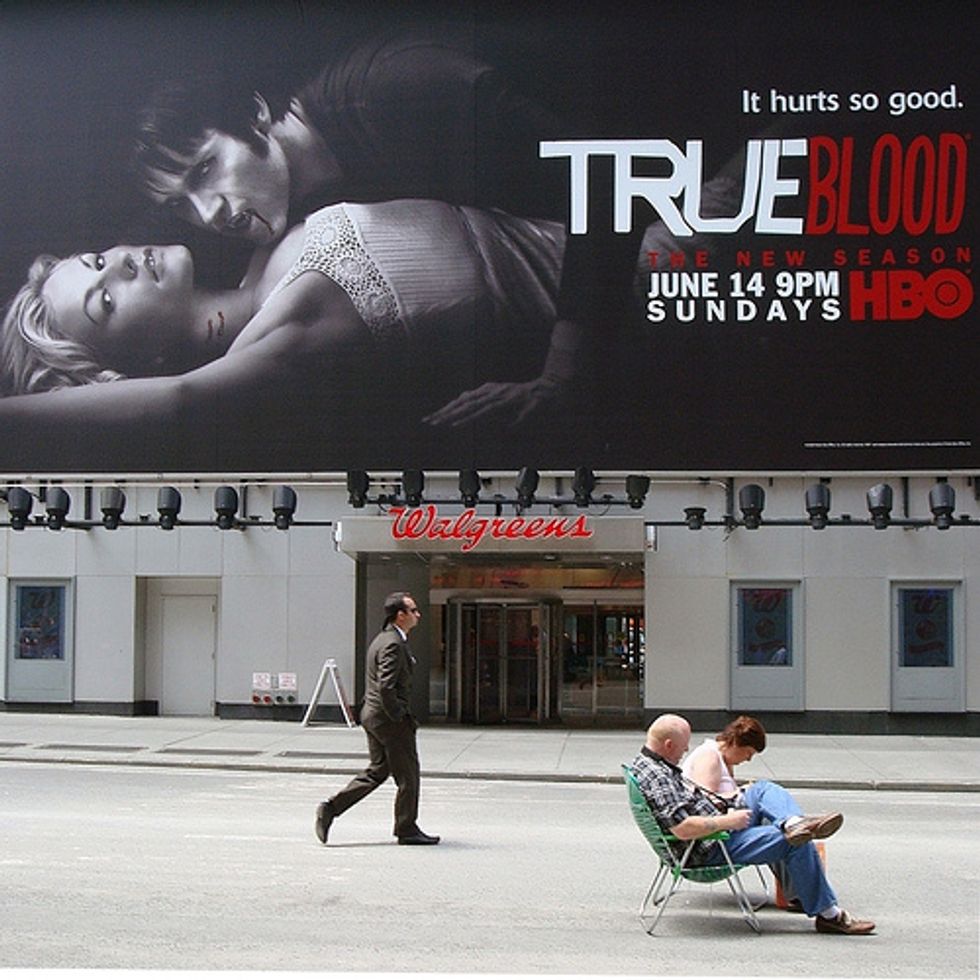 By Verne Gay, Newsday
What it's about: Remember that vampire-human "mixer" at Bellefleur's at the end of last season? That's where we pick up Sunday in the seventh — and final — season opener, "Jesus Gonna Be Here." A band of "H-vamps" (vamps who consumed Hepatitis-infected blood) — the ones that congregated around the borders of this party in last season's finale — have decided to crash the party, to spectacular and awful consequences. (A major death — we've had those on Blood — does, indeed, occur.)
Hostages are taken to the basement of Fangtasia, where they are essentially stored, and (next week) we get to visit that dungeon. In addition, all humans must be accompanied by vamps to protect them from H-Vamps. (But who's gonna protect the vamps?) Sookie (Anna Paquin) is being blamed for the chaos. Bill (Stephen Moyer) has other problems: His powers have abandoned him.
My say: Few series over the course of their run have drifted further from their roots — or just to keep our metaphors in the proper context here — from their fangs than True Blood. Originally adapted from Charlaine Harris' The Southern Vampire Mysteries, True Blood in its dotage now feels more like it's been adapted from thin air.
Best of luck finding even a hint of the original inspiration in this final lap — that sense that this was all just an allegory for gay or civil rights. (In fact, Blood was really mostly about sex, but that's another story.) And that black, morbid, depraved Blood-y sense of humor, another wellspring of the original, is largely absent, too. With the H-vamp story line and the post-apocalyptic chaos that has descended upon Bon Temps and surrounding environs, Blood now seems to draw most inspiration from The Walking Dead.
Sookie's twisted tale, along with the twisted ones of Bill, Sam (Sam Trammell), Tara (Rutina Wesley), Alcide (Joe Manganiello) and many others have traveled far, far away from the early days, so it's impossible to tell from the first two episodes how Blood will resolve them — forget emotionally, but narratively. But "emotion" is the right word here, and loyal fans, who still number in the millions, aren't going anywhere. They'll decide when they've had enough of this Gothic shaggy dog. True Blood, however, seems like it's had enough.
Bottom line: Headaches will be induced just in trying to unravel the plot mess Bon Temps finds itself in. At least this will be the last headache.
Photo: ~BostonBill~ via Flickr