Trump Promotes 'Civil War' Tweet -- And Gets Showered With Insults
@next2godwin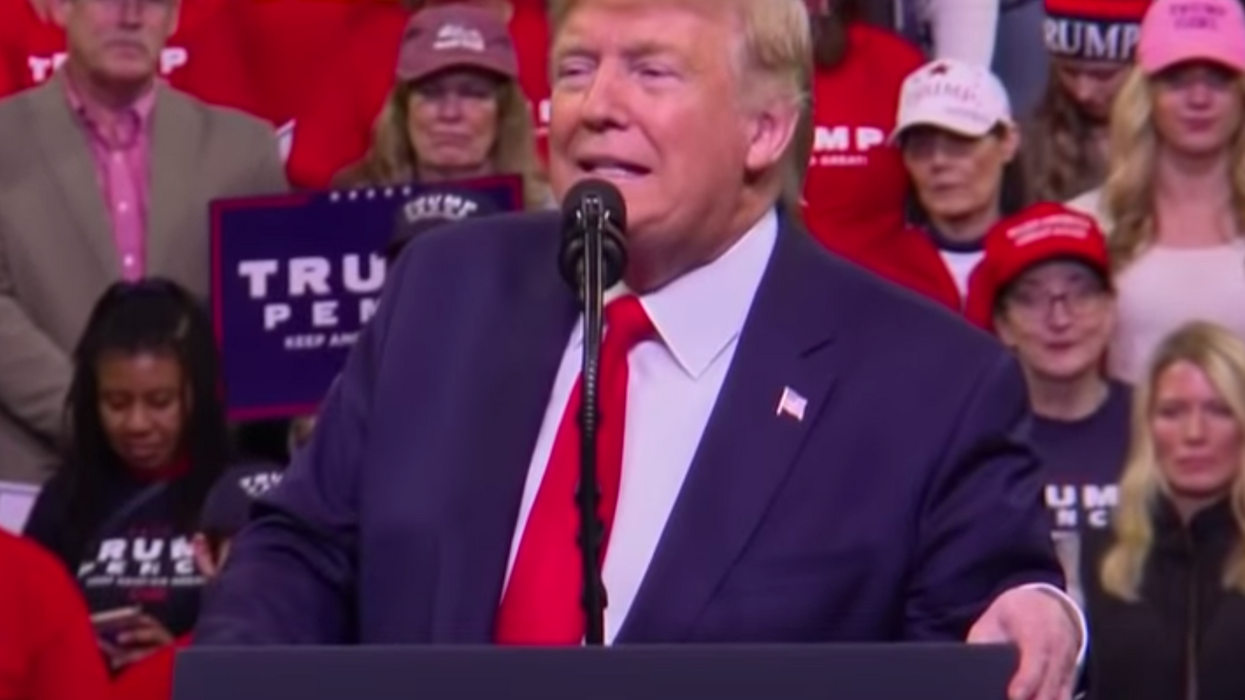 Former President Trump, a self-proclaimed "wartime" president who got impeached a second time — a feat no other U.S. president in history has achieved — for asking a crowd of his supporters to "fight like hell" before siccing them on the Capitol, is facing backlash again for seemingly advocating for civil war.
No stranger to incurring public outrage, Trump took to his embattled far-right social media platform, Truth Social, to "ReTruth" a civil war-advocating post on Sunday.
The "truth" shared by "MAGA King Thanos," an anonymous MAGA-supporting Truth Social user, and later re-shared by Trump, was a screenshot of a March 19 tweet by El Salvador's president, Nayib Bukele, who claimed an "enemy within' was pushing the United States to the brink of civil war.
Bukele's tweet was his response to a Bloomberg op-ed titled "Inflation Stings Most If You Earn Less Than $300K. Here's How to Deal."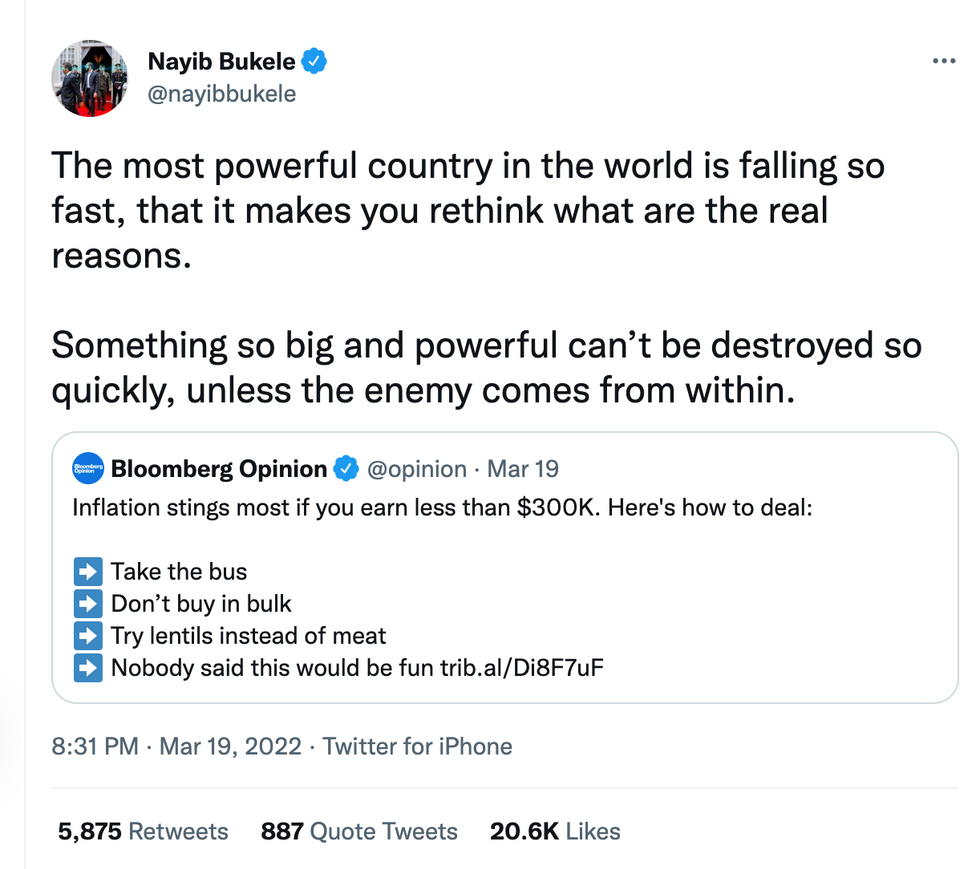 "The most powerful country in the world is falling so fast, that it makes you rethink what are the real reasons. Something so big and powerful can't be destroyed so quickly, unless the enemy comes from within," tweeted Bukele.
Bukele, who once declared himself the "coolest dictator in the world," has maintained a hardline stance on immigration that's put him at odds with the Biden administration and aligned him with Trump.
When the U.S. State Department released a statement in April expressing concern about violence and threats to free speech in El-Salvador, Bukele assailed the Biden White House in a tweet, accusing the administration of "supporting the gangs [in El-Salvador] and their 'civil liberties' now."
The civil war tweet was first shared as a screenshot on Truth Social by Lara Logan, a once-celebrated CBS reporter who is now a Trumpist who compared Dr. Anthony Fauci to an infamous Nazi doctor who experimented on Jews.
George Conway III, prominent conservative Trump critic and husband of a former senior Trump White House adviser, Kellyanne Conway, highlighted the former president's re-share on his Twitter account.
In a Sunday night interview with CNN, Conway shaded Democrats for ignoring the former president's threat to American democracy, which he's done for the umpteenth time, because "they're terrified of him," according to the Independent.
"But they're also terrified of a Republican base that's become increasingly radicalized. That actually does believe that people who politically disagree with them are a threat to the nation, and, therefore, violence could be necessary to fight them off, and that's what we saw in this social media post," Conway said.
However, the post at issue had been denounced by Democrats and even members of Trump's own party.
"Any of my fellow Republicans wanna speak out now? Or are we just wanting to get through 'just one more election' first…?" tweeted Rep. Adam Kinzinger (R-IL), a staunch Republican Trump critic in Congress.
Another lawmaker, Rep. Eric Swalwell, weighed in with what seemingly implied that Trump was a "wartime president" in name only. "Donald Trump is calling for Civil War. Of course, like Vietnam and the walk to the Insurrection, he won't be man enough to fight it.