Trump Administration Arrests Of Noncriminal Immigrants Up 150 Percent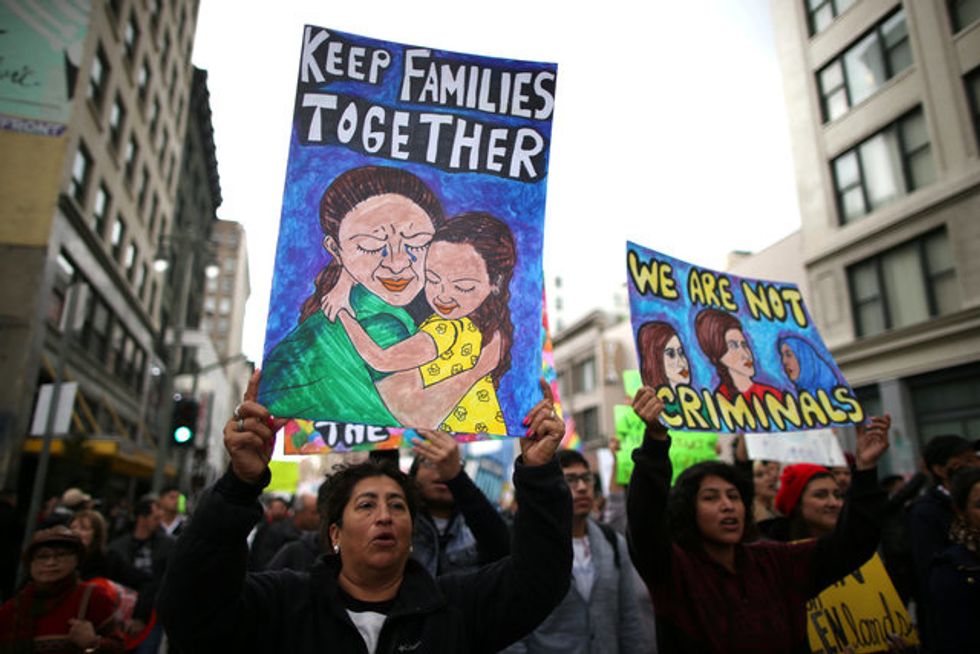 Reprinted with permission from Alternet.
For the most part, the Trump campaign was transparent in its xenophobia, playing to the anti-immigrant sentiments of Trump's base with promises to increase deportations of the undocumented. But on one point, Trump pretended to care about nuance: He would not, he stated on multiple occasions, target undocumented immigrants indiscriminately, but would focus on those with criminal records—the "bad hombres," to use the president's own ridiculous words. Predictably, this has not been the case in practice. A new report shows that amidst a staggering increase in undocumented immigrant deportations overall, arrests of law-abiding undocumented immigrants shot up the most, by a whopping 150 percent.
A report by U.S. Immigration and Customs Enforcement boasts that between January 29 and April 22, agents arrested 41,318 undocumented immigrants. That figure, which breaks down to roughly 400 arrests per day, represents an increase of 37 percent over arrests made during the same period under President Obama, who previously held the title of Deporter-in-Chief. Seventy-five percent of those taken into custody have criminal convictions, but even that notation is potentially misleading. As Vox notes, "it's not clear how many of those were for crimes that might be considered minor, or for crimes that are the result of being an unauthorized immigrant in the U.S. (such as driving without a license in a state that doesn't permit unauthorized immigrants to get drivers' licenses)." In fact, as the outlet points out, just 6 percent of those arrested had been convicted of violent crimes such as "homicide, rape, kidnapping and assault."
The number of non-criminal undocumented immigrants arrested more than doubled, going "from approximately 4,200 in 2016 to more than 10,800 in 2017." The ICE reports highlights this statistic as a point of pride, stating that while "convicted criminals are an immigration enforcement priority, Homeland Security Secretary John F. Kelly has made it clear that ICE will no longer exempt any class of individuals from removal proceedings if they are found to be in the country illegally."
The figures bolster reports from around the country of undocumented immigrants facing arrest whether they've had trouble with the law or not, and in the latter case, often for the most minor of crimes. Vox cites anecdotal evidence suggesting "people who already have prior orders of deportation or who have been ordered to check in with ICE at regular intervals." The language suggests the crackdown, already sweeping, may become even more expansive over time. An already glutted immigration court system has grown even more clogged, with the result that actual deportations are down since the Obama years, as more people await their fate in detention centers.
In recent months, undocumented residents have been arrested while dropping off their children at school, and in several cases, while in the act of applying for green cards. Spaces previously treated as safe areas for undocumented residents have also become sites of immigration enforcement. In February, an undocumented woman was arrested by agents in a Texas courthouse as she was seeking an order of protection for domestic abuse. In another case, a 23-year-old immigrant who should have been protected from deportation under the Deferred Action for Childhood Arrivals Act, or DACA, was inexplicably sent to Mexico, a country he hadn't lived in since he was 9 years old. The National Immigration Law Center has written that U.S. authorities "made him sign documents without allowing him to see an immigration judge, seek counsel, or obtain copies of the documents he signed."
Such stories have had a chilling effect on immigrant communities, dissuading many from seeking out lifesaving services and interventions. Immigrant advocates report that fearful members of their communities are refusing to visit doctors. Eligible immigrant families have been giving up their right to receive food stamps. And ThinkProgress cites a study from the University of Illinois that finds a significant drop-off in the number of immigrants willing to engage with the police, even in times of dire need:
The survey included 2,000 Hispanics from Phoenix, Los Angeles, Chicago, and Houston wherein 44 percent of all Latinos surveyed were unlikely to contact police if they are targets of a crime. Forty-five percent of the same participants also indicated that they were unlikely to report crime. That number shoots up to about 70 percent of undocumented Latino immigrants who indicated that they would neither file a police report for being a victim nor for being a witness. Instead because "they fear that police officers will use this interaction as an opportunity to inquire into their immigration status or that of people they know," about 70 percent of undocumented immigrants are more likely to tell their church or community leader, which suggests that "lack of trust centers on local law enforcement authorities and not on community institutions or public figures in general."
Speaking to the Chicago Tribune, Angelica Salas, who heads the Coalition for Humane Immigrant Rights, lamented the Trump administration's use of immigrants "to distract from the real affairs of our country."
"It is unfortunate that he basically is using the pain," Salas told the outlet, "and destroying our families as a way by which to give red meat to his base."
Kali Holloway is a senior writer and the associate editor of media and culture at AlterNet.
This article was made possible by the readers and supporters of AlterNet.