Trump Administration Suppressed Over 1500 Climate Change Studies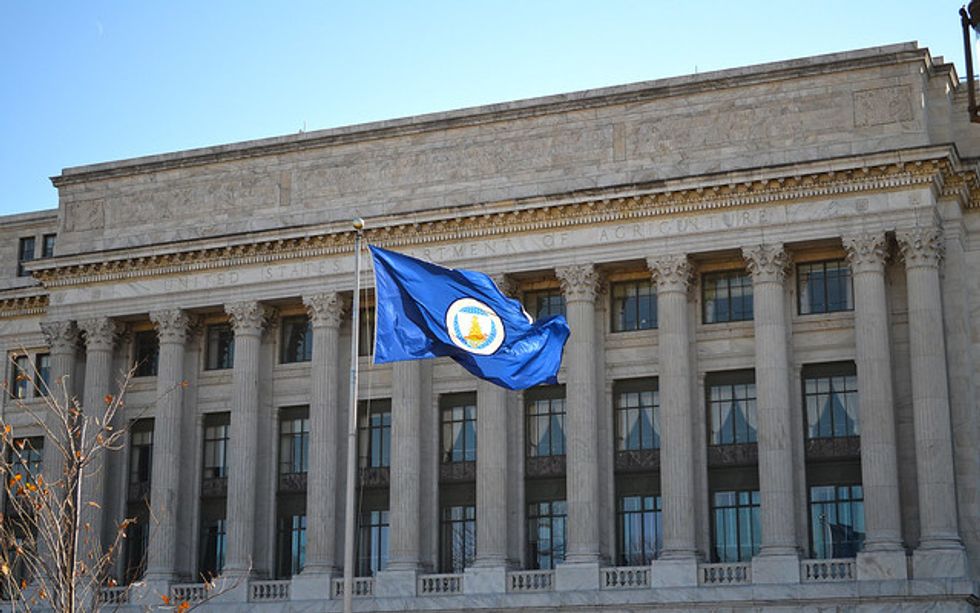 The Trump administration has systematically suppressed and minimized the results of over 1,400 studies related to climate change at the Department of Agriculture, according to new information released Thursday by Sen. Debbie Stabenow (D-MI).
"The trove of studies by USDA researchers carry warnings about climate change that the government is largely not communicating to farmers and ranchers or the public," Politico reported. "The list published includes research showing that climate change is likely to drive down yields for some crops, harm milk production, and lead to a drop in nutrient density for key crops like rice and wheat."
Stabenow, ranking member of the Senate's Committee on Agriculture, Nutrition, and Forestry, held a press conference Thursday to discuss the findings.
"These studies show how climate change is affecting crop production, disrupting how food is grown and increasing risk to communities," she said.
A Politico report in July exposed the USDA's efforts to stop the release of a plan detailing recommended steps to fight climate change. Staffers at the agency were told to cancel the public rollout of the information and to keep the data for internal use only.
Attacking climate research and hiding it has been one front in a wide-scale war on science under this administration.
The overt hostility led to an exodus from key agencies like the Environmental Protection Agency, where 1,500 employees left in the first 18 months of Donald Trump's presidency rather than work under him.
Last year, it was revealed that the EPA had buried a study showing hazardous levels of toxic chemicals in drinking water across the country. Vital information produced by EPA scientists was hidden from the public by the EPA itself in a process very similar to how the USDA hid its own climate research.
The EPA's mission was also subverted through an alliance with a right-wing think tank, the Heartland Institute, which worked with officials at the agency to promote denial of climate change reality.
The administration has oriented itself around attacking climate science, often weighing in on the side of polluters or espousing Trump's previously stated — and false — beliefs that climate change is a "hoax."
Trump withdrew the United States from the Paris climate accord and has installed anti-science officials with sway over the nation's climate policy.
Congressional Republicans, who have for decades led the effort to deny climate science, have echoed Trump's unscientific climate skepticism.
Trump's actions to impede and hide climate science have occurred as the planet continues to heat up. August 2019 had the hottest temperatures ever in recorded history.
Now, under Trump's administration, the federal government is burying studies showing the dire consequences of climate change and the necessary steps to reverse its effects.
Published with permission of The American Independent.