Trump Admits Republicans Have No Plan To 'Replace' Obamacare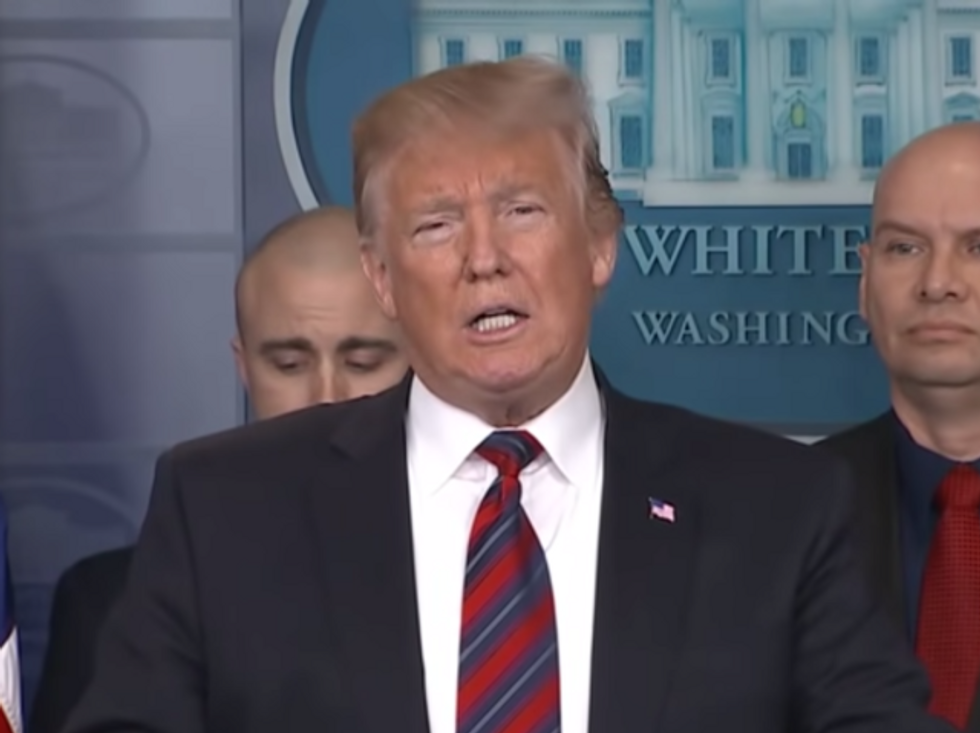 Trump is still obsessed with trying to undo Obamacare and take health care from millions of Americans, but on Monday he admitted that he and his fellow Republicans still don't have a replacement plan — and they won't until after next year's election.
"Republicans are developing a really great HealthCare Plan with far lower premiums (cost) & deductibles than ObamaCare," he tweeted Monday night, add that Republicans won't be voting on it until "right after the Election when Republicans hold the Senate & win back the House."
That's a far different claim than what Trump was saying just a week ago, when he insisted a group of Republican senators were hard at work crafting a magical new health care plan that will be "really spectacular."
That was a lie. The Washington Post reported no Republicans in Congress have a health care plan, nor is there anything in the works. Chuck Grassley (R-IA), chair of the Senate Finance Committee, told the Post flatly that there are no plans or efforts to draft any such plan. A White House official told the Post that there wasn't a specific proposal from the White House, either.
But now Trump is admitting that Republicans aren't even going to bother with an Obamacare replacement for more than a year. That means if Trump's latest attempt to strike down Obamacare in its entirety succeeds, 20 million people could lose their health insurance and millions more with pre-existing conditions could be at risk of sharply higher health care costs — while Trump and GOP wait to see how next year's election turns out for them.
Only if Republicans win back the House, which they might not do, will they even bother trying to clean up the mess Trump wants to make right now.
After an outcry over protections for pre-existing conditions from voters during last year's election cycle, Trump began swearing that he vowed to keep them. And he's still doing that now. But none of the prior plans from Trump and the GOP do that.
Those plans saw Republicans attempting to increase health care premiums, rip health care away from tens of millions of families, and take away protections for individuals with pre-existing conditions.
Republicans have promoted these ideas time and again, even as voters have a different solution in mind. The majority of voters prefer to work with the current system, and even Republicans who were polled would rather fix the system than destroy it.
Republicans have threatened, for nearly a decade, to repeal and replace Obamacare. Under Trump, they have tried and failed to do it. Now Trump is fighting in the courts to repeal Obamacare while he worries about replacing it later, but only if he and his party win in 2020. And if they don't? The millions of Americans who've lost their care will be out of luck, but it won't be Trump's problem to fix.
Published with permission of The American Independent.