Trump's Authoritarian Presidency: Echoes Of 1930s Germany And 1950s McCarthyism Abound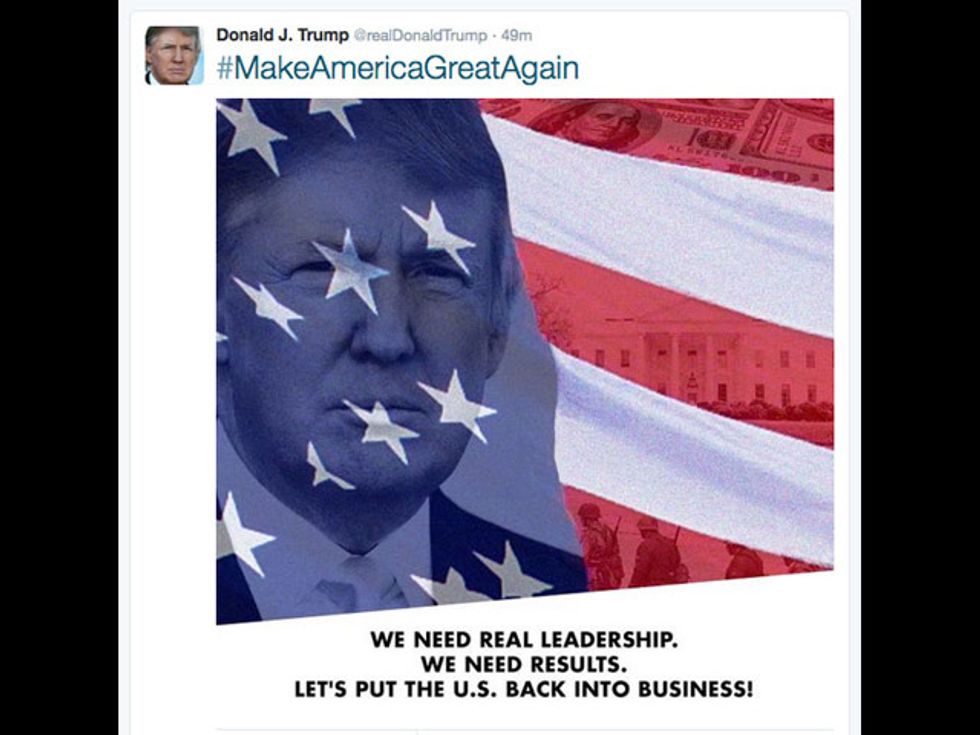 Reprinted with permission from AlterNet. 
When Richard Spencer, a leading alt-right white power ideologue finished his speech at Saturday's day-long "Become Who We Are" summit at Washington's Ronald Reagan Building, someone yelled, "Heil the people!" and the room shouted back, "Heil victory."
It wasn't the evening's first Nazi reference nor most brazen. Soon after Spencer started slamming the mainstream media, overlooking how it gave the president-elect endless free coverage, he jeered, "Perhaps we should refer to them in the original German?" The crowd shouted back, "Lügenpresse," a Nazi-era word for "lying press." Spencer continued, to cheers, that white power was rising. "America was, until this last generation, a white country designed for ourselves and our posterity… It is our creation, it is our inheritance, and it belongs to us."
America under Donald Trump is entering an uncharted authoritarian era. Whether apt historical precedents are in the first months of Hitler's rule in 1933 in Germany or closer to the 1950s anti-Communist witch hunts led by Sen. Joseph McCarthy remains to be seen. But there are myriad events that everyone is seeing and unfolding behind closed doors that are forming a prologue to Trump's authoritarian rule.
Looking backward, people always ask if the course of history could have been changed. Many people would like to dismiss some of the recent events as bad dreams that will vanish if ignored—like last weekend's neo-Nazi rally in a federal office complex in the Capital; to Trump taking to twitter to denounce the cast of the musical, Hamilton, for closing a performance by openly imploring the vice-president-elect, MIke Pence, in attendance, to honor America's diversity.
But that becomes harder to do when the president-elect is appointing scarily intolerant men, propagandists and war mongers to top White House posts. It doesn't just look like Trump is posed to deport millions of migrants, roll back civil rights and go after his critics—by appointing race-baiting propagandist Stephen K. Bannon as a top adviser; Alabama Sen. Jeff Sessions as Attorney General; and Lt. Gen. Michael Flynn as top national security advisor—a man who supports racial profiling by police and has lied that Islamic law is spreading across America. It also looks like Trump is relishing his unfolding role as an American strongman, as evidenced by his Sunday tweet: "General James "Mad Dog" Mattis, who is being considered for Secretary of Defense, was very impressive yesterday. A true General's General!"
The question is how far will Trump go to achieve his objectives at home and abroad, including putting the country on a path toward war. Historic comparisons are both useful and imprecise. Yet there are enough echoes of Trump's ascension to Germany in 1933, the year Adolph Hitler became the country's newly appointed chancellor. Then and now were periods seen by some as a brutal darkening and others as a great national revival. (My most recent book is set in Holland during the war).
Like Hitler's earliest days in power, we are seeing increases in race-based hate crimes. Back then, it was targeting communists, socialists and Jews. Now it is targeting muslims. Trump's advisors are pointing to a much-criticized World War II-era Supreme Court ruling, Korematsu v. United States, to allow creation of a national muslim registry. That ruling held that wartime detention was constitutional.
Where today parts with the past, at least so far, is we haven't seen how Trump would expand the federal policing and deportation apparatus. People forget that President Obama oversaw the arrest and deportation of 2 million immigrants before signing executive orders suspending deportation of 40 percent of the 11 million undocumented migrants here. It's an open question what Trump would do accelerate and ramp up the federal police state. In Germany, Nazi-supporting paramilitary groups created their own arrest, detention and torture stations during the first year of Hitler's rule. The authorities didn't stop them, and most of the American journalists stationed there at the time didn't want to conclude that paramilitary violence was part of a larger societal trend.
What those outside targeted circles in Germany didn't see at that time were the steps being taken to start transforming a democratic republic to authoritarian rule. (The military buildup and dictatorship followed). In short, the tell-tale signs were the increasing control that the government exerted over all aspects of society, but especially the civil rights of the officially loathed minorities. It started with national registries, moved to what jobs could and could not be held, and then declaring and forfeiting property and assets.
What is the contemporary parallel? On immigration, visa-less detainees have virtually no legal rights. Until Obama issued his executive orders suspending deportations in his second term, undocumented people arrested for traffic stops would be turned over by local police to ICE—federal immigration authorities—and disappear into a deportation treadmill. Trump and the GOP have threatened to ramp up that process, including the prospect of blocking all federal aide to any municipality or state that acts as a sanctuary state. There's also been talk about seizing the international wire transfers of money sent by migrants here to families in Central America. What's clear is that this is uncharted territory, domestically speaking, on this issue.
What happens with the Muslim registry, with segments of police forces resurrecting racial profiling, with crackdowns against protesters and dissent, are all open questions. But the president-elect and his top advisors, like most of the anti-Communist crusaders from the 1950s McCarthy era, have shown little tolerance of dissent and a willingness to go after critics. In California, people at anti-Trump protests talk about opening their homes to people fleeing federal police sweeps. The last time that was heard was in the 1980s when refugees fled Ronald Reagan's Central American wars and hid from U.S. authorities here.
During the first months of Hitler's rule, German authorities told foreign journalists and diplomats that attacks by fascist thugs were outliers and would soon end. There were even official denunciations by the government, but it didn't stop. There even were a handful of Americans who were assaulted, after being in the wrong place at the wrong time. But most of the foreign press corps, visiting tourists and even diplomats didn't grasp the emerging character of the new regime. And those who did see it for what it was—after witnessing violence firsthand—and tried to talk about it, were, frequently dismissed as too political, prejudiced and shrill.
Some people will shrug and say that upheaval and random victims always accompany every revolution—including what's in store as Trump strives to "make America great." Others will respond that people must speak out against dark forces when the future hangs in a balance and those accumulating power are silently gathering their forces. What's certain about Trump's America is the country is heading into an authoritarian time. How wide, how deep and how destructive that wave will be is unknown.
As Richard Spencer, who led the neo-Nazi chants last weekend at the white power gathering in Washington told the New York Times, his movement and Trump shared many values. "I do think we have a psychic connection, or you can say a deeper connection, with Donald Trump in a way that we simply do not have with most Republicans."
Steven Rosenfeld covers national political issues for AlterNet, including America's retirement crisis, democracy and voting rights, and campaigns and elections. He is the author of "Count My Vote: A Citizen's Guide to Voting" (AlterNet Books, 2008).