Trump Boasts Former Aide's Testimony Made Him Look 'Physically Tough'
@next2godwin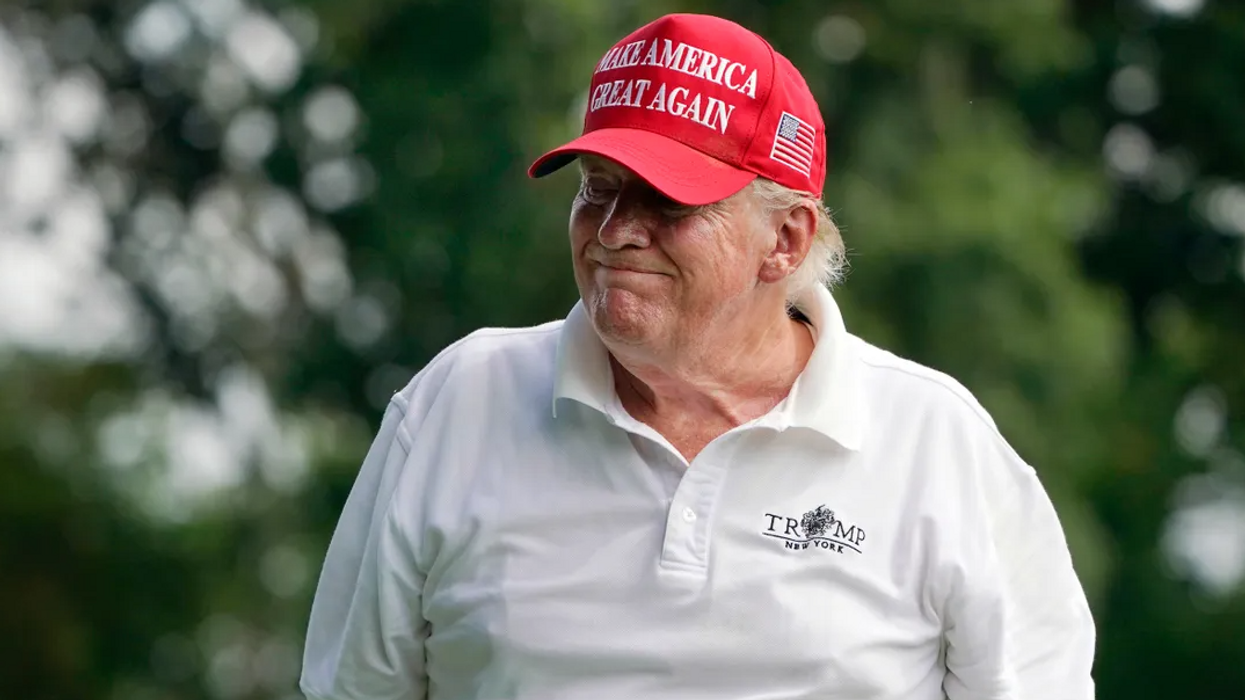 In a meandering speech Wednesday, former President Donald Trump talked up the congressional testimony of a former aide alleging his assault on a Secret Service agent, saying "a lot of people" thought it made him look "physically tough."
Trump's tirade began moments after he took the stage as the keynote speaker of a two-day event hosted by right-wing America First Policy Institute at the Intercontinental Hotel in downtown Miami, Florida.
The former president touched base with his supporters with a rambling oration about defeating zombified versions of ex-presidents Abraham Lincoln and George Washington in an election "by 40 percent" and — bemoaning the Justice Department's investigation into his alleged theft of thousands of government documents, including classified material — baselessly claimed that ex-president Washington stashed millions of government documents in "an unguarded warehouse in Texas."
After a stream of falsehoods, conspiracy theories, and grievance-filled rants, Trump noted that he almost didn't dispute the allegations of "one very sick individual," referring to ex-White House aide Cassidy Hutchinson, who said he had "grabbed" a member of his security detail "around the neck" during the January 6, 2021, riot he had incited.
"If you listen to this one very sick individual, in order to get the Secret Service to take me to the Capitol, I grabbed one around the neck," Trump said, denigrating Hutchinson. "I almost didn't want to dispute it because a lot of people said, 'I never knew you were that physically tough.'"
"The guy," Trump continued, referring to the Secret Service agent, "was a tough guy I supposedly grabbed. If I had grabbed him around the neck, I would have been in very serious trouble."
It was not the 45th president's first attack on Hutchinson — the star witness in the House Select Committee's hearing on June 29 — who testified of an unhinged Trump who, seeking to return to the Capitol, tried to grab the steering wheel of the presidential limousine and lunged at his then-head of security, Bobby Engel.
Hutchinson's testimony was the recount of a shockingly detailed account she said then-White House deputy chief of staff Tony Ornato had described to her in the presence of a "somewhat discombobulated" Engel.
"The president said something to the effect of, 'I'm the effing president; take me up to the Capitol now,'" Hutchinson testified to the House Select Committee.
When Engel denied that request, Hutchinson said, Trump "had a very strong, very angry response."
"The president reached up towards the front of the vehicle to grab at the steering wheel. Mr. Engel grabbed his arm [and] said, 'Sir, you need to take your hand off the steering wheel. We're going back to the West Wing. We're not going to the Capitol,'" Hutchinson said in her testimony.
"Mr. Trump then used his free hand to lunge towards Bobby Engel," the former aide continued, adding that Ornato had "motioned towards his clavicles" when recounting that part of the story to her.
Trump blasted Hutchinson on his failing social media platform, Truth Social, during and after that hearing, calling her "phony" and her body language "that of a total bull…. Artist."
"Her Fake story that I tried to grab the steering wheel of the White House limousine in order to steer it to the Capitol Building is "sick" and fraudulent, very much like the Unselect Committee itself - Wouldn't even have been possible to do such a ridiculous thing," Trump truthed, his platform's lackluster mimicry of Twitter's "tweet" feature.
According to Business Insider, a former Secret Service agent agreed with the latter part of Trump's post, saying that the ex-president's "girth would prevent him from actually getting to the steering wheel."