Trump Can't Charm, Not Even For One Spring Night
@JamieStiehm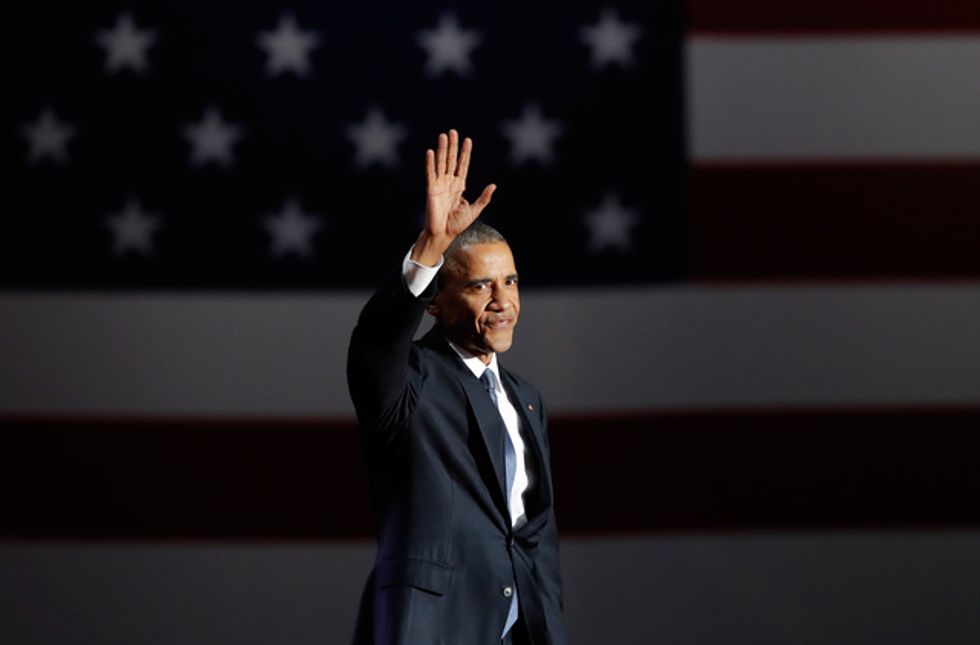 Reprinted with permission from Creators.
WASHINGTON — Call me Cinderella.
I'm getting dressed in blue rags to go to the White House Correspondents' Association Dinner. It's the annual April spring thing. Black tie in a ballroom. Usually the president sits at the head table and acts like Prince Charming. He stands up and makes jokes at his own expense in a monologue that brings the house down. That would be Barack Obama, George W. Bush and Bill Clinton bringing their best game of bonhomie.
Not this April. Donald Trump's a no-show at the ritual for the second straight time. The president is boycotting the best chance to make peace with the press and let his hair down. (Kidding!)
OK, nobody's that upset about Trump's snub. Nor was he wanted at the funeral for former First Lady Barbara Bush. He's the skunk at a garden party. Sad!
But it's worth noting that the "running war" Trump declared on the press on his first full day in office is real. Scowling, he visited the Central Intelligence Agency and cut into the "dishonest" media, echoing a campaign rant. His fury filled the room to honor fallen spies. No American president worth his salt attacks a democratic institution in public. President Nixon was a hater in private, and for that we must thank him.
Trump also insisted Press Secretary Sean Spicer lie to the press about the size of the inaugural crowd — sparse compared to the Women's March. If you trace the river of "fake news" to its mouth, it's Trump's mouth — and Trump's term.
The White House press corps carries on. I admire them, cool under fire. But they are so close, working in the West Wing, they may have normalized the bizarre.
The best and brightest chase Trump's tweets starting at dawn. They let slings and arrows pass, even when Trump lashes journalists by name, like Maggie Haberman of The New York Times. (She responded civilly to his last blast: Her story was "hitting a nerve.") They endure snide asides by Press Secretary Sarah Huckabee Sanders. It feels like a cramped Dickensian orphanage in there, nothing but crumbs.
Correspondents waited and wondered for a year when Trump would hold a second press conference. It took French President Macron's visit for a full-dress news conference to happen.
The Fourth Estate's blood was chilled by a recently revealed conversation between Trump and FBI Director James Comey, before he fired Comey. They spoke about putting a leaker's "head on a pike as a message." Trump voiced enthusiasm for jailing leakers. To us, sources and leaks are the lifeblood of democracy. How little he cares about constitutional press freedom.
It's not just adversarial. No, it's his war, as Trump declared. But to their credit, the correspondents covering him take the high road.
I told my father about all this. A California doctor, he diagnosed a malady. He said Trump won't attend the mirthful evening because he can't smile or laugh. Have you seen him try? It's Herculean. He has no humor, but more to the point for the press dinner, he can't use irony to laugh at himself, an art President Kennedy mastered. Self-deprecating wit is too sophisticated for someone who can't let go of social dominance at all times.
President Obama made light of Trump, a guest at one WHCA Dinner, in an elegant takedown of the "Celebrity Apprentice" reality show. "You didn't blame Lil Jon or Meatloaf — you fired Gary Busey. And those are the kinds of decisions that would keep me up at night. Well handled, sir."
Trump looked like a baited bear. Some say this was his catalyst to run for president.
My father pointed out other character failings. Cultural events are notably absent on the president's calendar. "Hamilton" is coming to town, to the Kennedy Center, but he doesn't care. (The Obamas loved "Hamilton.") He doesn't read books and tells staff to keep memos short, to eye while watching Fox News. Curiosity never killed this cat.
So Trump never leaves his "comfort zone." Golf and partisan rallies are all he does for fun outside the house.
He doesn't know what he misses. Not just me in rags.
To find out more about Jamie Stiehm and other Creators Syndicate columnists and cartoonists, visit Creators.com.