Trump 'Can't Stand' Kelly, But Is Too Fearful To Fire Him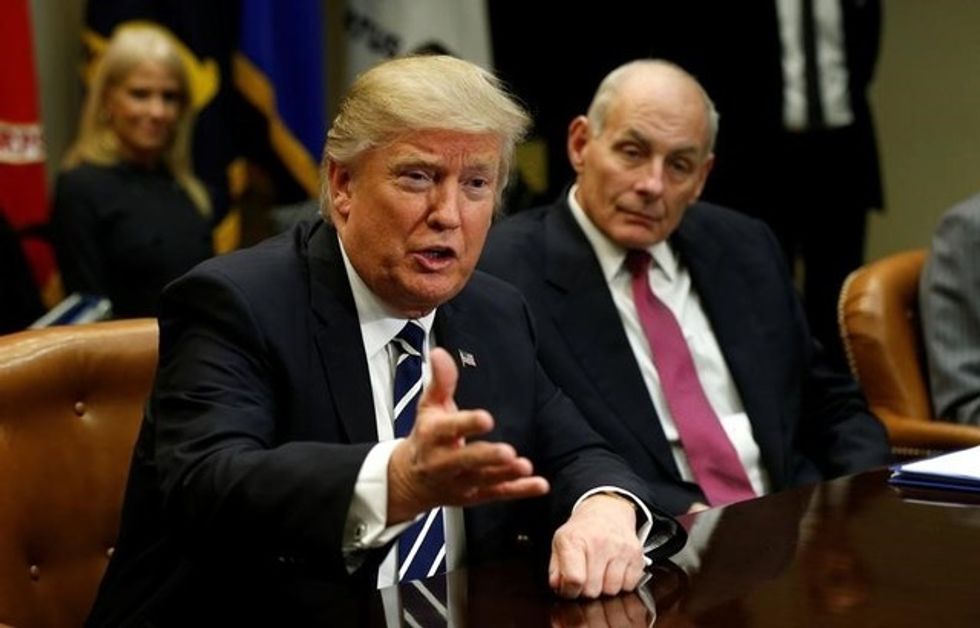 Reprinted with permission from AlterNet.
Former Fox News President Bill Shine has already generated bad press as a new hire at the White House for his alleged complicity in years of sexual misconduct and abuse at the conservative network. But according to a new Vanity Fair report, President Trump is thrilled to have him on board.
Reporter Gabriel Sherman found that Trump was impressed with the way his new deputy chief of staff for communications produced the spectacle of the announcement of Judge Brett Kavanaugh's nomination for the Supreme Court Tuesday night. One source told Sherman that Shine specifically chose the lighting to make Trump look younger.
But Shine's role may involve more than improving appearances. According to Sherman, Shine could help push out chief of staff John Kelly, who Trump is "too chickenshit" to fire on his own, one person told Vanity Fair.
For months, reports have suggested that Kelly was on his way out at the White House. His strict management of the White House and rigid style apparently chafe with Trump's freewheeling preferences. Many assumed that Kelly was a goner when it was revealed that he had kept staff secretary Rob Porter on board despite allegations of abuse from his ex-wives — but he has soldiered on.
Yet according to Sherman's reporting, Trump is frustrated by the former general.
"[Sean] Hannity said Trump really can't stand Kelly," one source told Sherman. "He's fed up."
Cody Fenwick is a reporter and editor. Follow him on Twitter @codytfenwick.