Citing Phony Online Polls, Trump Claims Debate 'Victory'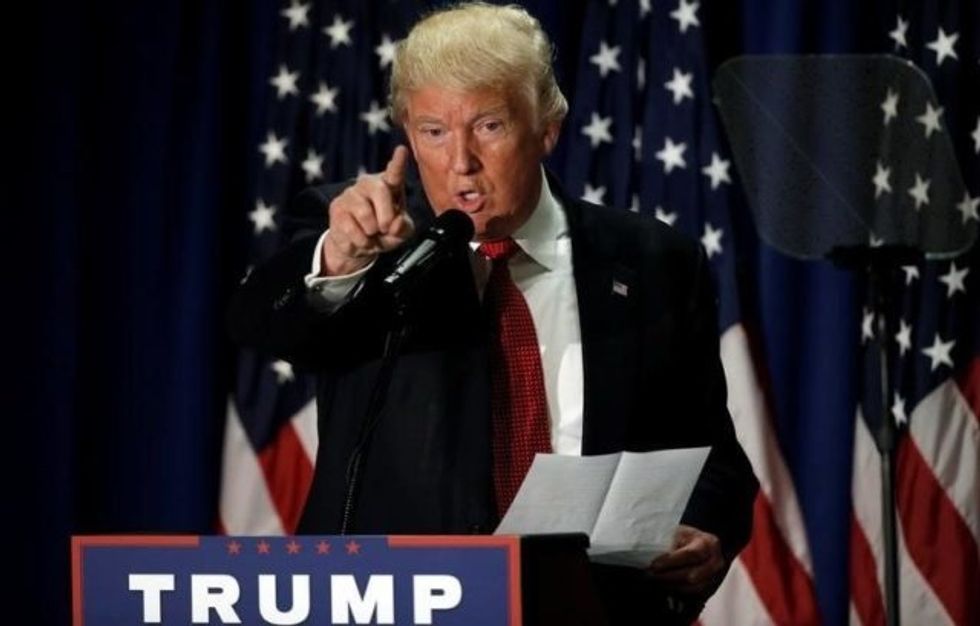 Throughout last spring's primary season, after the first presidential debate and again after Sunday's second debate, Donald Trump bragged that he was the big winner, pointing to a slew of online polls taken almost immediately afterward as his proof.
"Despite winning the second debate in a landslide (every poll), it is hard to do well when Paul Ryan and others give zero support!" he tweeted at 5:16 a.m. Tuesday morning, referring to instant online polls and the House Speaker's rejection of his candidacy.
The polls were from the Drudge Report, Breitbart Media, Right Scoop, Fox5 San Diego, Click on Detroit, Poll Me Straw, PolitiOpinion, Hollywood Gossip, Q13 Fox Seattle, KPLC Lake Charles, Las Vegas Sun, 5NewsOnline, WHNTNews and Horn News, and typically found 80 percent or more respondents had declared him the winner. "CNN Poll: Clinton 57-34% WTF? Do you believe it after watching this CNN hocus pocus focus debate?" wrote one activist who listed these polls on an "election integrity" list serve that distrusts media and election officials.
There are many reasons why reputable pollsters say flash online surveys like the ones cited above are unreliable. It's not just because respondents are self-selected and do not reflect a wider public. It's also because their results are often tainted by online ballot stuffing, as Fortune.com, a reputable, tech-savvy outlet has explained. Yet none of that stopped Trump from repeatedly telling the thousands at his rallies the day after Sunday night's debate that he had won, and that they better be prepared to stop Democrats from "stealing" the presidential vote in cities like Philadelphia—a longtime Democratic stronghold.
"So important that you get out and vote. So important that you watch other communities, because we don't want this election stolen from us," he said in Ambridge, near Pittsburgh, the Washington Postreported. "We don't want this election stolen from us. We do not want this election stolen."
It's one thing when Hillary Clinton tells a national debate audience that Trump lives in an alternate universe. But citing dubious online polls in which hacking by Trump supporters stack and distort the results, and then declaring his presidency could be stolen in cities with a large black Democratic population, is a toxic, dysfunctional and dangerous mix.
Nobody will convince Trump's followers of anything they don't want to believe. But the rest of America should know why online polling is not reliable—especially when it is done by the same web sites that are owned or run by the people at the top of Trump's campaign. Conversely, the public should be aware of the reasons not every poll is created or executed equally, even if mainstream media cite it when they should not.
"The biggest problem with trying to use social media analysis in place of survey research is that the people who are active on those platforms aren't necessarily representative of the ones who aren't," wrote Stephanie Slade, managing editor of Reason, a conservative magazine, and a 2016–'17 Robert Novak Journalism Fellow who looked at this topic. "Moreover, there's no limit on the amount one user can participate in the conversation, meaning a small number of highly vocal individuals can (and do) dominate the flow."
Polling has never been an exact science. Nate Silver, the former New York Times polling whiz compared and explained the biases in 2012's presidential polls, when established firms wrongly predicted on election eve that Mitt Romney would win by one percent. But it's one thing when pollsters try to get an accurate sampling of likely voters, and try to reach them by a mix of communication devices and talk to them to get answers. It's another thing when the polls are being done on single online platforms where users are a silo of like-minded, self-selected, ideologically identifiable people.
As Slade wrote, "A study in the December 2015 Social Science Computer Review found that the people who discuss politics on Twitter overwhelmingly are male, live in urban areas, and have extreme ideological preferences. In other words, social media analyses suffer from the same self-selection bias that derailed the Literary Digest's polling project almost 80 years ago: Anyone can engage in online discourse, but not everyone chooses to."
The internet has brought other problems; namely, the ability to easily cheat—which is why almost all Americans, with the exception of people in the military serving overseas, don't vote online. (Soldiers get ballots via the web, but print them, fill them out, and sign and return them via expedited delivery.) Michael Lee, a Quora.com public policy analyst, described how electronic ballot box stuffing compounds an already narrow polling audience.
"Online polls aren't yet reliable enough for good statistical inferences," he wrote, "They can be gamed by mischievous programmers. It seems like every time a company posts a poll for something, from picking a new flavor to Time's Man of the Year, someone hacks it and we end up with Adolf Hitler as the purported people's choice, or Taylor Swift's biggest fans being at a school for the deaf." Online polls are also "less random than other methods," and "There's still a digital divide," with the poor having less access.
Nonetheless, last spring, after the first presidential debate, Trump touted his giant victory and cited online polls as proof. Late last month, Fortune.com's Matthew Ingram dismantled Trump's boasts in a piece that explained in stark detail how his supporters had cheated and stacked the results.
"A number of online polls said the Republican candidate won, with some votes as high as 73%," he began. "In virtually all cases, those polls were non-scientific, meaning the makeup of those who responded did not necessarily reflect the population of likely voters. In many cases, the protections against people voting more than once was also minimal. At least one of the polls appeared to be an outright fake: The Drudge Report and a number of Trump supporters linked to a supposed ABC poll showing that Trump won 54% of the vote and Clinton just 10%, but the poll was hosted by a site that mimicked ABC's website."
Ingram said there were online posts telling Trump fans how to rig the online votes.
"Based on a number of posts on Twitter, the anarchic online community 4chan, and online message board Reddit, it appears as though Internet trolls ganged together to try to rig the online polls by using a number of tricks to game the results so that they would show Trump as victorious," he wrote. "In the past, Reddit trolls have used fairly sophisticated bot-nets made up of hundreds or even thousands of computers to game the results of online polls. In some cases, such polls can also be manipulated by changing browsers or simply using multiple devices and email accounts."
Carl Bialik, the lead news writer at Nate Silver's FiveThirtyEight.com, live blogged on Sunday's debate night that Trump's minions are up to the same tricks.
"As [his colleague] Harry [Enten] said, the instant online opt-in junk polls — call them troll polls, faux polls, clickers, or your favorite term for them — should be ignored as indicators of who really won," Bialik wrote. "And after Trump touted his win in these junk polls after the first debate, and was widely ridiculed for it, he didn't cite the junk polls that showed [GOP VP nominee Mike] Pence beating [Democrat nominee Tim] Kaine in the vice-presidential debate. Nonetheless, Trump supporters appear to still be flooding these things. Trump's getting 77 percent in a Heavy.com junk poll asking who won tonight's debate, an identical 77 percent in Fox 5 San Diego's and 90 percent in Drudge Report's."
Earlier Sunday night, Enten emphasized that reputable polls take a few days to conduct. "As the debate comes to a close, remember that the candidate who wins in the insta-polls doesn't necessary gain in the polls afterward. The post-debate spin is as important, and sometimes gains (like Clinton's after the first debate) take time to materialize."
That's what seems to be happening, as more reputable polls are starting to show that Clinton has solidified her lead in presidential swing states like Pennsylvania, where Trump is telling his supporters he not only won the debate—citing the online polls—but is expecting that some "other" force—in this case, black Democrats in Philadephia—will steal the presidency from him.
"The [instant] surveys allow Trump and his aides to rail against media elite reactions to the debate and argue that voters are outsmarting pundits," wrote Brian Stelter for CNNMoney.com, after the first presidential debate.
"Some political reporters called out the tactic," he continued. "'Trump's aggressive promotion of online (easily manipulated, non-scientific) polls saying he 'won' is a calculated effort to create a reality,' Emily Flitter, who covers the Trump campaign for Reuters, tweeted. 'But the co-hosts of Fox & Friends, who are reliable cheerleaders for Trump, went along with Trump's talking point. Other Fox hosts also picked up on it, even though the network has its own well-regarded polling unit."
Americans who don't have the time to delve into why all polls are not reputable are left in a blur where Trump keeps yelling his version of fantasized reality and his media allies repeat it. What's dangerous about this narrative is that millions of people who back Trump may never accept that he may well lose, and lose big, on Election Day.
Voter registration closed in a dozen states on Tuesday. One can only hope that voter turnout is so high, and the vote margins so wide, that there will be nothing to fight about in court or fester in conspiracy land. But everything we know about Donald Trump suggests that won't be the case—not when he's pretending to be the winner based on hacked online polls, and keeps telling supporters it's not them, but others in Democratic strongholds, that are going to be cheating.
Reprinted by permission from Alternet. Steven Rosenfeld covers national political issues for AlterNet, including America's retirement crisis, democracy and voting rights, and campaigns and elections. He is the author of "Count My Vote: A Citizen's Guide to Voting" (AlterNet Books, 2008).
IMAGE Republican presidential nominee Donald Trump speaks at the Cleveland Arts and Social Sciences Academy in Cleveland, Ohio, U.S., September 8, 2016. REUTERS/Mike Segar