Trump Complains: 'I've Been Attacked For Giving $19M To Charity'
@jeisrael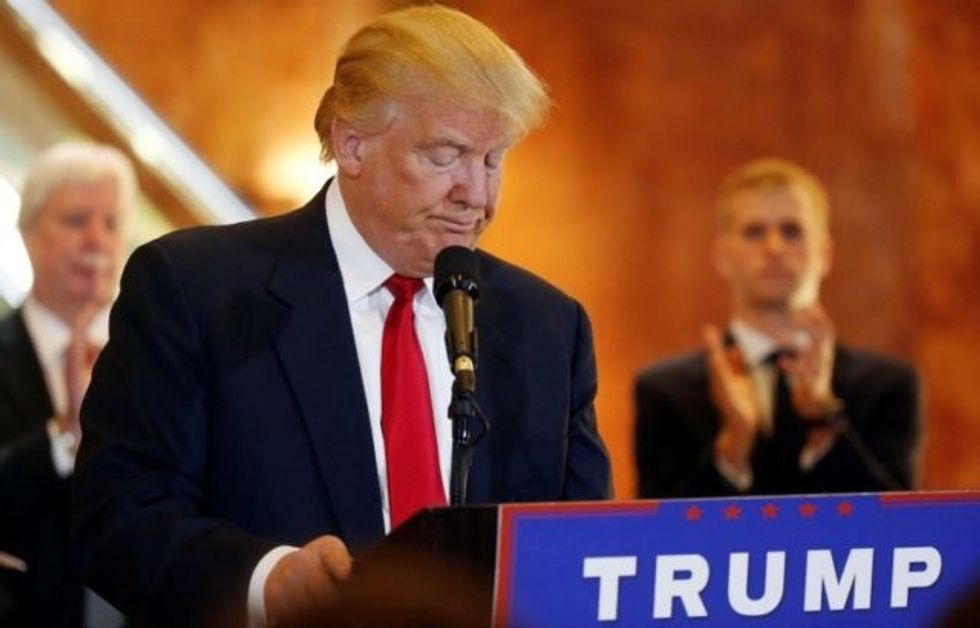 Donald Trump released a statement on Thursday, after agreeing to pay $2 million to settle a lawsuit against his now-defunct namesake foundation, complaining that he had been "attacked by political hacks" for donating $19 million to charity.
"I am the only person I know, perhaps the only person in history," he claimed, "who can give major money to charity ($19M), charge no expense, and be attacked by political hacks in New York State. No wonder why we are all leaving!"
Trump recently declared himself a resident of Florida, after decades as a New Yorker. According to the New York Times, a source close to Trump said the change was for tax purposes.
The president added on Thursday that "every penny of the $19 million raised by the Trump Foundation went to hundreds of great charitable causes" and that contrary to the claims of the New York attorney general's office, his foundation was only guilty of "some small technical violations, such as not keeping board minutes."
He was ordered this week to pay out $2 million to several charitable groups after he admitted to misusing money raised by his foundation.
Like more than 13,000 of the other false or misleading claims Trump has made since taking office, his argument this week that he himself paid $19 million to charity is dubious at best.
According to a Pulitzer-winning Washington Post analysis, just $5.5 million of the money raised by the Donald J. Trump Foundation actually came from Trump (though a spokesperson claimed Thursday that "more than $9 million came directly from" Trump). He stopped donating to the foundation completely in 2008 and instead relied on millions in donations from other rich people — including his first Small Business Administrator, Linda McMahon.
While some of the foundation's money did go to worthwhile causes, Trump also used it as a his personal piggy bank to fund things like a $264,631 renovation for a fountain outside one of his hotels, legal settlements for his for-profit companies, a portrait of himself, and a $7 payment to the Boy Scouts of America (which was the cost of membership at the time). He often used the foundation to make charitable donations he claimed were coming out of his personal funds.
In 2016, the foundation admitted to the Internal Revenue Service that it had engaged in illegal "self-dealing." The same year, his legal team claimed an "unfortunate series of coincidences" lead to an illegal and undisclosed $25,000 political donation in support of then-Florida Attorney General Pam Bondi (R).
The foundation gave much of its money for political purposes, including two $10,000 donations to Project Veritas, James O'Keefe's tax-exempt conservative group known for producing misleading "sting" videos, often with a pro-Trump message. It ceased operations in December 2016 after the New York attorney general filed suit alleging improper dealings.
Contrary to Trump's claims of minor technical violations, a judge found he illegally used his foundation to further his 2016 political campaign — a huge no-no for tax-exempt 501(c)(3) charitable organizations — and pay business debts. As part of the settlement, Trump admitted to these violations of the law.
A 1999 examination by The Smoking Gun called Trump "The .00013% Man" based on the Trump Foundation's "paltry" charitable giving. A 2011 follow-up found that contrary to Trump's claims of being an "ardent philanthropist," from 1990 to 2009, Trump donated just $3.7 million to his foundation compared to the "seven billion" he claimed to have in his bank account, making him perhaps "the least charitable billionaire in the United States."
Published with permission of The American Independent.
IMAGE: Donald Trump addresses the media regarding donations to veterans foundations at Trump Tower, May 31, 2016. REUTERS/Lucas Jackson