Donald Trump Could Make Rupert Murdoch Even More Powerful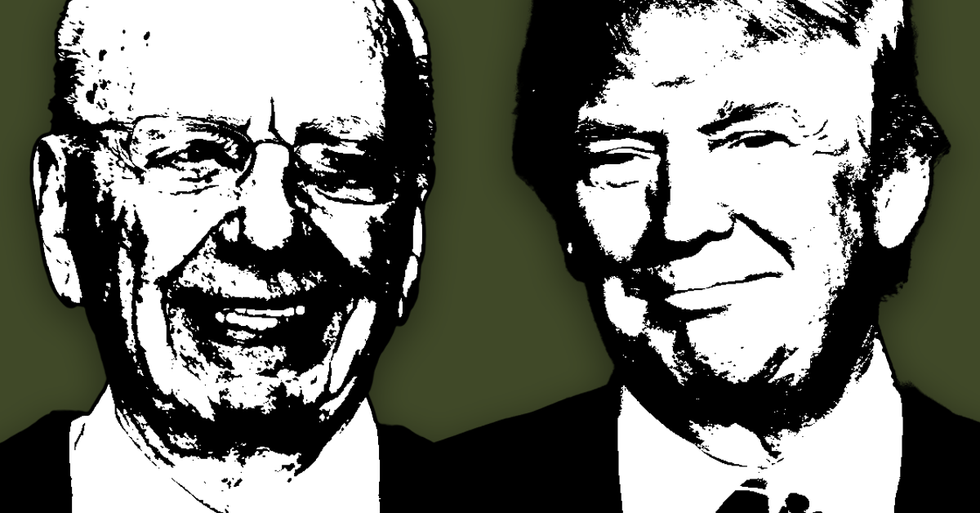 Reprinted with permission from Media Matters for America.
President-elect Donald Trump may be preparing to give Rupert Murdoch a big reward for the positive coverage Murdoch's outlets provided during the election.
Trump has asked Murdoch to submit the names of possible nominees for Federal Communications Commission chairman, according to a report from New York magazine's Gabriel Sherman. Trump's FCC will be positioned to roll back regulations that have kept Murdoch from buying up newspapers and television stations across the country.
The two New York City-based moguls historically dislike one another, and Murdoch repeatedly criticized Trump in the early stages of the campaign and reportedly pressured Fox News to be more critical when covering Trump.
But after Trump sewed up the Republican nomination, Murdoch reportedly "signaled he plans to fully back Trump in the general election against Hillary Clinton" in order to ensure "an open line to the new administration" if Trump won. They subsequently dined together during Trump's June trip to Scotland, and Murdoch made a pilgrimage to Trump Tower following the election.
Now Murdoch reportedly has the opportunity to cash in on the overwhelmingly positive coverage that his properties — including Fox News, The Wall Street Journal, and The New York Post — gave the incoming president.
Murdoch has repeatedly been prevented from adding more newspapers to his media empire by FCC "cross-ownership" rules that restrict common ownership of broadcast TV and radio stations and newspapers in the same media market. The rules are intended to prevent consolidation of too much media power in too few hands. Media companies are also barred from owning television stations across the nation that collectively reach more than 39 percent of U.S. television households, and from owning two stations in a local media market if both stations are ranked in the top four in that market.
By law, the FCC must review those rules every four years. After a years-long review process, the FCC board, composed of President Obama's nominees, voted to retain the rules in 2016. Under Trump, all of those rules will be on the table for repeal.
While Murdoch is far from the only head of a media company to oppose the cross-ownership rules, he has been among their fiercest opponents for decades. Those rules forced him to sellThe New York Post in 1988, and he would be a major beneficiary of their elimination.
Through 21st Century Fox, Murdoch currently owns 28 television stations in 17 markets in New York, Los Angeles, Chicago, Dallas, San Francisco, Washington, D.C., Houston, Minneapolis, Phoenix, Orlando and Charlotte. His stations reach roughly 37 percent of U.S. television households, just under the FCC's cap. If that cap is changed or eliminated under Trump, Murdoch would be able to purchase more stations and increase his impact on the media landscape.
That matters because stations owned by 21st Century Fox frequently push the same conservative slant in their broadcasts as the Fox News cable channel does, often running the same news packages and hosting the same personalities.
Cross-ownership rules have also prevented Murdoch from purchasing newspapers in the media markets where he owns television stations (he has a waiver to own the Post now, and his ownership of The Wall Street Journal is not subject to the rule because it is considered a national paper). In 2014, Murdoch complained that he was unable to purchase the Los Angeles Times or the Tribune Company because cross-ownership restrictions prevented him from owning papers in Chicago or Los Angeles since he already owned TV stations in those markets. He also dropped his 2008 bid for Newsday amid reports that the seller was concerned Murdoch would not be able to get a waiver to allow the deal to go through.
If a Trump FCC changes or eliminates the cross-ownership rules, Murdoch may be able to snap up papers across the country. In the years after Murdoch purchased the Journal in 2007, dozens of journalists fled the paper, with many telling Media Matters that its coverage had shifted to the right and away from more in-depth reporting.
Staffers were particularly disturbed when Gerard Baker, a well-known conservative columnist for Murdoch's The Times of London, was installed as the paper's deputy editor-in-chief in 2009. Baker was promoted to editor-in-chief in 2013. Baker reportedly urged editors to be "fair" to Trump at a May morning news meeting; in October, the paper's reporters criticized their own election coverage, telling Politico they had produced "galling," "flattering" pro-Trump "stories on the front [page]" and the "false balance in treating him just like another nominee" was "absurd."
If Trump gives Murdoch his reward, we could see the same pattern play out in media markets nationwide.
IMAGE: Sarah Wasko/Media Matters