Far-Right Thinktank Wrote Bloody-Minded 'Wargame' For Trump Coup
@beyerstein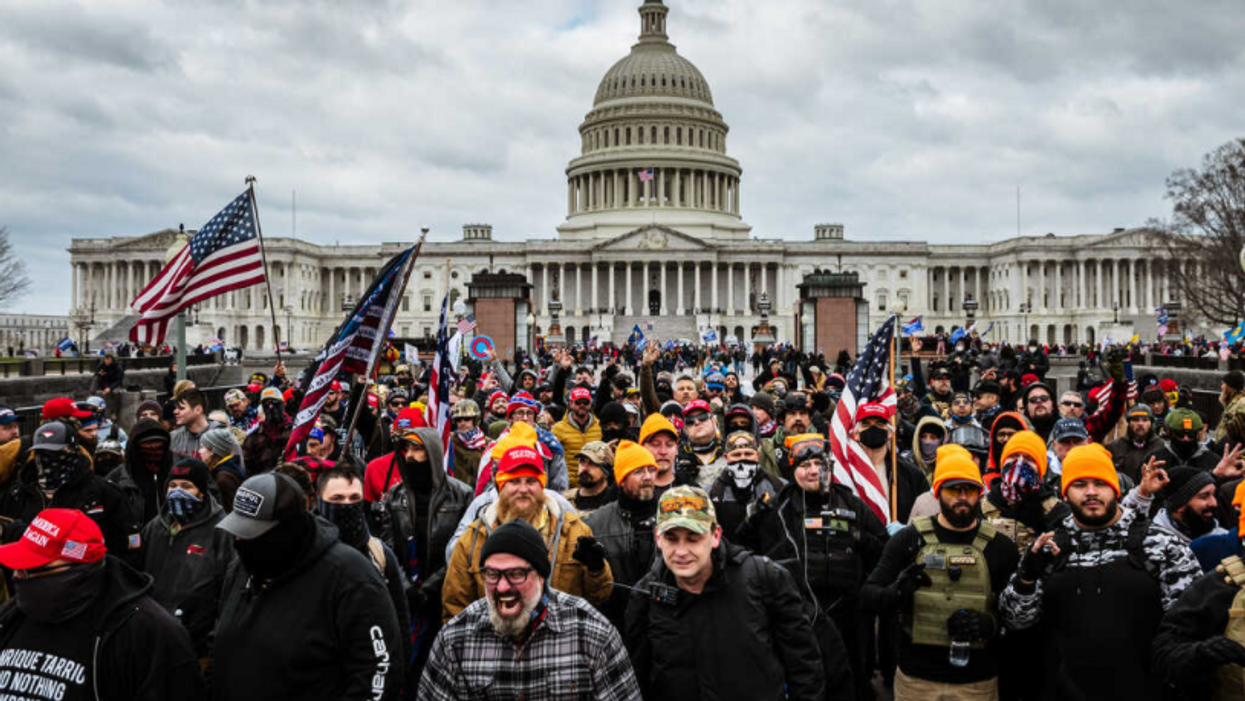 The Trump advisor who wrote the infamous pseudo-legal justification for overturning the 2020 election also helped to create a blueprint for what Donald Trump could do to hang onto power by force.
John Eastman joined a couple dozen right-wing operatives in simulating the aftermath of a closely contested election. The report was published in mid-October 2020 and co-sponsored by the Claremont Institute, the think tank where Eastman works.
The authors of the report are clear their simulation had a very serious purpose: to prepare real public officials for real violence in the event of a disputed election. The authors say they fully expected the necessary preparations to crush dissent would be perceived as the run-up to a military coup. But in their view, that couldn't be helped. It was important to come up with legal justifications for overwhelming political violence before the election, they said.
The report is a blueprint for how Donald Trump could fuse federal power, local police, and criminal gangs like the Proud Boys to hang onto power. It seems to foreshadow Eastman's plan for a procedural coup on January 6, except projected onto Biden supporters.
The Claremont simulation started from the assumption that left wing violence was a "near-certainty" and that Trump's Defense Department, FBI, and Department of Homeland Security must be prepared to crush Biden supporters in the event of a contested election.
The simulation starts from the following half-baked premise: All the networks call the contest for Biden on Election Night, because he appears to have won Texas, bringing his electoral vote total to 270.
Somehow, all the networks fail to notice that Russia had taken the entire electoral apparatus of Texas offline before all the votes came in. (This wouldn't get past Steve Kornacki, let me tell you.) Texas goes back in the "too close to call" column. Biden is still two electoral votes ahead, but the nation explodes with rioting and arson by "antifa" and Black Lives Matter. Fourteen police officers are shot on election night.
Thus begins Choose Your Own Adventure: Death Squads. There's an elaborate procedural and legal backstory about how an uncertain Election Night metastasizes into a constitutional crisis to be worked out probably by the Supreme Court, but I won't bore you with it because it's obviously a figleaf. This is a manual for state violence.
With the nation in flames, the players have Trump's Department of Defense deploy military personnel carriers to multiple states, which local mayors rudely call "tanks." These pesky mayors aren't cooperating with the Trump administration's desire to clamp down on dissent.
So, their police departments go completely rogue and join forces with the Trump administration. The NYPD seems to have overthrown Bill De Blasio. The Chicago Police Union refuses to protect Mayor Lori Lightfoot. Federal law enforcement with no identifying insignias encircle the White House to defend it with heat rays. The Proud Boys, Three Percenters and Oath Keepers form posses to "assist."
Tellingly, Eastman and his fellow players assume that pro-Biden forces will try to gather at the Capitol on January 6. So they thwart their political adversaries by tracking their phones, setting up police checkpoints and using Trump's Homeland Security fusion centers to identify and detain their leaders. The players protect the Capitol with an army of federal agents, snipers and of course more heat rays. Trump's FBI hunts down more antifa leaders in the DC suburbs.
War games often reveal more about the players than they do about the future, and this exercise is no exception. The report shows that John Eastman and his confederates expected a disputed election would set off a wave of civil unrest that would culminate in the US Capitol on January 6, supported by insurrections at key state houses that same day. The report projected this strategy onto Biden supporters, but that's exactly what Trump confederates did on January 6.
A showdown on January 6 might feel inevitable in retrospect, given the horrific events of that day. But it wasn't an obvious choice. January 6 was the date of the certification of the presidential election, which has historically been a pro-forma affair. Results have already been decided.
The states have certified their election results, the Electoral College already has voted, and all that's left to be done is the little ceremony during which the Congress counts the electoral votes. It doesn't make sense to have your last stand to win a contested election after the results are already set in stone, unless you think you can change them.
John Eastman did in fact come up with a crackpot legal excuse for how Mike Pence could throw the election to Trump. His argument was to the law as creationism is to biology, but it was good enough for Trump. We know Trump pressured Pence to act on Eastman's advice. Eastman shared a dais with Trump as well as Rudy Giuliani at the rally immediately before the siege. The crowd was chanting "Hang Mike Pence," because Pence had refused to comply with Eastman's scheme.
Eastman later claimed he wasn't serious about the memo, but the results of this simulation suggests he and fellow right-wingers had sized up the certification of the presidential election as their moment to stage a procedural coup with physical reinforcements waiting.