Trump Coup Lawyer's 'Election Integrity' Outfit Aligning With QAnon Influencers
@AlKapDC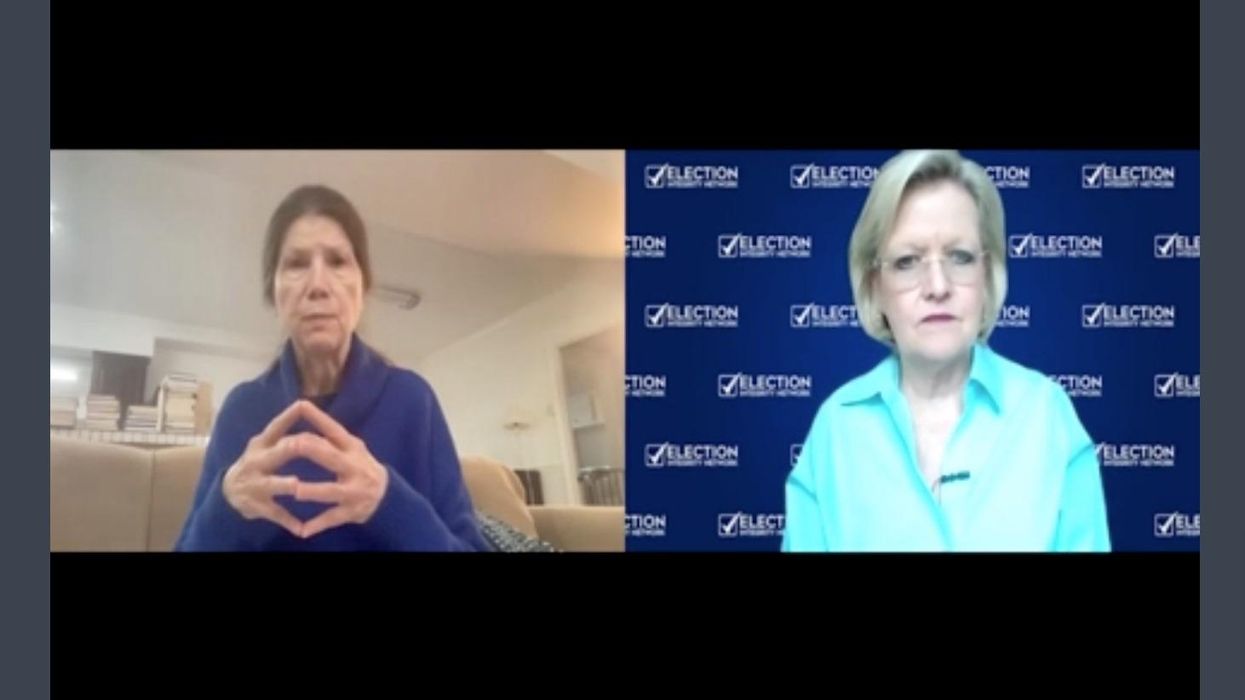 Youtube Screenshot
The head of Fairfax County, Virginia's purported "election integrity" task force lauded the supposed research abilities of certain QAnon influencers and admitted to sending their materials to the Fairfax County Office of Elections on a podcast hosted by the Conservative Partnership Institute's Cleta Mitchell. Mitchell reportedly helped organize the group in 2021 ahead of the Virginia gubernatorial race, along with 18 other local task forces.

Mitchell leads CPI's Election Integrity Network, an organization that she says aims to create "a volunteer army of citizens" in various positions related to election administration, motivated by false claims of election fraud. She is one of at least 20 of Trump's allies — along with former chief of staff Mark Meadows and former Pentagon official Kash Patel — who were intimately involved in Trump's attempts to overturn the 2020 election and are now associated with CPI, a pro-Trump think tank. Mitchell, who was on the call with then-President Donald Trump when he pressed Georgia Secretary of State Brad Raffensperger to "find" votes to overturn the presidential election in the state, was subpoenaed as part of a Fulton County, Georgia, special grand jury investigation into potential criminal election interference.
Christine Brim, the leader of the task force in Fairfax County, appeared on an episode of Who's Counting? with Cleta Mitchell uploaded on October 11, and she claimed that the group put together a "20-page memo" on election software company Konnech in September that "really just aggregated data, screenshots and so on from" QAnon influencers. Brim said the task force sent the memo to the county board of elections.
Konnech has been targeted by influential election-denial organization True the Vote and collaborating QAnon influencers, who allege that the Chinese Communist Party used the company to influence American elections. Konnech has sued True the Vote for defamation. Attacks on Konnech ramped up when its CEO was arrested "on suspicion of theft of personal identifying information" about poll workers, even though the charges were unrelated to vote tabulation or election results. After the CEO's arrest, the Fairfax County Office of Elections canceled its contract with Konnech.
The QAnon figures behind the data Brim shared, whom she called "very professional researchers," are known online as Kanekoa and CognitiveCarbon. They are members ofWe The Media, a collective channel of QAnon influencers. (A blog post from the group mentioning the memo also cited another QAnon influencer and member of We The Media known as The Authority.)
CLETA MITCHELL (HOST): I want to come back to something here because I think that it's one of the reasons I think this is so important is that you and your group of volunteers and, as you say, researchers around the country, but because you already were working in Fairfax County, you were able to and did take the initiative starting when — I mean, walk us through the schedule of the things that you took to the county board of elections, what they said, how, you know, sort of what happened each step along the way. Because there were multiple — there were multiple steps.
CHRISTINE BRIM (CHAIRMAN OF FAIRFAX COUNTY GOP ELECTION INTEGRITY TASK FORCE): There were. And let me just backtrack slightly. We had a much more difficult relationship with our prior registrar. We got a new registrar in late March of this year. And he has been working very hard with a — with his staff, with his staff to increase transparency and to improve relationships. And we also have, under Gov. [Glenn] Youngkin, our new Republican governor, appointed Susan Beals as our new commissioner of the state Department of Elections. And she has been issuing guidance after guidance that has improved transparency. So this has been a — an exciting year for us. The problem, of course, with transparency is you have to go copy the documents, right? But we even got the right to photograph where before we hadn't had it. So we — when this situation started in August, we were still clarifying some issues in terms of transparency. But we had established a good working relationship with the office and with the staff much better than last year. And last year was much better than the year before.
We do a lot of training of poll watchers. We have 264 precincts. We coordinate with the Fairfax County Office of Elections so our training conforms to what they're actually teaching their chiefs and their supervisors as well. We want to teach the right thing.
So there's — that's the environment in which this, this bomb kind of went off, from an informational point of view, and we said, "Oh, my gosh. What are we going to do?" So we immediately, I immediately emailed them, August 16, and said, "You really need to escalate this. This is a problem. We have to take this seriously." And at that point, send in also a Freedom of Information Act for any additional contracts. We already had — because we have an active Freedom of Information activity, already had the original contracts from 2016.
MITCHELL: Oh wow.
BRIM: This has been out since 2016 that our election officers, names, mail, mailing addresses and so on, have been potentially going over to China, but certainly looked at. But the — that didn't get a response and so we —
MITCHELL: You sent that in and, what, got no response?
BRIM: So August 16, so the email didn't get a response, but we did get the contractual information back and that was helpful. And then following that on — I'm trying to think the sequence here — we again send another email saying, "No, you really need to take this seriously." And at that point I think they were probably talking to their lawyers because we were getting fewer responses from them.
Then on September 6, we constructed a whole memo, which is linked from the article, about a 20-page memo, which really just aggregated data, screenshots and so on from these wonderful researchers, Kanekoa, CognitiveCarbon. They all work under pseudonyms over at Substack, but they had done — these were clearly very professional researchers with a lot of linguistic capabilities. They — and also I.T. knowledge — who were trying to corroborate, and did corroborate, all of the information with these links to the Chinese companies. And we — our team, we had a small research team, which was pulling this together, of three, four people, just scanning the environment for additional research out there, which they do anyway. They're always scanning the environment for opposition situations, opposition groups, opposition publications in Virginia. So they focused on this, and that was tremendously helpful because we also could combine that with the contractual information that we had.
And pulled that together, reverified every single link. So we went back and, you know, revisited the links, so that everything was firsthand. Took our own screenshots.
MITCHELL: Wow. I see, I see what you did.
BRIM: Everything was — so that we didn't send in anything that was uncorroborated by us, that we were told they would research the issues.
Later on in the interview, Brim told Mitchell that "one-off researchers, like Kanekoa," provided "tremendous information," from whom "election integrity working groups … have the capability to take that information and turn it into something operational locally."
CLETA MITCHELL (HOST): I think that I really wanted you to have the opportunity — I wanted to have the opportunity for people to hear what you all had done, in conjunction with many, many others, but that ultimately, where the rubber meets the road, is taking the information and getting something done in the local election office. And you've really demonstrated the importance of that. Unfortunately, the bureaucracy wouldn't have acted on its own. I don't think they would have acted on their own.
CHRISTINE BRIM (CHAIRMAN OF FAIRFAX COUNTY GOP ELECTION INTEGRITY TASK FORCE): I think eventually they would have. In 2023, they wouldn't have renewed the contract, but it would have not been — it would have stayed in place through the election. And I think some places may choose to do that. I know DeKalb County —
MITCHELL: Georgia.
BRIM: — is another user of PollChief. There's — but, you know, it is not just a team. It's the fact that this is a growing team. This is a growing team in Fairfax. The coordination across Virginia is there. We work and communicate and get ideas from people in other states.
MITCHELL: Right.
BRIM: In part due to the wonderful efforts that you've made. And then we have these outside groups that are just these one-off researchers, like Kanekoa, who suddenly provide tremendous information. And the counties, these election integrity working groups, are poised and have the capability to take that information and turn it into something operational locally. And this is just kind of organically happening. It's extremely effective. Little by little, we're kind of learning how to do this.
Since the interview came out, Kanekoa has praised the group for relying on the materials that both Kanekoa and CongnitiveCarbon put online, calling it "very cool" and claiming it "demonstrates the power of getting involved in your local elections."
This instance of a CPI- and GOP-linked Fairfax County group sending material from QAnon influencers to the county board of elections further demonstrates the connections between the QAnon and election denial movements. Media Matters has previously documented True the Vote's collaboration with QAnon figures, major election denial funder Patrick Byrne's significant connections to the QAnon community, and a QAnon influencer's involvement with a coalition recruiting and aiming to elect election-denialist secretary of state candidates. And according to Nevada Republican secretary of state candidate Jim Marchant, the leader of that coalition, he had been "working very close" with Mitchell and CPI.
Reprinted with permission from Media Matters.