Trump Digs In After Weekend Violence, Threatens Sanders Rallies
@reuters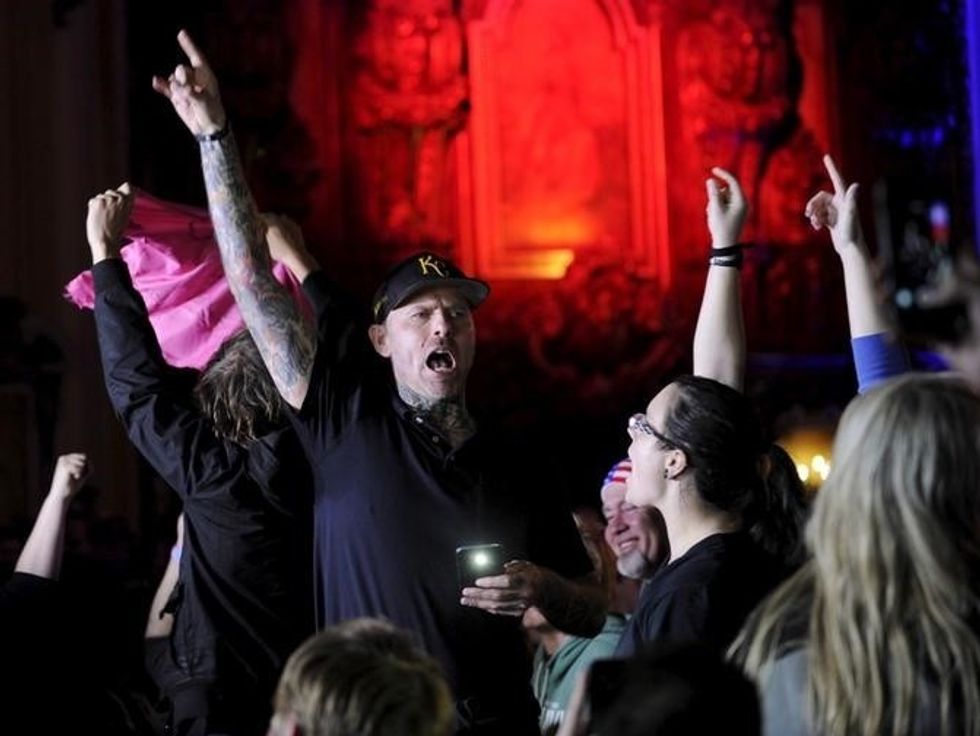 By Doina Chiacu
WASHINGTON (Reuters) – Republican presidential candidate Donald Trump on Sunday threatened to send his supporters to the campaign rallies of Democrat Bernie Sanders, showing no sign of toning down his rhetoric after clashes erupted at his own events over the weekend.
Trump, front-runner for the Republican nomination, appeared unchastened after simmering discord between his supporters and protesters angry over his positions on immigration and Muslims turned into a palpable threat on Friday, forcing him to cancel a Chicago rally and shadowing his campaign appearances on Saturday.
Trump blamed supporters of Democratic candidate Sanders for the incidents in Chicago, where scuffles broke out between protesters and backers of the real estate magnate. He called the U.S. senator from Vermont "our communist friend".
On Sunday, he went a step further in an early morning post on Twitter: "Bernie Sanders is lying when he says his disruptors aren't told to go to my events. Be careful Bernie, or my supporters will go to yours!"
The scenes in Chicago followed several weeks of violence at Trump rallies, in which protesters and journalists have been punched, tackled and hustled out of venues, raising concerns about security leading into the Nov. 8 presidential election to replace Democratic President Barack Obama.
The disturbances continued on Saturday at a Trump rally in Dayton, Ohio, where Secret Service officers scrambled to surround the candidate after a man charged the stage.
Trump scheduled rallies on Sunday in Illinois, Ohio and Florida before the next five presidential nominating contests on Tuesday, which could cement his lead over Republican rivals U.S. Senators Ted Cruz and Marco Rubio and Ohio Governor John Kasich.
Sarah Palin, who ran as vice president in Republican John McCain's failed 2008 campaign against Obama, planned to stump for Trump in Florida. During that election, Palin and McCain drew criticism for overheated campaign rallies marked by crowds openly hostile to Obama, who became the first African American president.
Trump, who has harnessed the discontent of white, working class voters angry over international trade deals that cost them jobs, has made his opposition to the 1993 North American Free Trade Agreement and proposed 12-nation Trans-Pacific Partnership a centerpiece of his campaign.
He has hammered Kasich on the issue before Tuesday's vote.
"Ohio Gov.Kasich voted for NAFTA, from which Ohio has never recovered. Now he wants TPP, which will be even worse. Ohio steel and coal dying!" he said on Twitter.
(Reporting by Doina Chiacu; Editing by Stephen Powell)
Photo: Protesters interrupt U.S. Republican presidential candidate Donald Trump speaking during a campaign rally at the downtown Midland Theater in Kansas City, Missouri, March 12, 2016. REUTERS/Dave Kaup