Trump Dumped From Conservative Event In Atlanta Over 'Inappropriate' Comments
@reuters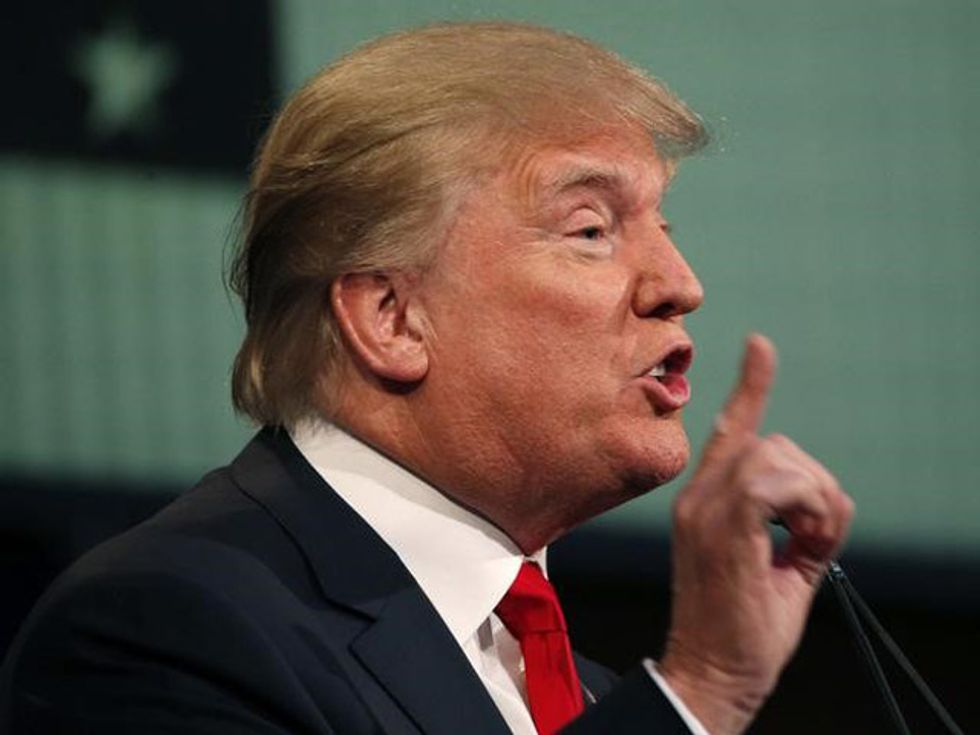 By Steve Holland
WASHINGTON (Reuters) — Republican presidential candidate Donald Trump was dumped from a prime speaking role to an important gathering of conservative activists on Friday for his criticism of Fox News anchor Megyn Kelly after a combustible debate performance.
Trump was scheduled to deliver the keynote address on Saturday night at a conference in Atlanta organized by Red State, an influential conservative group.
Red State chief Erick Erickson said he had disinvited Trump from the event because of what he described as "demeaning" remarks about Kelly who was one of three moderators during the first major Republican debate on Thursday night in Cleveland.
"While I have tried to give him great latitude, his remark about Megyn Kelly was a bridge too far," Erickson said, adding he had invited Kelly, one of Fox's highest profile anchors, to attend his conference in Trump's place.
Trump was unbowed by the dumping.
"This is just another example of weakness through being politically correct," his campaign said in a statement.
"For all of the people who were looking forward to Mr. Trump coming, we will miss you. Blame Erick Erickson, your weak and pathetic leader. We'll now be doing another campaign stop at another location."
During the debate, Kelly asked Trump to respond to derogatory statements he had made in the past about women, calling them "fat pigs" for example. Trump tried to wave off the question and dismissed Kelly during a raucous debate performance.
"And honestly Megyn, if you don't like it, I'm sorry," Trump said. "I've been very nice to you, although I could probably maybe not be, based on the way you have treated me. But I wouldn't do that."
Erickson said in a Facebook statement that in a CNN interview Trump said of Kelly: "You could see there was blood coming out of her eyes. Blood coming out of her wherever."
"His comment was inappropriate," said Erickson.
"It is unfortunate to have to disinvite him. But I just don't want someone on stage who gets a hostile question from a lady and his first inclination is to imply it was hormonal. It just was wrong," he said.
"He is not a professional politician and is known for being a blunt talker. But there are even lines blunt talkers and unprofessional politicians should not cross. Decency is one of those lines."
A variety of Republican presidential candidates have been speaking at the Red State gathering in Atlanta and Trump was scheduled for a prominent appearance.
Shortly before Erickson's statement, Trump's campaign had just put out a media advisory with the schedule for Trump's appearance.
The New York billionaire has been riding high in the polls in recent weeks as Republican search for their nominee to face the Democrats' choice in the November 2016 election.
Carly Fiorina, the business executive who is the only woman running for the Republican nomination and who spoke to Red State on Friday, applauded Trump's dumping.
"I stand with @megynkelly," she tweeted.
(Reporting By Steve Holland; Editing by Michael Perry)
Photo: Republican 2016 U.S. presidential candidate businessman Donald Trump speaks during the first official Republican presidential candidates debate of the 2016 U.S. presidential campaign in Cleveland, Ohio, August 6, 2015. (REUTERS/Brian Snyder)