The Implications Of Trump's Imposed Freeze On EPA Grants And Contracts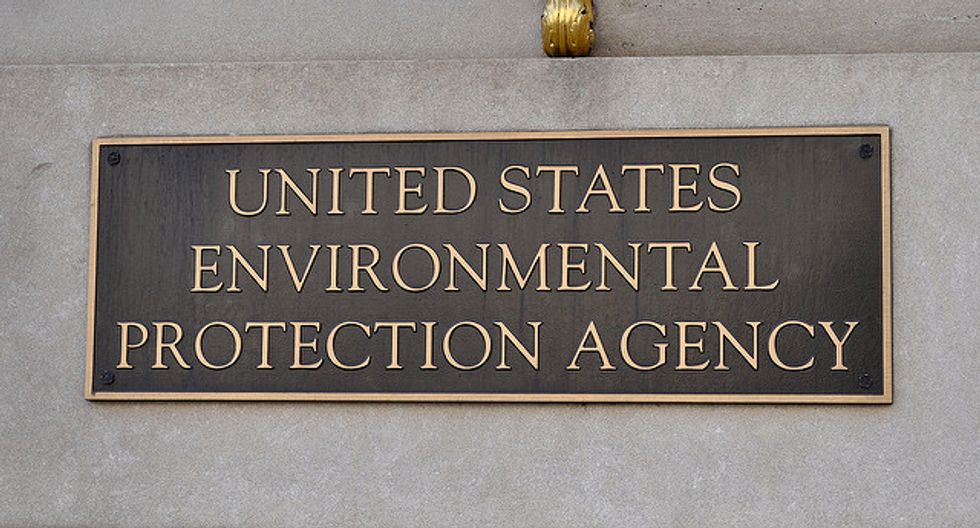 Reprinted with permission from ProPublica.
The Trump administration has imposed a freeze on grants and contracts by the U.S. Environmental Protection Agency, a move that could affect a significant part of the agency's budget allocations and even threaten to disrupt core operations ranging from toxic cleanups to water quality testing, according to records and interviews.
In one email exchange obtained by ProPublica on Monday, an EPA contracting officer concluded a note to a storm water management employee this way:
"Right now we are in a holding pattern. The new EPA administration has asked that all contract and grant awards be temporarily suspended, effective immediately. Until we receive further clarification, this includes task orders and work assignments."
Asked about any possible freeze and its implications, EPA officials did not provide an answer.
One EPA employee aware of the freeze said he had never seen anything like it in nearly a decade with the agency. Hiring freezes happened, he said, but freezes on grants and contracts seemed extraordinary. The employee said the freeze appeared to be nationwide, and as of Monday night it was not clear for how long it would be in place.
The substance of the email exchange was confirmed by one senior EPA employee with over 20 years at the agency. An EPA lawyer also said that earlier communications had described such a freeze.
Monday night, Myron Ebell, who ran the EPA transition for the incoming administration, confirmed the basics of the freeze, but said the actions were not unprecedented.
"They're trying to freeze things to make sure nothing happens they don't want to have happen, so any regulations going forward, contracts, grants, hires, they want to make sure to look at them first," said Ebell, who returned over the weekend to his position directing energy and global warming policy at the Competitive Enterprise Institute, a free-market, industry-aligned group that has long fought the EPA's growth and influence.
"This may be a little wider than some previous administrations, but it's very similar to what others have done," he said.
President Trump has nominated Oklahoma Attorney General Scott Pruitt to head the EPA. Pruitt has deep ties to the fossil fuel industry, and formed an alliance between the industry and other attorneys general to fight former President Baracks Obama's climate proposals. He is seen as a hero among conservatives who believe the EPA oversteps its federal authority.
Pruitt faced tough questioning and even outright skepticism during his initial confirmation hearing last week. The Washington Examiner published a statement Monday by Tom Carper, the Delaware Democrat and ranking member on the Environment and Public Works Committee, saying, "Following the committee hearing on Scott Pruitt's nomination to head the EPA, serious questions remain about the nominee's record and vision for the agency he seeks to lead."
Much about any freeze at the EPA remains unclear, including whether it affects only new grants and contracts, or may also affect the roughly $6.4 billion worth of federal contracts the EPA already has in place. EPA press offices across the country did not immediately respond to calls and emails requesting comment.
The EPA routinely contracts out services ranging from hazardous waste handling to drinking water quality testing. More than 600 active contracts with businesses ranging from small minority-owned consulting companies to institutions as big as Colorado State University can be explored here.
The environmental agency's grants are used to support private, state, and municipal level environmental testing, remediation and innovation projects. Together those programs can total more in spending than an entire year's budget for the agency. The EPA awarded roughly $1.4 billion worth of contracts and $9.6 billion in grants in 2013, the latest year for which data was available, according to the government spending website InsideGov.com. The agency's total budget in 2016 was $8.6 billion.
A freeze on payments would appear consistent with other actions taken on Monday, including President Trump signing an executive order instituting a hiring freeze for new federal workers — a centerpiece of the pledge he made in his "Contract with the American Voter" during the presidential campaign.
Abrahm Lustgarten contributed reporting to this story.