Trump's Plan To Gut HUD Threatens America's Poor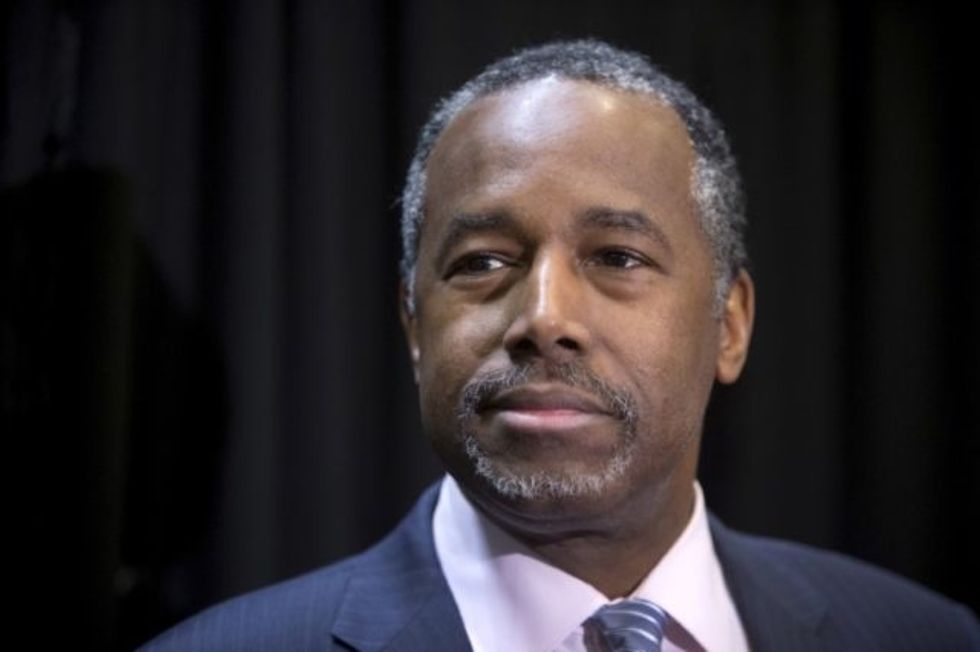 Reprinted with permission formAlterNet.
Rosemary Holmes has lived in Newark's Terrell Holmes for the better part of six decades. She, like many others in the building, has raised children in its courtyards and hallways, and forged a tight-knit community of friends and neighbors. At the age of 68, she has been forced to band with other tenants to fight local efforts to shutter the facility. Now, as the Trump administration weighs plans to gut the Department of Housing and Urban Development, she has a new battle on her hands.
"Any time they move a person to someplace they don't want to live, it's imprisonment," she told AlterNet over the phone. "I am a human being, and I deserve to live where I want to live. Us, the ones who really want to be here, we are going to be uprooted because of the sabotage of HUD and the Housing Authority."
Horsley is one of countless public housing residents across the country directly impacted by news that the Trump administration is mulling whether to slash HUD's budget by at least $6 billion, or 14 percent, in the 2018 fiscal year. The proposed cuts were revealed Wednesday by Washington Post reporter Jose A. DelReal, who cited "preliminary budget documents" that he had obtained. If implemented, the reductions will hit a federal agency that is already unable to meet the level of human need, thanks to systematic defunding over the course of decades.
Douglas Rice, a senior policy analyst for the Center for Budget and Policy Priorities, a Washington, D.C., think tank, reports that the proposed cuts would, in fact, amount to $7.7 billion dollars, or a 16 percent reduction, in 2018. He arrives at this number by evaluating expected funding levels for 2017, writing: "it's reasonable to presume that the final budget will be close to the average of the bills the House Appropriations Committee and the full Senate approved last summer." By contrast, DelReal wrote his story based on 2016 funding levels.
Either way, the cuts are poised to be dramatic. Rice told the Washington Post that 20,000 renters will lose their assistance for every 1 percent slash to the budget of HUD. "The reality is that we've been living under these austere budget caps, and budgets like HUD's have already been pretty much cut to the bone," Rice said, pointing to the sequestration cuts of 2011. "And when you try to cut below that, you really end up with harmful impacts."
The proposed cuts would go deep. "Budgets for public housing authorities—city and state agencies that provide subsidized housing and vouchers to local residents—would be among the hardest hit," writes DelReal. "Under the preliminary budget, those operational funds would be reduced by $600 million, or 13 percent. Funds for big-ticket repairs at public housing facilities would be cut by an additional $1.3 billion, about 32 percent."
Public housing in the United States already faces a backlog of $26 billion in repairs, according to a 2010 report commissioned by HUD.
The Community Development Block Grant Program, which was budgeted to receive $3 billion this fiscal year, would be entirely slashed if the proposed changes were implemented. While the budget document reportedly suggests that funds for the program "could come from outside the HUD budget as part of a separate White House bill," it is not immediately clear where exactly such dollars would come from and whether they would be guaranteed. The HOME Investment Partnerships Program, which helps fund local affordable housing, would also be eliminated.
The gutting of HUD would take money directly out of the hands of renters in need. The Post story notes, "Under the proposal, direct rental assistance payments—including Section 8 Housing and housing vouchers for homeless veterans—would be cut by at least $300 million, to $19.3 billion. Additionally, housing for the elderly—known as the Section 202 program—would be cut by $42 million, nearly 10 percent. Section 811 housing for people with disabilities would be cut by $29 million, nearly 20 percent. Money available for Native American housing block grants would fall by $150 million, more than 20 percent."
According to Rice's analysis of the Post report, if the cuts go through, "Housing Choice Vouchers that some 200,000 low-income households currently use to pay their rent would be eliminated in 2018." He explained, "Reducing the availability of this crucial support would increase and prolong homelessness for vulnerable people with disabilities, families with children and others."
"It should be very clear to our movements, to our communities, and to the entire country that [the] Trump administration is intent on further destabilizing and dismantling programs that our communities rely on to survive," Malcolm Torrejón Chu, communications organizer with the Right to the City Alliance and organizer for the National Homes for All Campaign, told AlterNet. "These threatened cuts to housing are threatened cuts to our community survival. And we have no illusions that the current HUD programming is enough."
The proposed reductions are in line with Trump's recent claim that he will pay for a $54 billion increase to the war budget in large part by cutting domestic programs.
But long before Trump made this assertion, HUD Secretary Ben Carson—who has no prior experience in housing policy—has been open about his desire to dismantle key public housing initiatives. In 2014, he opposed an agreement between the city of Dubuque and the Department of Housing and Urban Development to address the city's housing policies that discriminate against black residents, suggesting it was proof America was "becoming communist." In 2015, he vocalized his opposition to a HUD fair housing rule that is aimed, in part, at reducing segregation, calling it a "failed socialist experiment."
Following the Post report, Carson reportedly sent a letter seeking to reassure staff on Thursday, stating: "Please understand that budget negotiations currently underway are very similar to those that have occurred in previous years. This budget process is a lengthy, back-and-forth process that will continue. It's unfortunate that preliminary numbers were published, but please take some comfort in knowing that starting numbers are rarely final numbers."
Yet the fact that such drastic cuts were proposed at all has alarmed those whose housing—and lives—are on the line. Rhonda, who lives in Terrell Homes and did not want her last name to be used, said the immediate impacts of such cuts, if they go through, would be straightforward. "They need to keep public housing, because without public housing, people will be homeless," she said. "The numbers of homeless people in America will be going up. People will have to choose between housing and food."
'They want us out'
Michael Higgins, Jr., an organizer with the Brooklyn-based Families United for Racial and Economic Justice, told AlterNet that news of proposed cuts to HUD didn't come as a surprise. "There's been steady cuts in every administration going back to Reagan," he said. "Because there have been consistent cuts, and because public housing is in such bad shape, there are a decreasing number of options for people in public housing."
According to a Congressional Budget Office report released in September 2015, federal housing assistance is already falling far short. "Currently, only about one-quarter of the eligible low-income population receives housing assistance through federal spending programs," the office stated.
Long before the Trump administration's proposed slash to the HUD budget, Terrell Homes residents were fighting a years-long battle against efforts to shutter their facility. "Since December 2013, there have been attempts to shut it down," Drew Curtis, the director of community development and environmental justice for the Ironbound Community Corporation, told AlterNet. "Tenants fought back and stopped the initial demolition, but last summer they started trying again to shut down Terrell Homes."
Curtis said that one of his first thoughts when he found out about the proposed HUD cuts was, "There is going to be even more ammunition for the local housing authority to shut this down. Tenants will need to stay diligent and keep putting on political pressure. The biggest cuts proposed were public housing operating funds and Community Development Block Grants, which often go into housing repairs. This would dramatically affect them."
Horsley said she is exhausted after fighting a years-long battle to stay in her home. "The whole thing is, they want us out," she said. "They cannot verbalize and come out and say they don't want the poor blacks, the poor Hispanics, because we no longer fit the new normal."
Terrell residents are not alone. In a statement released Thursday, the New York City-based CAAAV Organizing Asian Communities said, "The announced proposed cutting of $6 billion to HUD and $150 million funding for NYCHA and Section 8 vouchers is cutting the vein that keeps working-people from being able to keep this City running."
"While these proposed cuts happen, New York taxpayers have spent $24 million to protect Trump's private properties from Election Day to inauguration. It is estimated that $127,000 to upward of $308,000 will be spent each day to protect the Trump family at their NYC residence," the statement continues. "We refuse to let our public dollars be spent to protect the rich's war machine and unjustly kill millions of innocent Muslim lives around the world. We refuse to let our public dollars police and criminalize black and Latinx communities that fuel the deportation machine."
Higgins underscored that, "In New York, there was already an extreme crunch of public housing. Over the years, HUD has moved more into a Section 8 voucher scheme, instead of rent being directly paid by the government. When you see Section 8 being taken, it means certain people will be out of their homes."
Organizers say that it will be important to meet any proposed cuts with a continuation of the robust resistance that has already seen millions take to the streets, mobilize and defend their communities against Trump administration policies.
According to Torrejón Chu, "We are clear that the Trump administration is an administration that is interested in privatization and corporate profits and not people's actual needs. We need to continue to show and expose that the administration does not represent our communities or the people."
"We see this as a moment to not just resist cuts, but to put forward a vision of a totally different world," he continued. "We think it's important that our communities develop and strengthen our vision of an alternative world where we have control over land, resources and housing. A world where housing, land and community aren't commodities. This moment is calling for us to have a vision."
Sarah Lazare is a staff writer for AlterNet.
IMAGE: Ben Carson listens to a question from a reporter during a campaign stop in Las Vegas, Nevada, February 23, 2016. REUTERS/Las Vegas Sun/Steve Marcus/File Photo